In today's rapidly changing world, something remarkable is happening on factory floors, in hospitals, and even in warehouses: the rise of collaborative robots, or cobots. These friendly machines are not like the towering, mechanical robots you might have seen in movies.
Instead, they are designed to work alongside humans, like helpful teammates. In this article, we'll dive into the world of collaborative robots and explore how these innovative machines are reshaping various industries.
From manufacturing cars to assisting doctors in surgeries, cobots are proving that teamwork between humans and machines can bring about incredible advancements. Let's begin our journey by understanding what exactly collaborative robots are and how they've evolved over time.
Defining Collaborative Robots (Cobots)
At their core, collaborative robots, often referred to as cobots, are robotic systems specifically engineered to collaborate with humans in a shared workspace.
Unlike traditional robots that work in isolation, cobots are designed to work side by side with human operators, enhancing productivity and efficiency.
They are equipped with advanced sensors that allow them to sense the presence of humans and adapt their movements accordingly. This focus on human-robot interaction distinguishes cobots from their predecessors, creating a safer and more cooperative working environment.
Brief Overview of Cobots' Evolution
The journey of collaborative robots began with a vision: a vision of robots that could be more than just tools operated by experts. This vision has evolved over the years, leading to the creation of the modern cobots we see today.
Initially, robots were confined to cages, segregated from humans due to safety concerns. However, as technology progressed, so did the idea of integrating robots into human-centric spaces. Transitioning from isolation to collaboration, cobots have become pioneers of a new era, where machines and humans work hand in hand.
Through various technological breakthroughs, including advanced sensing capabilities and sophisticated programming, cobots have transformed from rigid devices to adaptable assistants, marking a significant shift in the landscape of industries.
The Emergence of Collaborative Robots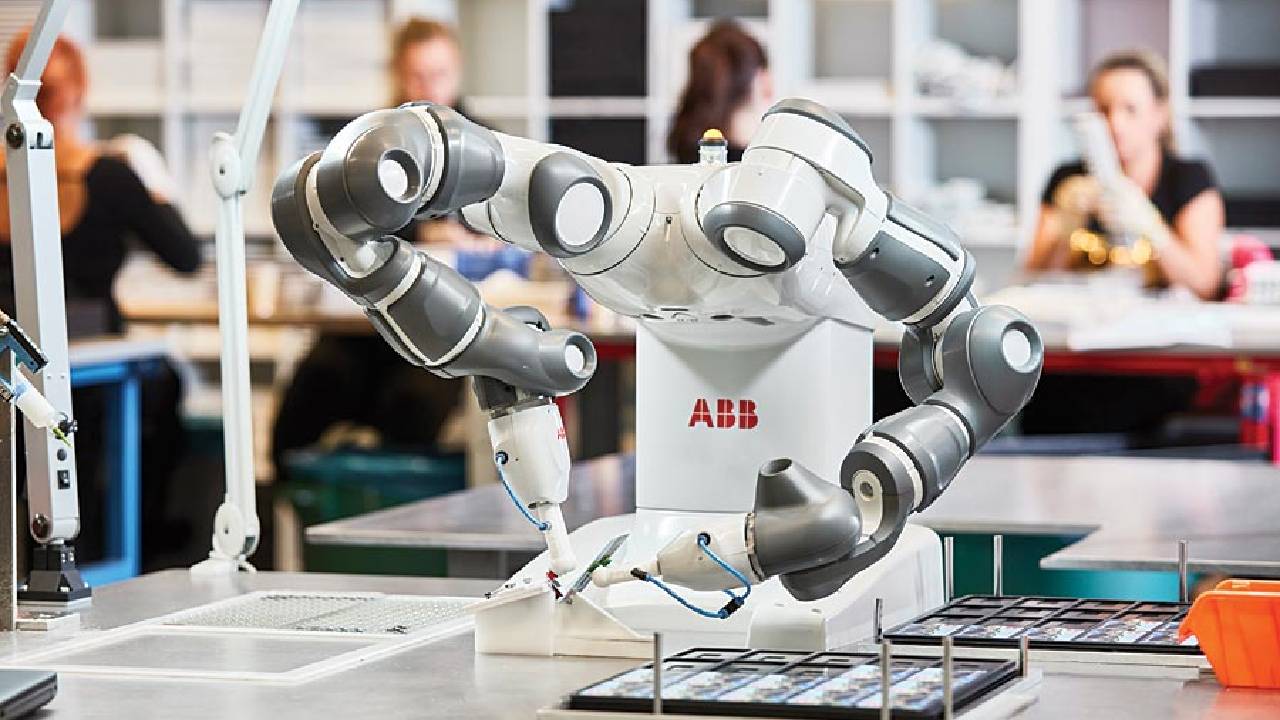 In the not-so-distant past, robots were often seen as powerful machines confined to performing specific tasks in isolation. But something exciting happened that changed the way we think about robots. Collaborative robots, also known as cobots, burst onto the scene and brought a whole new meaning to teamwork.
Let's explore how these cobots differ from the traditional robots we might be familiar with and discover the early innovations that set them on their path to revolutionize industries.
Traditional Industrial Robots vs. Collaborative Robots
In the world of robots, there were two main categories: traditional industrial robots and the newer collaborative robots. Traditional robots were like specialized workers – they could do repetitive tasks with great precision, but they needed their own space, often fenced off by humans.
Collaborative robots, on the other hand, had a different idea. They wanted to work alongside people, like friendly helpers.
Unlike their traditional counterparts, cobots were designed to be safe to be around, which meant they could work without those big fences. This was a big step forward because it meant that humans and robots could share the same workspace, combining their strengths to get things done.
Early Innovations in Cobots Technology
When cobots made their debut, they brought with them some clever tricks. These early cobots were really good at sensing things around them. Imagine having eyes all around your head – that's what it was like for cobots!
These robot helpers had sensors that could feel if someone was getting too close, so they could slow down or stop. This made them safe to work with, even for kids! But it wasn't just about safety; cobots were also designed to be easy to teach.
Instead of needing a computer science degree to tell them what to do, you could simply show them the task, and they would learn it. This was a bit like teaching a pet a new trick – just with more circuits and wires.
Advantages of Collaborative Robots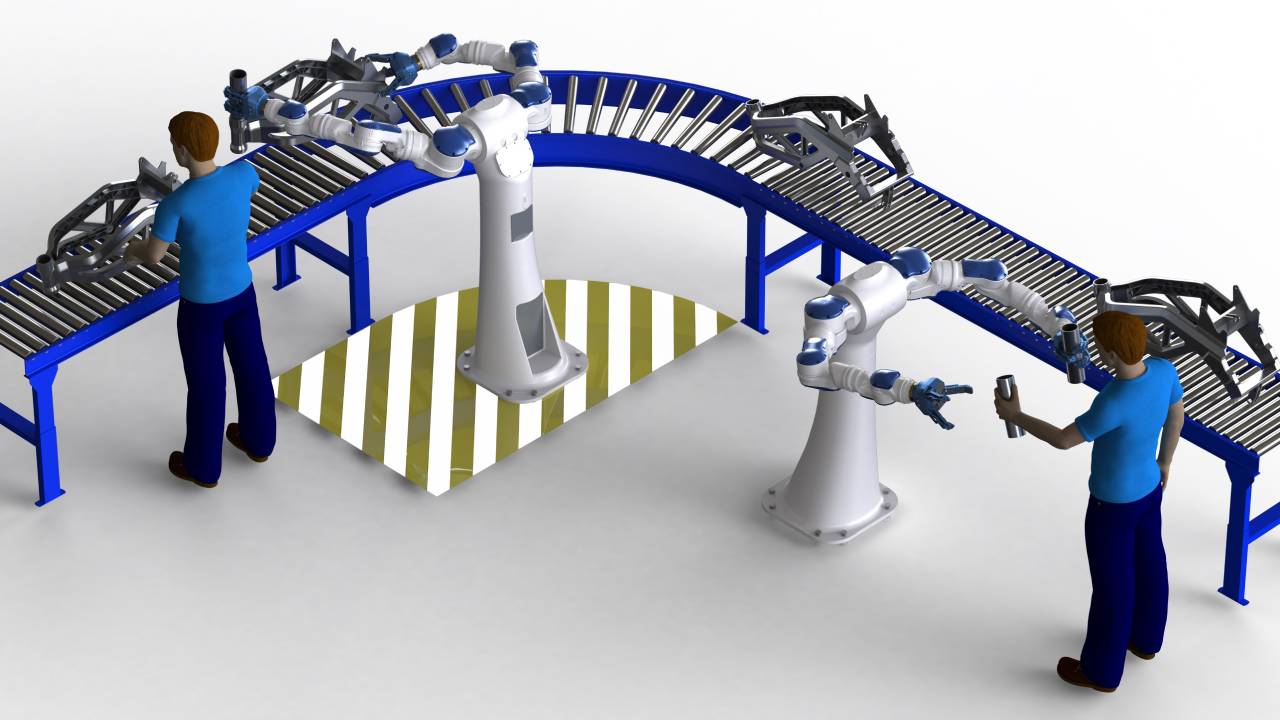 Collaborative robots, often called cobots, are like the superheroes of the robot world. They bring a bunch of superpowers that make them incredibly useful in all sorts of places. Let's take a closer look at these superpowers and how they're changing the way things get done!
Enhanced Safety Measures
Sensor Technology: Just like how you use your senses to know what's happening around you, cobots have special sensors to understand their surroundings. These sensors act like their robot eyes and ears. They can "see" objects and people nearby, which helps them avoid bumping into things. Imagine if you could tell when someone was getting too close to you and take a step back – that's what cobots do!
Force and Contact Sensing: Cobots also have a super sense of touch. They can feel how much force they're using, just like you can tell if you're holding something gently or squeezing it tight. This makes them really safe to be around, especially when they're working with people. If a cobot accidentally touches someone, it knows to stop moving so it doesn't hurt them. This super touch power keeps everyone safe and happy.
Increased Efficiency and Productivity
Human-Cobot Collaboration: Cobots are fantastic team players. They're not here to take jobs away from people – instead, they want to be helpers. Imagine you and your best friend working together on a project. That's how cobots team up with humans! They can do the heavy lifting or the repetitive tasks, while people focus on the more creative stuff. This way, things get done faster and better!
Reduced Downtime: Have you ever seen workers take a break? Well, cobots don't need long breaks like humans do. They can work for hours without getting tired. This means there's less time when things have to stop and more time for work to keep going. Imagine having a friend who never gets tired and can keep playing with you all day – that's a robot for you!
Flexibility and Easy Integration
Plug-and-Play Systems: Setting up cobots is as easy as playing with building blocks. Do you know how you can snap different blocks together to build something cool? Cobots work kind of like that. They come with different parts that can be connected without too much fuss. It's like building your own robot friend without needing a toolbox full of tools!
Quick Reconfiguration: Cobots are quick learners. If you want them to do something new, you don't need to spend ages reprogramming them. You can show them what to do, and they'll pick it up in no time. It's like teaching them a new game to play. This flexibility makes them perfect for tasks that might change often.
Transforming Industries Through Cobots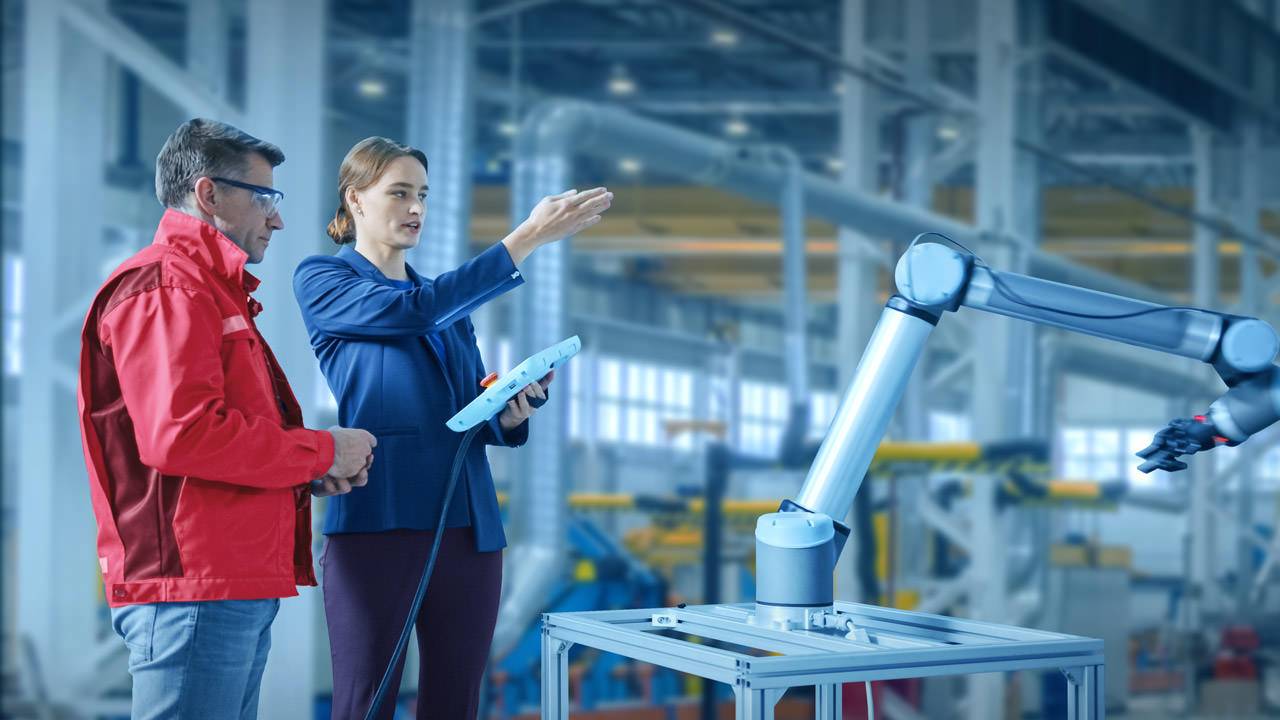 Get ready to enter the world of wonders where robots, called collaborative robots or cobots, are changing how things are made, cared for, and moved.
Imagine if your toys could build themselves if teddy bears could help doctors, and if your favorite snacks magically appeared when you wanted them. Well, cobots are making these amazing things happen in different parts of our world!
Manufacturing and Assembly
Automotive Industry: You know those cool cars you see zooming down the road? Cobots are right there, playing a big part in making them. In the automotive world, cobots team up with humans to put cars together.
They're super precise, helping with tricky tasks like welding and painting. Just think of cobots as those super-focused artists who never color outside the lines!
Electronics Manufacturing: Electronics are like the brains of gadgets, making them work. Cobots are like tiny wizards in this world, helping to create all sorts of devices.
They're super careful when handling delicate parts, making sure each piece goes where it's supposed to. You can think of them as puzzle masters, putting together all the bits to create amazing gadgets.
Healthcare and Medical
Surgical Assistance: Hospitals can be busy places, and doctors often need a hand. Cobots step in as those trusty helpers during surgeries. They're like a doctor's right hand, holding tools and instruments perfectly still. With their precise moves, cobots help doctors do their best work and make surgeries safer and more accurate.
Patient Care: Cobots are also turning into pals for people who need extra care. Imagine having a friendly robot by your side when you're not feeling well! These robots can remind you to take your medicine, help you move around, and even chat with you. It's like having a helpful friend who's always there.
Logistics and Warehousing
Order Fulfillment: Have you ever wondered how things you order online magically appear at your doorstep? Cobots have a hand in that too! In huge warehouses, they're the experts at finding the right products and bringing them together. They're like the fastest and most accurate treasure hunters, making sure you get what you want in no time.
Inventory Management: Cobots are also the kings and queens of organizations. In warehouses, they keep track of how many things are there and where they're kept. It's like having a super-neat friend who always knows where everything is. This helps companies keep their stuff in order and make sure they don't run out of anything.
Overcoming Challenges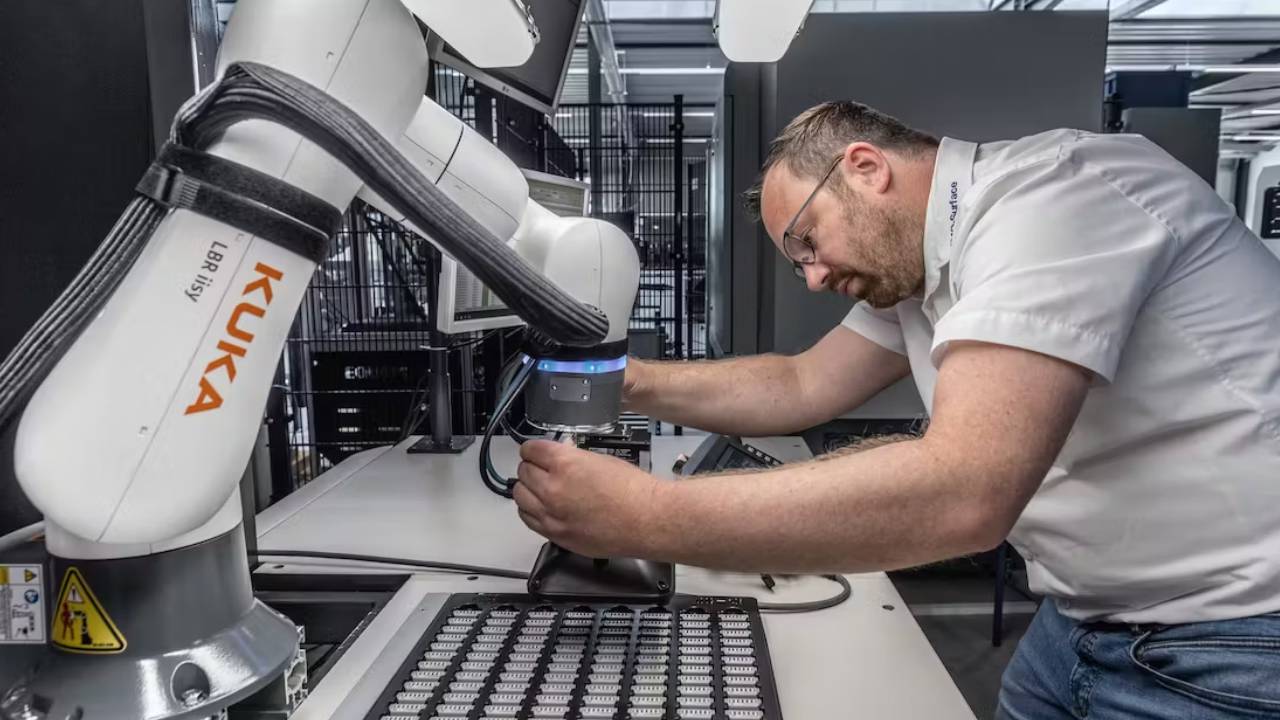 In the world of collaborative robots, or cobots, there's a bit of a puzzle to solve. While these amazing robots are changing industries for the better, they also face some tricky challenges.
But fear not! Just like superheroes overcoming obstacles, cobots are finding clever ways to tackle these hurdles. Let's dive into these challenges and discover how cobots are turning them into opportunities.
Human-Cobot Interaction
Safety Protocols: Imagine if you were playing a game with a robot friend and you accidentally bumped into each other. Ouch! That's where safety protocols come in.
Cobots are taught to be super careful around people. They slow down or stop when someone gets too close, just like you would if you saw someone in your way. This way, everyone can work together without any ouchies.
Training and Education: Have you ever learned a new game or a dance? It takes practice, right? Cobots are similar. They need to learn what to do and how to do it.
People teach them, just like teachers help you learn new things. But here's the cool part: cobots are quick learners! They can pick up new tasks faster than you can say "robot dance".
Initial Implementation Costs
Long-Term ROI: Imagine you're saving up your allowance for something special – maybe a new toy or a fun outing. That's a bit like how companies think about cobots. While cobots can be a bit expensive at first, they're like an investment.
Over time, they help companies save money by doing things faster and more efficiently. It's a bit like buying a magic helper who makes work easier and pays for itself!
Small and Medium Enterprises (SMEs) Adaptation: Do you know how different sizes of clothes fit different people? Well, cobots also need to fit different types of companies.
Sometimes, smaller companies called SMEs might feel that cobots are just for the big players. But that's not true! Cobots are learning to adapt and fit into all kinds of workplaces, helping everyone, big or small.
Case Studies: Real-World Examples
Imagine stepping into a world where robots work alongside humans, creating, moving, and helping in incredible ways. This is the world of collaborative robots or cobots, and it's not just a dream – it's happening right now!
Let's peek into some fascinating real-world stories where cobots are making a big difference, from building cars to making online shopping easier, and even assisting in surgeries.
BMW's Use of Cobots in Car Production
Ever wonder how those shiny cars are put together? Well, one of the magic ingredients is cobots! At BMW, these clever robots work together with people to assemble cars. They're like a car-building dream team. Some cobots help with tricky tasks like welding, making sure everything fits perfectly.
Others lend a hand in carrying heavy parts, so the human workers can focus on the more delicate details. This collaboration speeds things up and ensures that each car is a masterpiece on wheels.
Collaborative Robots in E-Commerce Warehouses
When you order something online, have you ever wondered how it gets to your doorstep so fast? It's all thanks to cobots! In huge warehouses filled with products, cobots zoom around, finding the items you want. They work together with human workers to locate and collect items from shelves.
It's like having a team of super-fast and super-smart helpers making sure your order is just right. With cobots, online shopping becomes a breeze!
Medical Applications: Robot-Assisted Surgeries
Hospitals can be pretty busy places, and doctors need to be extra careful during surgeries. Cobots are there to lend a steady hand.
Imagine a Cobot as a surgeon's assistant – they hand over instruments, hold things still, and follow the doctor's lead with incredible precision. This means surgeries can be safer and more accurate. Just like a team of superheroes, doctors and cobots work together to make patients feel better.
Future Prospects of Cobots
Imagine looking into a crystal ball and seeing a world where robots and humans team up even more, working side by side to achieve incredible things. This is the exciting future that awaits collaborative robots, or cobots. As technology continues to advance, cobots are gearing up for some amazing changes. From learning like super-smart students to stepping into new fields, let's uncover the future possibilities that lie ahead.
Technological Advancements
AI and Machine Learning Integration: Cobots are getting even smarter! Imagine if they could learn from their experiences, just like you do. With the help of AI and machine learning, cobots are becoming experts at adapting to different tasks. They can remember what worked before and use that knowledge to tackle new challenges. It's like giving them a super-powered brain that keeps getting better.
Improved Sensing Capabilities: Just as superheroes have extraordinary senses, cobots are evolving to have even sharper senses. They're learning to "see" and "feel" things more accurately, like having super-enhanced eyes and touch. This means they can interact with their surroundings even better, making their teamwork with humans smoother and safer.
Expansion into New Industries
Food Service: Have you ever thought about robots serving you your favorite meal? Well, cobots are eyeing the food service industry. They could help prepare and serve food, making sure it's always just the way you like it. It's like having a cooking buddy who never burns the pancakes!
Construction: Imagine robots working together to build big, towering structures. Cobots are venturing into the world of construction, where they can assist in tasks like lifting heavy materials and precise measurements. They could be like construction wizards, turning blueprints into real buildings.
Ethical and Social Implications
Job Displacement vs. Augmentation: As cobots become more skilled, some people wonder what it means for jobs. Will they replace humans or work alongside them? It's a bit like having a debate between two teams. Some say cobots might take over certain tasks, freeing up humans to do more creative work. Others believe cobots will be helpers, enhancing what humans can achieve. It's an important conversation about the future of work.
How to Implement Cobots in Your Industry
Imagine you're the captain of a spaceship, ready to embark on a thrilling journey into the world of collaborative robots, or cobots. You might be wondering, "How can I bring these helpful robots into my own industry"?
Well, fear not, because just like planning an exciting voyage, implementing cobots requires a bit of preparation and careful navigation. Let's set sail and explore the steps you need to take to bring cobots into your industry and watch them work their magic!
Assessing Feasibility
Before launching into cobot adventures, it's important to see if they're a good fit for your industry. Think of this step as checking if the spaceship is ready for liftoff. You'll want to look at your industry's needs and challenges.
Are there tasks that cobots could handle to make things better? Are there places where cobots and humans can work together to achieve more? This assessment helps you understand whether cobots are the co-pilots you need.
Choosing the Right Cobots
Just as you'd pick the right tools for your spaceship, you need to choose the right cobots for your tasks. Cobots come in all shapes and sizes, each with different abilities.
Some are great at lifting heavy things, while others are skilled at delicate tasks. You'll want to match the cobot's superpowers with the tasks you want them to do. It's like choosing the right crew members for each job!
Training Your Workforce
Preparing your team for cobots is a bit like training them for a space mission. You'll want everyone to feel comfortable and confident working alongside these robotic companions.
Teach your team how to interact with cobots, just like teaching them how to use new tools. Show them the ropes and let them know that cobots are here to help, not to take over. With a well-prepared crew, your cobot-powered journey will be a smooth one.
Conclusion
In the grand tale of innovation, collaborative robots, or cobots, have emerged as the heroes rewriting the script of industries worldwide. They've brought a host of superpowers that make factories safer and more efficient, assist doctors in surgeries, and transform warehouses into hubs of seamless logistics.
As we bid adieu to this exploration, let's gather the threads of their marvels. Cobots have ushered in enhanced safety through their advanced sensors, multiplied productivity through teamwork, and enabled flexibility in the ever-changing work landscape.
Their footsteps trace a path into the promising realm of the Fourth Industrial Revolution, where they stand as the torchbearers of technological advancement and human-robot collaboration.
So, as we close this chapter, don't forget to share this remarkable journey with your friends, and let us know your thoughts in the comments. The future is here, and cobots are leading the way!