Today, most of the content published on the web is audiovisual content. Most of the users share videos through social networks or messaging platforms. That is why videos are more and more important. Here, we will introduce the best video makers both online and offline.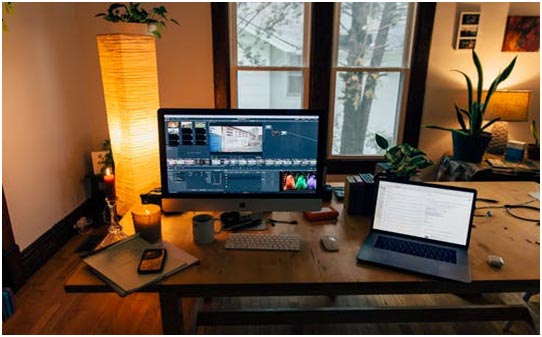 Online Video Makers:
Promo.com's online video editor comes complete with easy-to-use features, on-the-spot branding for your videos, and a massive online media library powered by Getty Images and iStock so you never ever run out of content.
Promo video maker offers a free trial that allows you to create a video by uploading your own footage, using Promo.com's free standard media, or combining the two. Free users will be able to access all of Promo's video tools and music collections. They will have a Promo watermark and can be shared only via a link.
Youtube Editor
Apart from storing millions of audiovisual tracks, YouTube also gives you the option of professional editing of any audiovisual element uploaded to its platform, which can be found in Creator Studio. For its part, the editor has the disadvantage that it does not allow us to download the videos once they are created, but the only option we have is to upload them to our channel, so we must previously have them uploaded on our channel. Anyway, you can apply effects or cut them, among other things, in a very fast and intuitive way.
FlexClip
This video maker allows users to access a very intuitive video editor without having to download any program. All you have to do is register on the page, and you will now be able to access the tools offered by the web. It has various templates according to the assembly that you want to make. You can choose templates for videos of congratulations or audiovisual content intended to promote a business. You can add your own videos from the computer or videos by default that the web includes.
Read Also:  Top 10 Social Media Influencer Marketing Trends In 2021
Hippo Video
This website offers the possibility of adding files from the computer and from Google Drive. It also allows you to record videos from the webcam and add them to the editor interface. The interface includes, among other options, a timeline and a player where you can see the editing process. The user must register to use it, and the uploaded files cannot exceed 500 MB.
Movie Maker Online
This editor allows you to use many tools such as filters, text overlays, transitions, or the selection of royalty-free images. However, it only allows you to export the videos in MP4 format.
Clipchamp
This online editor allows you to adjust the color, brightness, and saturation of the videos, in addition to adding wallpapers or texts. It also has a timeline to generate a narrative through the images. However, the free version only allows you to export the file at a maximum resolution of 480p. Even so, it has an application that offers the option of creating videos with predefined templates, including vertical templates for IGTV.
Online Video Cutter
This editor is intended for those users who want maximum simplicity and ease when creating content. This editor only allows you to trim and rotate videos weighing less than 500MB. Allows you to upload videos from your computer or from Google Drive.
Kizoa
Kizoa is a platform with which we can create and edit a perfect audiovisual file for each project or special occasion, whether for a birthday, a wedding, or a communion, thanks to a large number of themes available. Likewise, another aspect to highlight about Kizoa is that, before starting with the creation of our creations, it allows us to choose their orientation and dimensions. An advantage is that if you intend to share them on social networks, with this program, you will not waste time since it has an option for it.
WeVideo
WeVideo is an ideal program to create short and visual tracks, to later be able to modify what we need. The only caveat is that the duration of our projects must be less than 5 minutes, and the company logo will appear in one corner of the screen. If we select to use its free version, it will require prior registration, although very simple and fast.
Downloadable and offline Video Makers (PC and Mac):
Screencast-O-Matic
If you are looking to capture your computer screen and record a recorded tutorial or webinar to broadcast later, Screencast-O-Matic is the perfect program for you. It is a very simple to use and very useful platform, with which we can, after having recorded our clip, edit it and add effects, blur information that does not interest us, etc., to leave it just as we want to show it to our users.
Windows Movie Maker
Surely if you have searched Google for a program that is fast and easy to use locally, surely one of the ones you found in Windows Movie Maker. This tool is part of the "Windows Essentials" software suite and is compatible with versions 7,8,10, XP, and Vista of this operating system. With it, you can easily make movies with photos, special effects, music, animations, sounds, audio and even add subtitles.
It is not one of the most functionalities it implements, but since it is owned by this computer "giant" and comes pre-installed on their computers, it may be the most comfortable option.
VirtualDub
With VirtualDub, you can edit a large number of files at the same time due to its batch processing capabilities. It is a super complete free program that runs with Microsoft Windows, and among its most outstanding features, it allows codec conversions, removal of scenes, or adding filters. Of course, it has a somewhat outdated interface that can sometimes cause problems when uploading files with a more modern audiovisual format. 
Movavi Video Editor
Movavi is a simple editor with which to unleash your imagination and create the movie you need in just a few minutes. It allows you to use audio, add music or images from any multimedia file and format, as well as put titles, narrations, or a filter. Everything you need to make your project to your liking. And the best thing, is that you won't need to use any tutorial to handle it since it is super easy to understand how to activate all its options.
In addition, it is compatible with both Windows and Mac.
Avidemux
With Avidemux, you can edit any audiovisual project for free in different formats and speed up the filtering, cutting, and encoding processes. It is free and multiplatform software, which can be used for Windows, Linux, and macOS. It carries support for the "FFMpeg 3.3.x" format and special elements, such as encoders and decoders.
It is specially designed to modify what you need in a simple way, but that does not mean that your projects will not be like those of a professional. You will be able to filter, cut, mute, rotate, and trim fragments of your clip, as well as add audio tracks to your recordings, among many of its options. It supports multiple formats AVI, TS, MP4, MPEG, MKV, FLV, ASF, VOB, etc.
Blender
Blender is free, open-source software with which you can create audiovisual clips with 3D content. It is fully compatible with all the major operating systems and has a fairly friendly and simple interface if you are a beginner. It has quite advanced features, with multiple editing tools, as well as the creation of 3D applications, games, and visual effects, which make it one of the best platforms for Windows and Mac.
Conclusion
The above tools do a terrific job in video making and editing. If you have any other programs that you want to share with us. Comment below.