As a passionate gamer who has spent countless hours immersed in virtual worlds, I've come to appreciate the pivotal role that communication plays in enhancing the gaming experience. The days of solitary gaming are long gone, replaced by a dynamic landscape where players from around the globe connect, strategize, and share experiences in real time. At the heart of this revolution lies a transformative feature: voice chat.
In this article, we will explore the eight best online games with voice chat that have embraced this technology to redefine the way we interact within virtual gaming realms, where communication is not just a tool but an essential element of success and enjoyment.
Voice chat in online gaming serves as a bridge between the digital and physical realms. It transforms avatars into personalities, allowing the nuances of tone, excitement, and urgency to be conveyed in real time. It's more than just a convenience; it's a catalyst for camaraderie and coordination, turning mere players into cohesive teams. In essence, online games with voice chat have transcended the boundaries of traditional gaming by creating an environment where strategies are devised on the fly, tactics are fine-tuned through discussion, and friendships are forged through shared triumphs and setbacks.
The 8 Best Online Games with Voice Chat
From battle royales that demand seamless cooperation to social deduction games that thrive on conversation, these titles have redefined the way we interact with both the virtual and human dimensions of gaming. So, let's delve into this vibrant world and discover how voice chat in gaming has become the ultimate connector in modern gaming.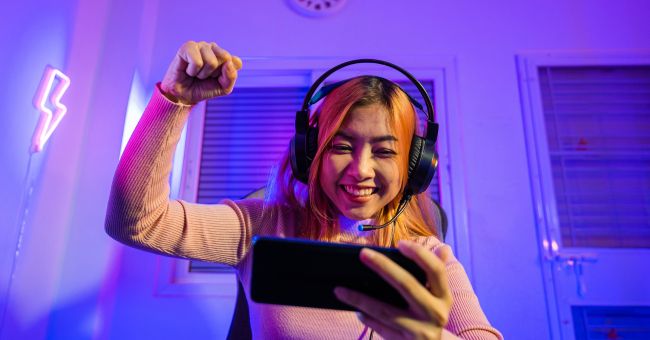 1. Fortnite
Epic Games' Fortnite has taken the gaming world by storm, and its inclusion of voice chat has been a cornerstone of its success. The battle royale gameplay thrives on teamwork, and voice chat allows players to strategize, communicate enemy positions, and coordinate their actions more effectively.
2. Apex Legends
Respawn Entertainment's Apex Legends brings a fresh take on the battle royale genre with its character-driven abilities. The game's smart voice chat system automatically matches players with others who are using voice chat, fostering better teamwork and coordination. This dynamic feature has contributed significantly to the game's appeal.
3. Among Us
In InnerSloth's deception-based multiplayer game Among Us, players work together to identify an imposter among their ranks. Voice chat adds an extra layer of intrigue as players discuss suspicions, provide alibis, and attempt to unmask the imposter. Real-time interaction is essential for both strategy and social deduction.
4. Overwatch
Blizzard Entertainment's Overwatch is renowned for its team-based objectives and diverse cast of heroes. Voice chat facilitates precise coordination among team members, enabling players to strategize and execute combos seamlessly. This feature is particularly important in competitive modes, where communication can be the difference between victory and defeat.
5. League of Legends
Riot Games' League of Legends, a multiplayer online battle arena (MOBA) game, has a competitive environment that demands teamwork and strategy. Voice chat enables players to strategize on the fly, convey information about enemy movements, and time their abilities with precision. This enhances the competitive experience and fosters better communication among teammates.
6. Destiny 2
Bungie's Destiny 2 is a sci-fi multiplayer shooter that places a strong emphasis on cooperative play. With its expansive open-world environments and challenging raids, voice chat is crucial for players to coordinate strategies, allocate tasks, and execute complex encounters. The game's intricate mechanics are greatly enhanced by real-time communication.
7. Call of Duty: Warzone
Infinity Ward's Call of Duty: Warzone offers a fast-paced battle royale experience. Voice chat not only enables squad members to work together effectively but also fosters an immersive atmosphere as players call out enemy positions, share loot, and make split-second decisions. Communication is vital for securing the coveted victory.
8. Sea of Thieves
Rare's Sea of Thieves is an open-world pirate adventure that thrives on cooperative multiplayer gameplay. Voice chat is seamlessly integrated into the game, allowing players to communicate while navigating ships, solving riddles, and engaging in naval combat. The lighthearted and exploratory nature of the game is further enriched by real-time interaction.
Conclusion
In the realm of online gaming, the integration of voice chat has transformed the way players experience and engage with virtual worlds. The eight best online games with voice chat highlighted in this article stand out for their exceptional use of voice chat, creating environments where communication and coordination are paramount. Whether it's coordinating strategies in a battle royale, unraveling mysteries in a social deduction game, or working together in a cooperative adventure, these games showcase the power of voice chat in enhancing both gameplay and social interaction.