WICKET! Pope c Verreynne b Rabada 67 (England 133-6)
Pope gone now! The Surrey man nibbles at an off stump probing delivery from Rabada and gives Kyle the keeper an easy catch. South Africa are cock-a-hoop.
27th over: England 129-5 (Pope 63, Foakes 0) Nortje has his dander up, Ben Foakes does well to see off his first ball with a defensive prod. This game is alive. I refer you to my wager at 17:37… will we see England with the ball before the close? Bright sunshine now at The Oval, thirty odd overs scheduled to play before the close – Gulp.
WICKET! Stokes c Erwee b Nortje 6 (England 129-5)
Drop! Tough chance but South Africa have put Ben Stokes down. It's his opposite number Dean Elgar scrambling back at mid-off, the ball swirling over his shoulder and he can't cling on in the dive. It's an ugly shot from Stokes who tries to bunt Nortje down the ground for six but completely loses his shape in the shot, his bottom hand slipping off the bat in the process… will that be costl… no it won't! Nortje nicks Stokes off and has the last laugh. Dean Elgar looks mightily relieved.
26th over: England 127-4 (Pope 63, Stokes 5) England take the lead with a chunky Ben Stokes edge to fine leg. Pope then slices over the slips for another boundary. He was no in control of that one, Jenny. Rabada sends down three dots but can't fully stem the runs, his last ball is whipped wide of mid-on for four more. Pope and England on the charge.
25th over: England 118-4 (Pope 55, Stokes 4) Ollie Pope goes to his ninth Test fifty with a top edge over the keeper, something is happening nearly every ball here. Pope has chanced him arm but been sprightly, hitting ten fours in 66 balls. A drive through third for a couple sees England draw level with South Africa.
Updated at 12.46 EDT
24th over: England 112-4 (Pope 49, Stokes 4) Rabada comes on from the Vauxhall End and Stokes lines up an almighty swish, trotting down the pitch to scythe the bowler over cover but he ends up the one chopped in two by a jagging, quick delivery. Stokes was never going to play any other way. Next ball Stokes cuts away with a flourish of his meaty wrists to pick up four. Good contest. Do not adjust your set.
23rd over: England 107-4 (Pope 48, Stokes 0) A loud cheer greets Ben Stokes as he arrives to replace the departing Brook. The England captain blocks his first ball to see out the end of the first over back after the break.
What odds will you give me on South Africa batting again before the day is done?
WICKET! Brook c Rabada b Jansen 12 (England 107-4)
Marco Jansen starts from around the wicket to Harry Brook. Four dot balls on a good length tees up a short ball that Brook flat bats lazily and fails to keep the ball down, it goes straight to Kagiso Rabada at long leg. A soft dismissal in his first Test knock.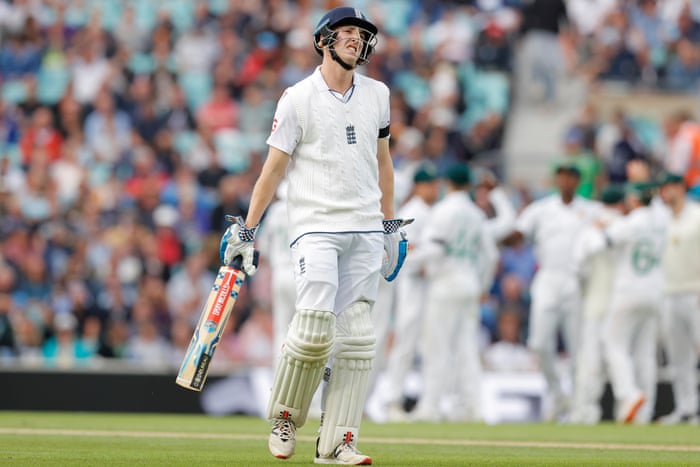 England's Harry Brook reacts after losing his wicket. Photograph: Tom Jenkins/The Guardian
Updated at 12.53 EDT
Good news! The players are heading back out, there are a notional 39 overs left in the day. Cripes. England resume on 107-3, just 11 runs behind South Africa's 118. Ollie Pope is clattering along on his home patch, as he often does – he's 48 off 58. Debutant Harry Brook is with him on 12 off 16 balls.
We can go on til 7.30! Although we won't be able to cos… autumn.

— George Dobell (@GeorgeDobell1) September 10, 2022
The rain has stopped and it looks brighter over the stands and beyond the Harleyford Road. If there's no more wet stuff then play will resume at 17:30. That's 5.30pm in old money.
The rain is still falling and more covers are coming on here at The Oval.
This made me do an actual chuckle.
22nd over: England 107-3 (Pope 48, Brook 12) Nortje steams in through the mizzle and the gloom, Pope cuts him past point for a single to bring Brook on strike. The debutant unfurls another confident drive to pick up three more, Brook has settled in nicely here.*
*MOCKERS ALERT
And I'm afraid to say the rain has got a smidge too heavy, the umpires call for the covers and the players hot foot it from the field. I don't think/hope they'll be off long…
21st over: England 100-3 (Pope 46, Brook 8) A solitary single to Pope brings up the hundred for England. Jansen, who has been South Africa's best bowler keeps Brook honest. Floodlights on at The Oval and a few spots of rain, not ideal conditions for batting.
20th over: England 99-3 (Pope 45, Brook 8) England hurtle to 99, Pope collects a couple with a mis-timed drive through mid-off before throwing the kitchen sink, pots and pans at an upper cut but he doesn't quite time it, the ball looping to deep third where the fielder doesn't pick the ball up in the encroaching gloom. It's got dark and muggy here at The Oval, a storm brewing?
19th over: England 96-3 (Pope 42, Brook 0) Harry Brook gets his first runs in Test cricket with a lovely drive through point for four! Shot! Marco Jansen goes full again and Brook tucks in again and smears the ball to the fence on the drive. Test cricket -easy peasy.
18th over: England 88-3 (Pope 42, Brook 0) Nortje back on for a burst and he keeps it tight before letting the pressure off by drifting onto Pope's pads and getting picked off for four.
WICKET! Root c Peterson b Jansen 23 (England 84-3)
Wild swipe from Root and whadda grab in the slips! Peterson plucks the ball out of the air as it was going past him at warp speed! Pure reactions, i'm positioned right behind the slip cordon in the outdoor press seats here at The Oval (surely one of the best places to watch criggit live?) and can confirm that was a stunning pouch from Peterson. Harry Brook comes out to bat, on dayboo.
17th over: England 84-3 (Pope 38, Brook 0)
Updated at 11.45 EDT
The players are heading back out, South Africa need to take England wickets otherwise they could be in for a painful and long session.
This England team evidently don't like Mondays.
Tell me why!?
16th over: England 84-2 (Pope 38, Root 23) Nortje with the last over before tea. Root glides him elegantly for a single but Ollie Pope isn't so traditional that he's going to block out for the interval… he attempts a swashbuckling back foot punch to a lifting delivery and misses it by a gnat's eyebrow. Root possibly has a word with him (Sandwiches? Scone? Careful?) and Pope heeds his senior partner, leaving the last ball to travel safely through to the keeper.
That's the session. Breathless stuff from England, they are rollicking along at over five an over. It could be a lively final session. The Oval cake stand is calling me… back soon!
15th over: England 83-2 (Pope 38, Root 22) Mulder joins five dots but then releases any notional pressure by straying onto Pope's pads with his last. Pope gladly accepts the gift and flicks to fine leg for four.
An email! Brian Withington is, well, withering about a certain tall opener:
"Another grim innings from Crawley compounded by a ludicrous review that could easily cost England another wicket down the track. A man operating on national debt sized borrowed time – never mind expiration dates, he's clearly failing the 'look and sniff' test."
14th over: England 78-2 (Pope 34, Root 21) Nortje is coming on to send down some raw pace. Pope welcomes him with a slap square on the off-side for four! Hello Anrich, I've been expecting you. Nortje's facial expression is of a man who has just had a healthy slug of sour milk. He's on the button for the rest of the over though.
13th over: England 74-2 (Pope 30, Root 21) A full ball from Mulder is cue-ended by Root and it brings him a couple. A nice sequence of dots is ruined at the last as Mulder gifts Root a half volley on his legs that he disdainfully flicks away for four. South Africa have been ragged, England could well have a lead in this match by teatime. Glorious nonsense.
12th over: England 68-2 (Pope 30, Root 15) Joe Root plays the shot of the day for my moolah – a beautiful bent knee'd drive that skims through the off side for four. Kneel and admire Joe. Wiaan Mulder is going to replace the out of sorts Rabada.
Couldn't resist. Sorry.
11th over: England 63-2 (Pope 22, Root 1) 19 runs (NINETEEN) are plundered from Rabada's latest over as England continue to take every chance they can to score. Rabada is still struggling with his run up and sends down a brace of no-balls. His legitimate deliveries are crunched by Root and Pope, Pope particularly is using his feet to trot down the pitch and unsettle the bowler. Did I mention there were 19 runs taken from it?!
10th over: England 44-2 (Pope 22, Root 1) Joe Root does his road runner thing as he scampers out onto the field, legs pumping like a pistons. He gets off the mark with a clip off his toes that is met with the customary 'ROOOOOOOOOT' from the south London faithful.
WICKET! Crawley lbw b Jansen 5 (England 43-2)
"Salmon trout" Mark Butcher calls it on the TV commentary. Nasser opts for the classic: "Plumb". Jansen hoops one into Crawley's front pad and it looks for all the world to be out. Zak doesn't think so though and he sends it upstairs… has he got a tickle on it? Has he 'eck, Crawley burns a review and has to depart.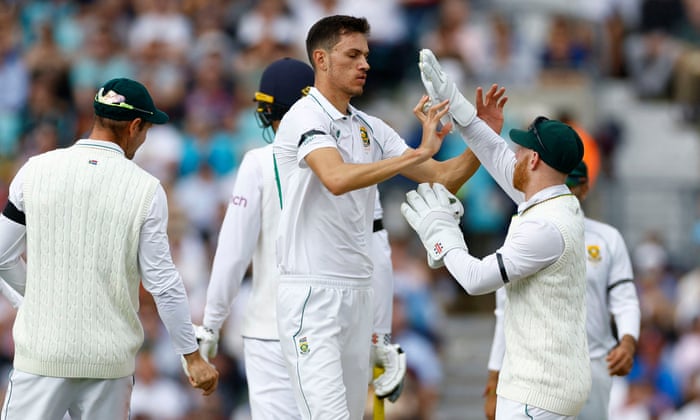 South Africa's Marco Jansen celebrates after taking the wicket of England's Zak Crawley. Photograph: Andrew Boyers/Action Images/Reuters
Updated at 11.15 EDT
9th over: England 43-1 (Crawley 5, Pope 22) An over of two halves from Rabada who works Pope over with the first three balls before overstepping hugely and sending down a half-tracker that the Papal one swats away for four with contempt. The bowler then seems to lose his run up, sending down another no ball and looking thoroughly disgruntled.
8th over: England 35-1 (Crawley 5, Pope 16) Shot! Pope clips a straight one from Jansen off his pads with some nonchalance and the ball races across the sunlit baize for four.
Broad and McGrath both have 563 Test wickets, but with Broad ahead on alphabetical order, it means England have the two leading seam-bowling wicket-takers in Test history.

— Lawrence Booth (@the_topspin) September 10, 2022
Broad > McGrath?
7th over: England 28-1 (Crawley 5, Pope 9) Rabada sends down a crackin' over. A maiden that tests both edges of Crawley's bat and zones in on the big man's pads. Crawley then gets in a bit of a tizz and leaves what looks like a dead straight ball! How is that NOT OUT?! Umpire Kettleborough shakes his head though. Dean Elgar gets his T on straightaway and South Africa look confident. Ooooosh. Just missing! Good decision. It looked dead to the naked eye.
6th over: England 28-1 (Crawley 5, Pope 9) Jansen has got a bit of nibble going on, he beats Crawley outside off stump. The Kent man is watchful, leaving and blocking. He might only get one chance to bat in this game and will want to make it count.
5th over: England 26-1 (Crawley 4, Pope 9) Ollie Pope knows how to bat at The Oval. His average is still something nosebleed worthy in Kennington and he trusts the pitch like an old friend. The Surrey tyro picks up back to back boundaries off Rabada, pouncing on a couple of back of a length balls to crack consecutive pulls through mid-wicket.
4th over: England 18-1 (Crawley 4, Pope 1) Pope gets off the mark with a sprightly single and Jansen keeps Crawley tied down. South Africa getting into their work nicely now. Sun out at The Oval and a very appreciative crowd, cheering every run and oohing and ahhhing almost every ball.
WICKET! Lees b Jansen 13 (England 17-1)
Lees is on his way now though! Sorted out by Jansen from over the wicket, he plays a booming drive with a straight leg and sees his middle stump uprooted. South Africa have their first and the wickets keep on coming on this first/third day.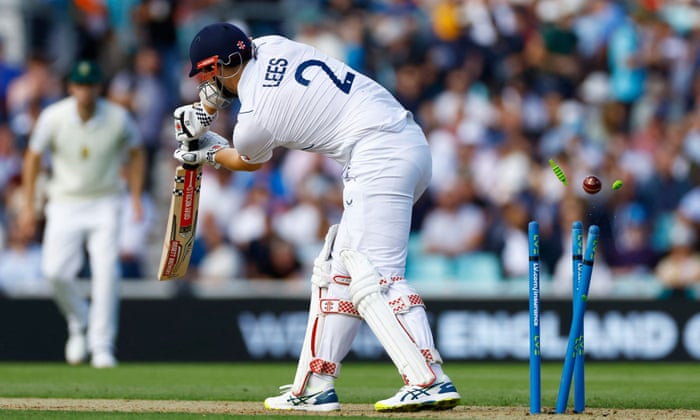 England's Alex Lees is bowled out by South Africa's Marco Jansen. Photograph: Andrew Boyers/Action Images/Reuters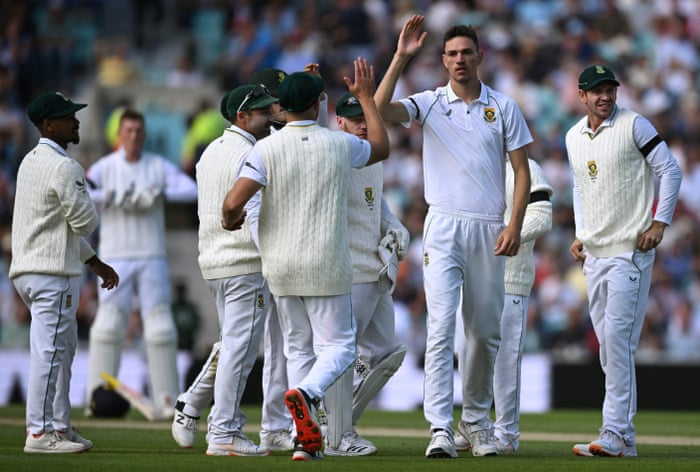 Jansen (second right) is congratulated by his team-mates. Photograph: Ben Stansall/AFP/Getty Images
Updated at 10.55 EDT
3rd over: England 17-0 (Lees 13, Crawley 4) Alex Lees is not for hanging about – he drives Rabada for four on the up and then picks him off his toes for three more. He's raced onto 13 runs.
2nd over: England 10-0 (Lees 6, Crawley 4) Marco Jansen (the missing lovechild of Jonathan Rhys Meyers and Alan Mullally?) is going to send down his south-paw slingers from the other end. Three slips, a gully and a short leg in place. Lees gets another full ball on his pads away for a couple. A scampered single to cover point brings Crawley on strike and Jansen, all angles and cheekbones, keeps him honest for the rest of the over.
1st over: England 7-0 (Lees 3, Crawley 4) Alex Lees gets England off the mark with a clip off his pads for three. Zak Crawley then plays a delicious drive down the ground for four. What do you do to us Zak? Ay up – what's this? Catch or bump ball? The South African's half heartedly go up for a catch at backward point but the TV replay shows Crawley thunked it into the ground first. Settle down everyone.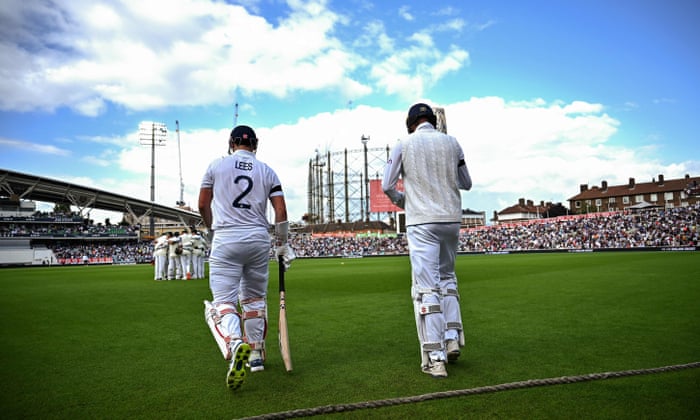 England's Alex Lees (left) and Zak Crawley walk out to bat. Photograph: Ben Stansall/AFP/Getty Images
Updated at 10.14 EDT
Athankya Daniel, FAR too kind. Hello OBO. Well, what do we think? There's a few cynical sages around me at The Oval suggesting that England will soon be 20-3 and this game will be right back in the mixer…
The South African bowlers are in a huddle, no doubt Dean Elgar is giving them some choice words to get them fired up. Crawley and Lees stroll to the crease, Rabada has the dark new Duke's in his clutches. Let's play!
As ever do get in touch with your thoughts, theories and comments.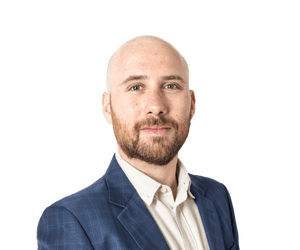 Daniel Gallan
Well folks, that's it from me. I've done a fair few of thes OBO shifts but it's the first time I've overseen an entire Test innings. England were brilliant. Robinson was near unplayable this morning and Broad cleaned up the tail. There were some poor strokes from the Saffas – Petersen shouldering arms and getting bowled, Mulder chasing a wide one and edging, Maharaj playing onto his stumps from a wild slog – but credit must go to the English were extracted seam and bounce throughout.
Jansen stuck around and top scored for 30 and Zondo showed some potential with a fighting 23, but it's a sorry scorecard for the Proteas who have just recorded their second shortest first innings in their Test history.
Unless Rabada and Nortje can do bits with the new ball, this is England's game.
I'll hand over to Jimbo Wallace, a wizard with the words. Take care ya'll. Catch you on Monday (if this game makes it there).
Updated at 09.57 EDT
SOUTH AFRICA BOWLED OUT FOR 118
That tame dismissal sums up South Africa's innings. A full ball from Broad is meekly plinked towards Stokes at mid off and Nortje is out for 7. He collected four runs the previous ball with an edge through the slips. Four for Broad. He gets his rewards in the end.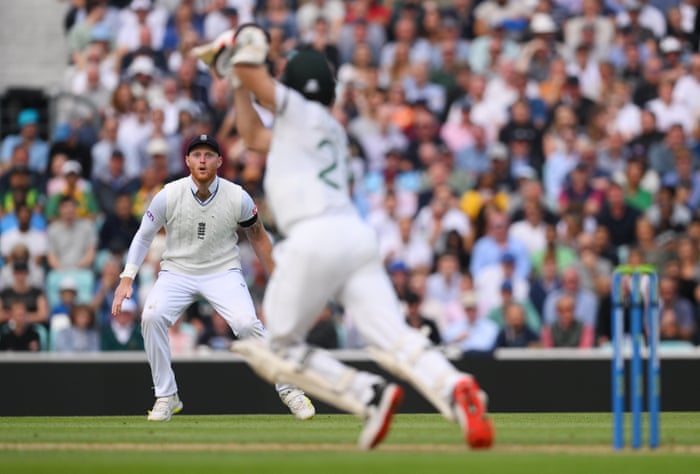 Ben Stokes of England looks on before catching from Anrich Nortje of South Africa. Photograph: Mike Hewitt/Getty Images
Stokes celebrates after taking a catch to dismiss Nortje off the bowling of Stuart Broad. Photograph: Andrew Boyers/Action Images/Reuters
Updated at 10.09 EDT
36th over: South Africa 114-9 (Rabada 7, Nortje 3) Nortje takes three with a decent drive up the ground past Anderson at mid off. Robinson bounces Nortje earlier in the over. No doubt the Saffa will make a note of that.
35th over: South Africa 110-9 (Rabada 6, Nortje 0) Rabada's gentle and well timed flick through midwcket for three suggested that the remaining Saffas might concentrate and drag out as many runs as they can. Nope. Maharaj's ugly swing caught the bottom edge and he handed his wicket away to Broad. Poor from the tourists. As good as England have been, South Africa have been dreadful.
WICKET! Maharaj b Broad 18 (South Africa 110-9)
Maharaj was always going to play a role in his own downfall and so it proved here. It's not too short from Broad but Maharaj's eyes lit up as he rocked back to shovel a pull shot. It catches the under edge and crashes onto the stumps. A pretty dismal stroke in a pretty dismal innings that's just one wicket away from reaching a dismal end.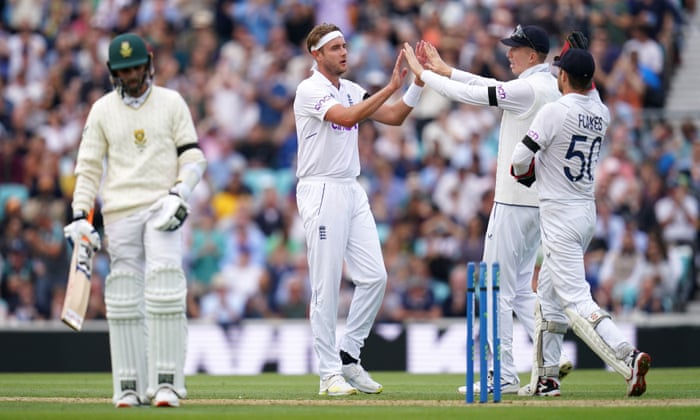 England's Stuart Broad (centre) celebrates taking the wicket of South Africa's Keshav Maharaj. Photograph: John Walton/PA
Updated at 10.06 EDT
34th over: South Africa 105-8 (Maharaj 19, Rabada 1) Robinson gets his milestone with a delivery that invited Jansen to drive but the tactic to Maharaj and the new man Rabada seems to be on a shorter length. Marahaj is happy to play ball and he's swiping at anything he can reach. He cross-bats a couple down the ground and hoicks another two towards deep midwicket. He's not timing the leather off the ball, but he is taking it on. Strap in. The South African spinner is here for the vibes.
WICKET! Jansen c Root b Robinson 30 (South Africa 99-8)
Robinson has five and doesn't he deserve it. He's been sensational today and it's another probing full ball that does it. Jansen can't help but have a nibble. It's not a full blooded drive but his hands are hard enough that the edge carries to Root at second slip and he holds on safely. Wonderful for Robinson who has had to fight back from injury setbacks. He looks the real deal when he's bowling like this. What a player. What a performance.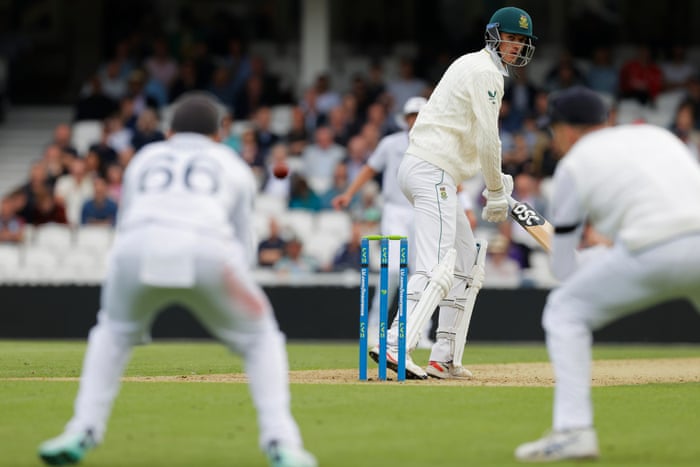 Marco Jansen of South Africa is caught by England's Joe Root from a delivery by Ollie Robinson. Photograph: Tom Jenkins/The Guardian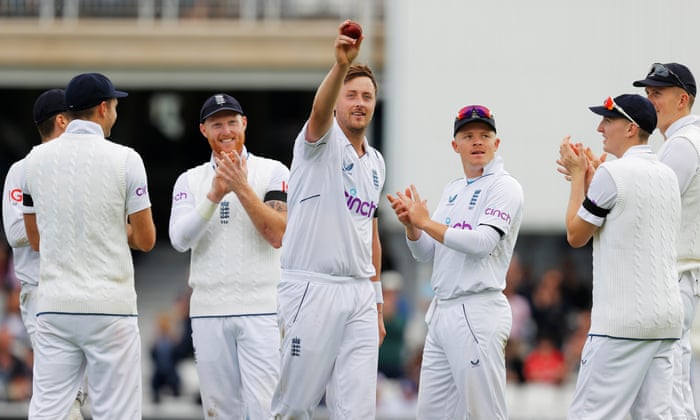 Robinson celebrates his fifth wicket of South Africa's first innings. Photograph: Tom Jenkins/The Guardian
Updated at 10.22 EDT
33rd over: South Africa 99-7 (Jansen 30, Maharaj 14) How has Broad not got a wicket in this over? Well, because he hasn't hit the stumps, pads or outside edge. He's come close, though. That final ball was a jaffa, moving away from Maharaj off a perfect length. Earlier in the over Maharaj takes a wild swipe at a bumper and then keeps out an in-swinging yorker. That was about as fun as a wicketless maiden can be.
Do I owe Foakes an apology? Steve Hoare has a different view on that dropped catch:
"On TV slomo they showed how the seam changed direction just before it got to Foakes. It changed the direction of the ball. Maybe shoulda still caught it but it looks less like a howler and more like a weird ball that just fooled him."
I'm digging my heels in and doubling down! A howler I say! An absolutely howler!
32nd over: South Africa 99-7 (Jansen 30, Maharaj 14) Short, pulled, BANG, four. Maharaj has clattered that Robinson bumper in front of square. Stokes then sends Leach out to patrol the fence and Maharaj takes on the short ball again. Absolute mad man! Lucky for him he doesn't catch all of it and it reaches Leach after a couple of bounces. England reverting to their old ball tactics again. Jansen is more circumspect and is able to ride the bounce with more comfort. He starts the over with a single and moves into the 30s.
31st over: South Africa 93-7 (Jansen 29, Maharaj 9) Who'd be a bowler? Broad saw two edges go down in his last over and this time he's a witness to Maharaj carving him to the point boundary with a dashing stroke. Broad also pushes one down the leg side. He looks a little grumpier than he did 20 minutes ago.
"Hi Daniel." Hi Andy Cosgrove. All good with you?
"To help me visualise how easy the Foakes drop was, if it had been Buttler, how many paragraphs in tomorrow's match report would it have taken up?"
I can envisage thousands of words committed to this single act. That was a howler from Foakes.
"How much cricket do you think we lost yesterday? There was a huge dump of rain mid-to-late morning in my part of London. I know the Oval drains quickly, but the ground must be quite wet to start with after the last few days, so I'm guessing there would have been very little play, if any, even without the death of the monarch."
We definitely would have lost some cricket yesterday, but the way these teams bat there would have been enough time to get through half an innings at least.
30th over: South Africa 89-7 (Jansen 29, Maharaj 4) Jansen might have been fortunate with his boundary in the last over but there was nothing lucky about this shot to Robinson. It's a proper half volley but the lanky lad gets well forward and clatters it back past the bowler. Robinson responds with an effort ball bouncer and Jansen ducks underneath it. What's more, it's a front foot no-ball. A rare win for South Africa against Robinson.
Interesting stats over here. I still think Foakes is a fine 'keeper, but this isn't great reading. Would love to know the reason behind these numbers.
Source by www.theguardian.com