click to enlarge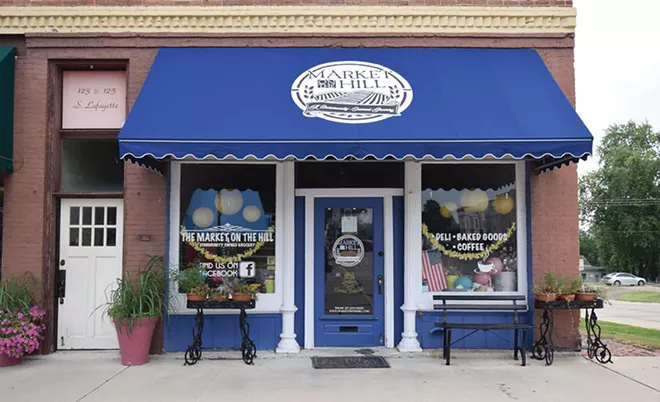 Photo by David Blanchette.
The Market on the Hill retail store in downtown Mt. Pulaski.
When Market on the Hill opened in 2020 in downtown Mt. Pulaski, its founders took the producer-to-consumer concept of the farmers market one step farther. Now, the community grocery store's organizers are thinking on a much larger scale.
"At the time we were putting the market and grocery store together, we also, on a parallel track, were trying to create a fresh food processing and distribution center," said Market on the Hill founding board member Tom Martin. "This would allow us to get more fresh food into hospitals, nursing homes and places like that."
That four-year vision of a processing and distribution center is one more step closer to reality. Martin is spearheading the development of the FarmFed Processing Center, and recently announced that a lease agreement has been reached to transform 5,000 square feet of space in the old Stahl's Furniture building into a facility where local producers' goods can be processed, stored and then sent out to institutional customers.
click to enlarge
Peppers grown at Maddox Sweet Corn Farm dry before they are delivered to grocery stores and retail stands.
Right now the 40,000-square-foot Stahl's building at the junction of Routes 54 and 121 at the south edge of Mt. Pulaski is surrounded by a fence and is being used by Kwik-Wall of Springfield, which purchased the structure when the furniture store closed. Martin hopes to have the FarmFed Processing Center open and operating in that location by next summer.
"That will hopefully allow some of our local producers to grow and increase their production while we take on the challenge of marketing, processing and transportation for them," Martin said.
"People can acquire fresh produce all year long."
Tom Martin is no longer on the Market on the Hill board, and is instead focusing his efforts on getting the processing operation up and running as the FarmFed Cooperative board president.
click to enlarge
Photo courtesy of Maddox Sweet Corn Farm.
Sweet corn is harvested at Maddox Sweet Corn Farm.
"One of our main goals is to allow producers to do what they do best, and that's produce, and not get involved in all the business management," Martin said. "They bring it in, sell it to us, and we handle everything else."
FarmFed will be a year-round, large-scale fresh food resource.
"We will have immediate use of fresh produce where we will process it, bag it and provide it to cafeterias so they can use it right away," Martin said. "But our goal is to have this so it's not just in-season. People can acquire fresh produce all year long."
"We want to take it at its ultimate freshness, process it, and the flash-freezing process will lock in the flavor and freshness to provide product throughout the year to more institutional-type buyers," Martin said. "We will put it in our freezers and have a regular time period throughout the winter when we will deliver that to our customers."
FarmFed last year was awarded a $185,000 Local Food Promotion Program grant from the United States Department of Agriculture's Agricultural Marketing Service program. The grant enabled the cooperative to hire a Washington, D.C., consulting firm to help organizers reach out to producers and potential institutional users. Martin has been in contact with organizations in Chicago, Minnesota and elsewhere who are watching what is unfolding in Mt. Pulaski.
FarmFed is a cooperative funded by approximately $150,000 in stock sales, with possibly more stock sales to come as the operation moves forward. Martin said that several of the producers who will utilize FarmFed are stock owners and hopefully they will realize an investment return on both dividends and product sales.
click to enlarge
Photo courtesy of Maddox Sweet Corn Farm.
Workers at Maddox Sweet Corn Farm tend vegetables by hand.
A processing and distribution center for local products may seem like a sure thing during these times when consumer trends shift toward local and fresh food. But Martin said it isn't a slam-dunk.
"There are still a lot of closed doors and we don't always know what door we will be walking through," Martin said. "We are going at a slow pace because we want to do things right."
Ted Maddox is the owner of Maddox Sweet Corn Farm near Warrensburg, just northwest of Decatur. He grows sweet corn, green beans, zucchini, yellow squash, peppers, tomatoes, onions, cabbage, broccoli, cantaloupe, watermelon and herbs on much of his 150 acres. Maddox was an initial investor in FarmFed, served on the organization's interim board for one year, and was then elected a board member.
"FarmFed will create an avenue for us to be able to market or move our products into areas that are not accessible for me as a seller," Maddox said. "We are looking at contracts for school systems, nursing homes, hospitals, colleges and prisons."
Maddox currently sells his produce at retail markets in Decatur and Bloomington, the weekly farmers market in Lincoln, and County Market and Harvest Market grocery stores. He also participates in the Community Supported Agriculture box program where consumers pay up front for a 14-week program where they pick up a box once a week that contains fresh produce, fruits or herbs and a newsletter with recipe ideas and nutritional information.
Maddox will expand his produce farming operation if the FarmFed initiative is successful.
"We now rotate about 50 acres of our land with corn and soybeans, so we have the capacity to grow if the need arises," Maddox said.
"The market is a wonderful vehicle to do that."
What FarmFed envisions on a larger scale, Market on the Hill has been doing on a smaller scale since opening in downtown Mt. Pulaski in the spring of 2020.
"From the get-go, the board of Market on the Hill has been made up of local producers and farmers, so that was the initial driving force," said Crystal Siltman, who supplied produce to the cooperative store and then served as the store's general manager from May to August this year. "People had products that they needed to move and the market is a wonderful vehicle to do that."
click to enlarge
Photo by David Blanchette.
New Market on the Hill general manager Lorenne Wilham and outgoing general manager Crystal Siltman display some of the many locally produced food items at the Mt. Pulaski store.
The Market on the Hill concept started in 2017 when Mt. Pulaski's local grocery store closed and forced residents to travel to Lincoln, Springfield or Decatur for most of their grocery shopping. That was about the same time that Mt. Pulaski formed a new economic development board, and one of the board's first priorities was to bring a grocery store to the community.
The board soon discovered that Mt. Pulaski was too small for grocery store chains to consider, so the community would be on its own if they wanted local food access. Organizers were inspired by the popularity of farmers markets and formed a cooperative so that locally grown fruits and vegetables, locally produced meats and dairy, and staple grocery items could be stocked to serve consumers in the southern Logan County area.
"You have to take into consideration who our customers are, so we've tried some new things based on customer recommendations," Siltman said. "I had a lot of local senior citizens who came in and I might be the only interaction they had that day with a live person, so we always went above and beyond with customer service. It's like 'Cheers' where everybody knows your name."
"There are a lot of food deserts in Illinois so I think every community should have something like this," Siltman said. "I think that people should know that this is possible in their community, meeting their needs while supporting the local community, keeping their tax dollars in the area."
click to enlarge
Photo by David Blanchette.
The new FarmFed operation will be located in the old Stahl's Furniture building in Mt. Pulaski.
Lorenne Wilham is the new Market on the Hill general manager and has worked in the store for more than a year.
"What we have going on now works fairly well, but I'm always open to trying new stuff and our board members come in here with new ideas all the time," Wilham said. "I work with the customers, especially the regulars, and ask them what they want to see in here. They can fill out a Google Doc on our Facebook page to request an item."
Right now Market on the Hill features locally sourced produce, meat, dairy, honey, coffee, syrup, flour, sauces and other items, plus some dry, canned and frozen goods that aren't produced locally.
"I am an employee but also a customer, I try to get all of my groceries here, and for the most part I can," Wilham said. "The things that we carry, I think about them as a customer, would I want these here locally."
Wilham reminded potential customers that even though Market on the Hill is a cooperative, and memberships are still being sold, you don't need to be a member to shop there.
"When they say local milk, it's really local milk."
The Little Brown Cow Dairy near Delavan has been supplying milk products to Market on the Hill since the store opened. The dairy is a prime example of the type of small local producer that benefits from a cooperative farm-to-table effort.
"Market on the Hill was with us from the get-go. It's one of those things where everybody works with each other to try to make it work for each one of us," said Terry Hoerbert, who co-owns the dairy with her husband, Bob. "They were the ones that reached out to us to provide our milk. We are 30 minutes from them so when they say local milk, it's really local milk."
click to enlarge
Photo by David Blanchette.
A sampling of locally made food products for sale at Market on the Hill.
The Little Brown Cow Dairy began in 2006 as a small, family milking operation and in 2019 the farm became licensed to sell raw milk. The Hoerberts built a small processing plant the next year and began shipping their own milk. The dairy produces whole milk in half-gallon and one-gallon containers plus kefir, a drinkable yogurt with a Greek flavor.
"We use just what the cows produce here, we don't ship in anything else, and everything is done by our family," Hoerbert said. "We process milk for orders so it's fresh within a day of delivery. The milk isn't sitting in a warehouse anywhere."
click to enlarge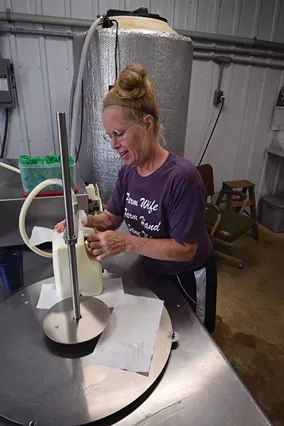 Photo by David Blanchette.
Terry Hoerbert of Little Brown Cow Dairy near Delavan bottles fresh milk to sell at Market on the Hill.
Besides 22 dairy cows, the Hoerberts' operation also raises non-GMO cattle to provide freezer beef hamburger, plus chickens for meat and eggs.
"It means a lot to us that we are able to provide a wholesome product which is what we feel the customers are looking for," Hoerbert said. "We list milk as the sole ingredient because that's all that is in there. We don't do two percent milk because we didn't want to have to add synthetic vitamins back into it."
Little Brown Cow Dairy currently delivers enough milk and kefir per week to Market on the Hill to satisfy demand, but they are careful not to overstock the store, since the fresh milk products have a very limited refrigerated shelf life. The dairy also supplies milk products to a grocery store in Lincoln.
"When Market on the Hill customers come back and say, 'We love this milk, we haven't tasted anything like it,' it gives you the encouragement on those below-zero days when everything is frozen and stuff doesn't work right," Hoerbert said.
Encouragement is what FarmFed's Tom Martin hopes the new large-scale food processing and distribution center will offer to local producers. It's the same type of feeling that Martin had when, during the middle of the COVID-19 pandemic in 2020, Market on the Hill opened and became an outlet for locally produced food products.
It hasn't been easy, but Martin said it's been fulfilling.
"We've had to constantly adjust," Martin said. "But it's a feel-good story because we are still there."
Source by www.illinoistimes.com