Anyone who is active with their company on social media channels these days can no longer come past Pinterest. Because the interactive social platform has grown steadily and is now being used more and more by many private individuals, but also companies.
Millions of users of this platform click through profiles and pinboards every day and collect contributions for their own pinboards. In this article, we explain in this article what advantages Pinterest offers and how you can effectively use this platform with your company.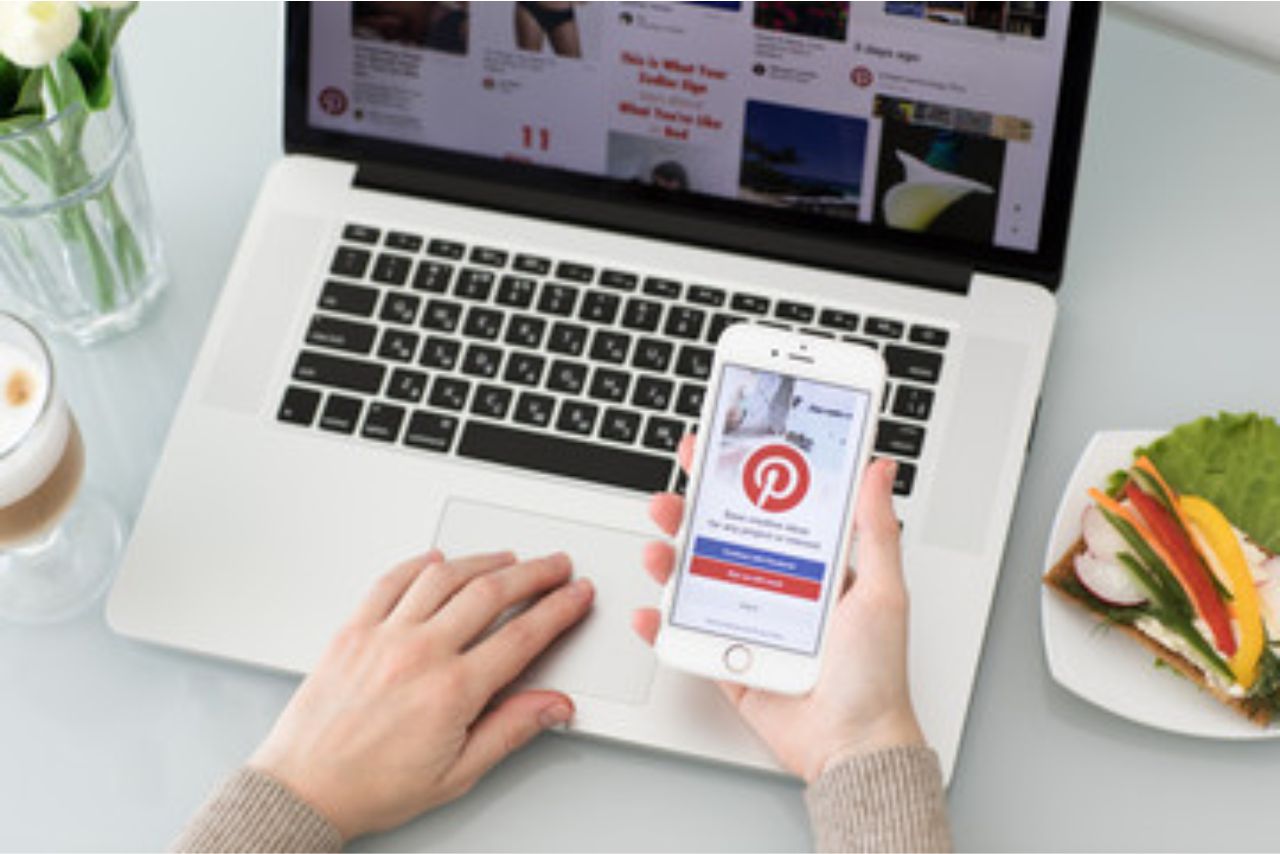 If it is used correctly, Pinterest can be a real traffic guarantee for your company. So that you can optimally use Pinterest Business, we want to answer the following questions in this article:
What is Pinterest?
How does Pinterest work?
How do I use Pinterest for my company?
Who is Pinterest for?
What does Pinterest for companies cost?
What is Pinterest?
Pinterest can generally be referred to as a picture search engine. So if you enter a search term, you will get pictures instead of websites displayed. The results should offer users inspiration and ideas, which they can then save on their own pinboards. With this principle, the name of the platform is also composed: of "PIN" for the pin and "interest" for interest. The pictures called pins can therefore be collected by every user on various themed pin boards. Or you create your own pins, which in turn can be shared with all users. So that the function of the individual terms becomes clearer and you understand what Pinterest can do for companies and especially for your business, we want to explain these functions separately again.
PIN
A pin is not just a picture, but a photo or a video that is stored with a link. This is the special advantage of this network because here it is possible to set a link to the original source behind every post. So if you have a picture of a product of your shop, you can integrate the link to the website of your product behind the PIN. By forwarding, Pinterest enables you more traffic to your website.
Pin walls
Each Pinterest user can remember pins and collect them on different themed pin boards. So there is not only a large archive of stored pins but also ordered theme pages that seem clear and offer structure. Other users can follow your entire account or even individual pinboards. If you then have subscribers, see your pins in your personal feed.
Feed
The feed at Pinterest works like all other social networks. All pins that are followed by pin boards that you follow have been released here. So you always get the latest pins, which is why the feed is also called a news feed.
Differences to other networks such as Facebook, Instagram, and Co.
In contrast to other social networks, such as Facebook and Instagram, Pinterest is not a platform for self-expression. Here is not in the foreground who operates the profile, but what content can be found on the pin boards. The platform lives from the idea of ​​finding inspiration. It is about inspiring people in such a way that they absolutely want to save the pins and best even drop by your website.
Accordingly, the focus is on quality and added value for all "pinnacles". As a result, the willingness to buy is also higher than on other platforms, which is why companies that sell products should definitely represent them on Pinterest.
Why is Pinterest relevant for companies?
Why should you become active on Pinterest with a business profile? Above all because Pinterest enables you to get more traffic on your website through direct forwarding via the links. This also increases the range. Products can be represented perfectly here and meetings for a high willingness to buy users. But in addition to these simple and effective effects, another advantage is the longevity of the pins. Because suitable pins that reflect the search term of the users are also displayed months after publication.
Basically, before the start of your profile, you should know who your target group is and whether it is on the move on Pinterest. Over 400 million people worldwide are active on Pinterest and use the platform to collect ideas and inspiration. These user numbers already show how much potential is in Pinterest because they have increased significantly compared to the previous year. It is important to know that almost 70 percent of all users are female and over 70 percent are between 18 and 44 years old. On the one hand, you can use this data to decide which products you want to represent and, on the other hand, how they should be presented so that you can address the target group.
Which companies are suitable for Pinterest and what can these pinnacles do?
Pinterest is, therefore, suitable for those entrepreneurs whose target group coincides with the users of the platform. In addition, the use of Pinterest is an advantage if you can represent your articles and products well. This means that your products should be visually appealing. Because only those who convince with the picture have the chance that the user will click on the PIN and save it. Therefore, articles such as furniture, accessories, fashion items, clothing, or jewelry are of course suitable. But if you do it correctly, Pinterest can be used well by every company. So you can also skillfully present eBooks, workshops, or other services because many of the users like to remember videos or simple but effective and beautifully depicted sayings. So consider beforehand how you can represent your products or services "pretty" so that users want to click automatically.
Another bonus is the option of the "Rich Pins". With a Rich PIN, Pinterest Business profiles can create an organic PIN that automatically updates the data of your website at the respective PIN and thus synchronizes. So if the data of your product changes on the website, Rich Pin also changes. This special type of pins can be seen from the additional information next to the image and the fat printed heading. You should use this function on occasion because it is available to you free of charge.
Pinterest for companies: 10 tips for successful strategies
So that users can now find you successfully and click and notify your contributions, we have tips for you that can help you to be successful on Pinterest.
Tip 1: Quality, added value, and optics
With all pins you create, you should make sure that the presentation is at the top. Images, videos, or graphics must be appealing and the users immediately catch the eye. To do this, you should adhere to the specified format of Instagram and design your pins in portrait format. Make sure that you offer the users added value and create a qualitatively substantial pin. Especially if you do not show any physical products. This also includes always focusing on the current trends. For example, you should treat Christmas topics as Christmas, as such topics are increasingly being sought at certain times.
Tip 2: Keywords
Since Pinterest is a search engine, it also works like one. Thus, keywords play a very crucial role. If your previously selected keywords do not fit the PIN, nobody will find them either. Therefore, research in advance which topics are particularly popular and align your pins if possible.
Tip 3: The right categories
Pinterest users have the option of selecting categories, the content of which appears interesting to them. The content is then filtered in this way. So you should see that you choose the right categories for your pins so that users can better discover them. So it is worth finding out the most popular categories and checking whether you fit into these categories with your products.
Tip 4: Topic pin walls
Structured pinboards are just as important as the appropriate categories. Different pin boards can be created for different products. Different theme-pin boards show the diversity and give the user orientation. Despite different topics, pay attention to a certain recognition value. Your pins should be able to assign the users to your profile immediately, which is why a certain uniform brand appearance is very important.
Tip 5: Continuity
As with every social media profile, you should also create pins regularly here. Always publish a certain number of pins, such as ten to 20 pins per week. You should make sure that your account does not fall asleep and that new content is regularly displayed. If you don't have much of your own content, just use pins from others and save them. Because that is the idea of ​​Pinterest – users should pin and network foreign content. The more pins and pin boards you have or the more you publish your content, the more attractive your profile looks to the users.
Tip 6: Informative captions
Often pictures only try to attract attention and leave users with their effects alone. It is therefore important that you integrate informative, short texts or explanations in the caption. Here you can convince your potential customers why this information is interesting for you and what advantages are caused by the products. Use the opportunity to name your brand name and add the URL of your website.
Tip 7: CTA
In this context, the CTA (call-to-action) is particularly important, which should also be accommodated in the caption. CTA's address the customer directly and often cause it to do an action. A CTA can also be linked with an ongoing campaign so that users are forwarded directly from Pinterest.
Tip 8: Teamwork
In order to make your profile look more interactive, you can cheer up employees from yourself to add pins to the pin boards. Pinterest offers the possibility that other people will also be activated via the Pinterest business profile. The more you pinch, the greater your profile and thus at the same time your reach. This is also possible with customers. Because you can integrate this into the designation of the pins. For example, you could create a customer pin board and focus on customers, but also get customers to save your pins again.
Tip 9: Networking of the profiles
In order to increase the chances of visibility and reach, you should connect your social media profiles to other networks. So if you also have an active business profile on Facebook and Instagram, linking the accounts can ensure improved visibility. And not only that – a regularly well-kept profile on another platform shows the users that you are broadly positioned for the media and that you also present yourself there differently. This gives users a deeper insight into your company and not only discover product photos, but also employees or current discounts.
Tip 10: Foreign content
Since Pinterest is an interactive network, you should also act with other users with your Pinterest business profile. You can do this by remembering foreign pins. A colorful mix of your own content and foreign content not only revives your pinboard but also shows that you are regularly on the platform. Of course, the focus should be on your own content, especially because you can lure users to your website.
See also: 12 Steps To Turn Your Business Idea Into Income
Conclusion: Pinterest for companies
With the basic information and the tips listed, you should now succeed in creating an attractive Pinterest business profile and, above all, maintaining it. If you pay attention to the advice above, you should be able to get a wonderful Pinterest in your marketing strategy. Try to use this platform for your business and recognize the advantages. If you want to know exactly how much growth you can achieve via Pinterest and where you are standing, you can also use analysis tools that present the most important numbers to you. In order to drive really successful strategies here, you should maybe create a private account beforehand and familiarize yourself with the functions. It is important that you understand that a Pinterest business profile depends on appealing content that you regularly publish.