How well-versed in personal growth are you? Is it something you do frequently? Or you don't have any idea about it? This article will help you to understand personal development and also start your journey of personal development.
Personal development is critical in many parts of life, including your job. The best personal growth methods for you are determined by your strengths, difficulties, and objectives. Understanding personal development and how to attain it will help you put your skills to work more effectively and advance professionally.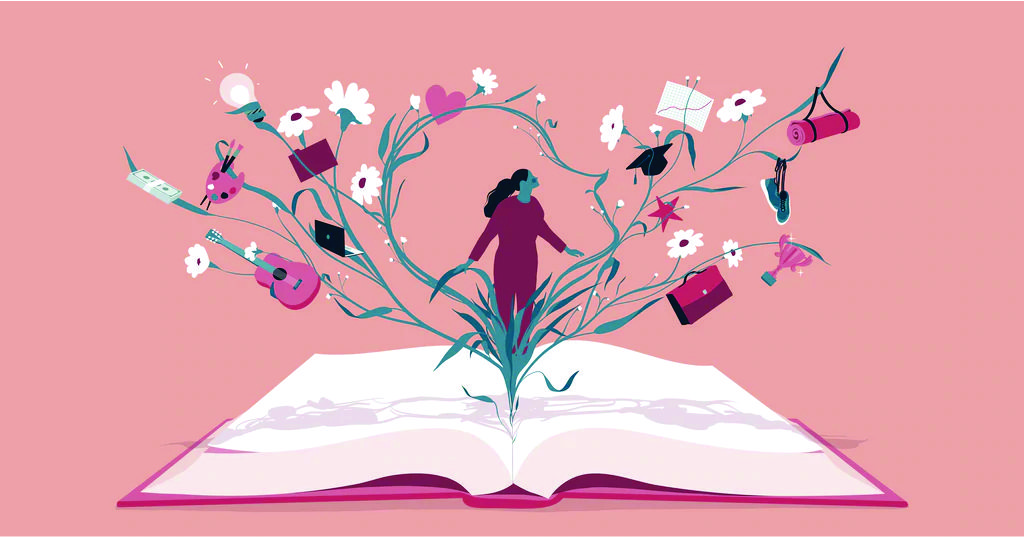 In this article, we'll go over why personal growth is vital, how to identify five areas for improvement, and how to assist your personal development.
Importance of personal development
Why is it critical to comprehend areas of personal development?
Understanding your growth areas is crucial because it can help you figure out where you can make changes in your life that will improve your job satisfaction and help you advance your career. It can also help you identify your strengths and develop in areas where you may need to improve.
You may discover that certain aspects of personal growth are more relevant to your work than others, and you can choose to focus on those to improve your professional prospects.
Personal development takes time, but keeping track of your progress can help you envision your success and motivate you to keep going. Anything that assists you to unleash your potential is self-development.
Personal Development in Five Areas
Let's begin by defining personal development. It's a wide-ranging topic.
'' personal development refers to action aimed at enhancing one's abilities, potential, employability, and even richer''.
Mental growth
Social growth
Spiritual growth
Emotional growth
Physical growth
We'll go over each of these areas today. Stay tuned to learn how to include personal development into your daily routine, no matter how hectic your schedule may be.
1. Mindset
A strong personality comes with a strong mindset. There are a variety of activities by which you develop your mindset.
To take your talents to greater heights you can read books, learn from online platforms or you can also take coaching classes.
Reading books on my field, listening to podcasts, and attending courses are some of my favorite personal development activities.
2. The Social
One of the best personal qualities is the ability to communicate. Most of us have a fear of public speaking or even fear communicating with strangers. Social personal growth, on the other hand, is a crucial activity to engage in.
Learning a new language, practicing public speaking, and committing to more active listening are all activities that can aid in social and personal development.
When was the last time you engaged in any of these pursuits? If you haven't done any in a while, I dare you to do at least one this week.
3. A Spiritual Dimension
The things which calm you or space or spot anything by which you can connect to your inner self is a spiritual dimension.
This area includes everything from spending time in prayer and reading your Bible to going for a walk in the woods or thinking. Check out this article for more examples.
I enjoy participating in a Bible study or connecting with folks from my church during my spiritual personal development time.
4. Emotional Intelligence
An emotionally disturbed person is not able to focus on anything. Hiding your emotions work like a time bomb which will sooner or later explode and makes things worse. I've done my fair share of it also it wasn't a healthy way of behaving.
Journaling, charting your mood, chatting to a friend, or even seeing a counselor are all options here.
5. Physical Fitness
Now for the fifth and final category!
By now, I hope you've realized that proper personal development is all about the total person. When it comes to choosing your development activities, keep this in mind.
Physical personal development is not only about exercise.
It also includes your eating and sleeping habits. Working out, getting 7-9 hours of sleep each night, meal planning, and visiting your doctor's office for frequent exams are some examples of activities.
You'll be on your way to a healthier lifestyle if you develop better exercise, eating, and sleeping habits.
Make Personal Development a Routine:
Now that you understand what personal development is and what it entails, you're probably wondering how to incorporate it into your daily routine.
Here are two examples of how you might incorporate personal development into your daily routine, but there are many more. I recommend making a list of any activities you can think of for each category and then deciding which ones you can fit into your day/week. Experiment and enjoy yourself.
Schedule for the Week:
If you find that working on all five areas of personal development at the same time is too much, try breaking them up into themed days.
Here's an illustration:
Monday is a mental day.
Tuesday is a social day.
Wednesday is your choice. You can choose from a variety of options.
Thursday is an emotional day.
Physical on Friday and Saturday.
Sunday is a spiritual day.
Keep your "WHY" in mind.
Set an alarm every morning to remind yourself to spend one or two minutes imagining what success might look like to reaffirm your "why"
What would it be like if you were able to reach your goal?
What are you motivating to pursue this goal?
The meaning of these reasons for you?
What is your meaning of you?
Continue until you find your last "because" – the essential value that motivates you to achieve your goal.
What is your long-term career objective?
With Coursera Plus, you can empower yourself to achieve your career goals, big and small. To improve your resume, get unrestricted access to over 3,000 courses, hands-on projects, and certificate programs. A seven-day free trial is available to get you started.
Personal growth is essential for success.
Success is defined by who you become rather than what you obtain. The only way to improve yourself is to take action and educate yourself; thinking and wishing for success will not transform your life; you must make a concerted effort to improve yourself.
"Personal development" is defined as "the deliberate decision to improve one's life in order to become a better person and grow as an individual." Anonymous
May these quotes motivate you to grow as an individual by pursuing personal development on a regular basis so that you can achieve your goals.