click to enlarge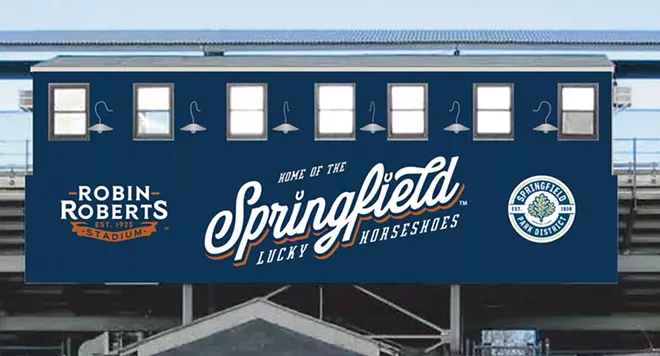 Fans will see many improvements at Robin Roberts Stadium.
"People will come, Ray," intones the mysterious character played by the actor James Earl Jones in the film Field of Dreams. "They'll find they have reserved seats somewhere along one of the baselines, where they sat when they were children and cheered their heroes. And they'll watch the game, and it'll be as if they'd dipped themselves in magic waters. The memories will be so thick, they'll have to brush them away from their faces… Oh people will come, Ray. People will most definitely come."
While that speech is directed towards a farm field in Iowa, converted into a baseball field that has now morphed into the venue for an actual Major League Baseball game, the hope of the ownership of our city's newest baseball franchise, the Springfield Lucky Horseshoes, is most definitely that people will come to Robin Roberts Stadium to watch the latest entry into the Summer Prospect League.
The Prospect League now includes 16 teams in four divisions with teams in locations ranging from Beckley, West Virginia, to Clinton, Iowa. Springfield has been a member since 2009, tracing its roots further back to the Central Illinois Collegiate League that fielded teams in our city for decades until it ceased operations in 2008. The Prospect League is a summer collegiate wood bat baseball league for players with college eligibility. The league exists to provide a summer program for players offering them experience using wooden bats in competition. It also provides an opportunity for Major League scouts to watch collegiate prospects hitting with wood bats against live pitching. Finally, by its own charter, the league considers providing family-friendly, affordable baseball entertainment in the communities where its teams are located as one of its important purposes. On that count the Lucky Horseshoes seem very likely to meet their goal in their first summer in Springfield.
Quite a bit is different as Springfield enters the Lucky Horseshoe era. The top three jobs for the team do not carry job titles that baseball fans might recognize. There is no General Manager; instead Andrew Miller is the Emperor of Engagement. He is assisted by Melissa Gaynor, Chief Community Connector, and Jamie Toole, Chief Storyteller. Together this triumvirate recognizes that the baseball community of Springfield needs to be reinvigorated with a fresh start.
But that fresh start must also recognize the proud baseball history of Springfield. When entering Robin Roberts Stadium, fans will be reminded of the baseball history of our community by signs commemorating teams that have previously played at Robin Roberts Stadium. Toole has been in Springfield since before the purchase of the Horseshoes became official. He has done a lot of listening to members of the community, including previous owners of the team.
More than listen, the new ownership has taken action. Working with the Springfield Park District, the owners are taking the first steps in what they hope eventually will be a reinvigorated baseball stadium. The entire park is being painted, and new signage recognizing new community business sponsors will appear around the stadium. Changing from previous seasons, in most areas of the park fans purchasing game tickets will now have reserved seating. Toole recognizes that the stadium is old, but he considers that a plus. An old stadium has memories for generations of baseball fans. No amount of construction or expenditure of money can destroy those memories. During our interview I shared some of my great memories from visits to Robin Roberts Stadium, including meeting Satchel Paige and taking my grandson to his first baseball game. Jamie Toole understands that those memories do not fade.
click to enlarge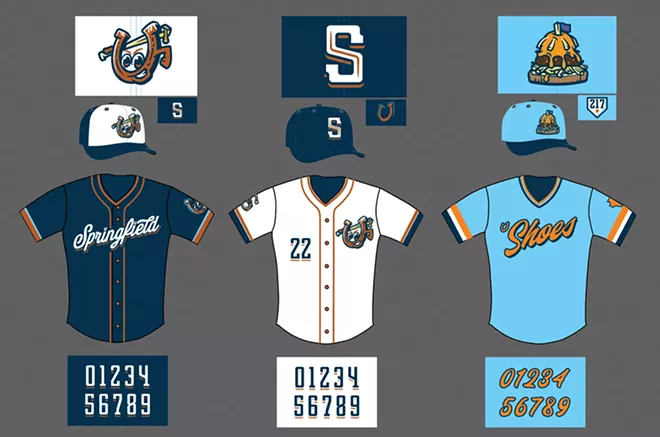 Lucky Horseshoes uniforms are part of the large amount of merchandise offered for sale at the park or online.
But the Lucky Horseshoes ownership understands that they need to make improvements to Robin Roberts Stadium. The scoreboard located at the left-center field wall has been modernized. While not yet a video board, it certainly has a more modern and readable look. A new all-weather playing field is in the long-range plan. Visitors in June will find a new beer garden along the right field line that will feature beer from local craft brewers. Included will be a homegrown brewed product, Lucky Lager. Work is also underway on an indoor Stadium Club that will be located in the team offices and will allow for private parties, press announcements and other non-baseball events These events may be independent of the baseball season. After all, the Horseshoes play only a 30-game home season. That leaves quite a few days for other events for an organization hoping to have a year-round presence in our community.
The 30-game season will not be short of promotion nights. There will be fireworks and live entertainment at games. On June 11 there will be a salute to the iconic movie Major League, with a guest appearance by actor Corbin Bernsen. There will also be promotions independent of games. On July 21 the Battle of the Sexes will pit Horseshoes team members against a women's fast-pitch softball team. In July the team will sponsor Swinging with the Shoes, a golf outing at Long Bridge Golf Course. The summer will also see The Legends Classic, where teams comprised of former players for the St. Louis Cardinals and Chicago Cubs along with alumni from local college, high school and minor league teams doing battle. A full schedule of promotional events can be found at www.facebook.com/shoesbaseball.
The new ownership understands that the fan base might be somewhat skittish about their new team. In recent years the Springfield franchise has been a troubled team. The owners know they must bring fans back this summer. To accomplish that goal, the team has aggressively marketed itself in central Illinois. At the office, boxes of Lucky Horseshoes hats, jerseys and t-shirts are waiting to be sold and delivered. Toole informed me proudly that Lucky Horseshoes merchandise has been sold and shipped to all 50 states in the union. The merchandise is worthy of a look, and of course will be for sale at the ballpark. Area fans and former season ticket holders have been contacted, and Toole describes season ticket sales as "healthy."
Ideally, the Horseshoes would hope to adopt some qualities of another minor league success story, the Savannah Bananas, another college wood-bat team playing in the Coastal Plain League. The Bananas' goal is to expand the baseball experience and provide, "the most fun you will ever have at a baseball game." Some have described them as the Harlem Globetrotters of baseball. In exhibition games they experiment with rules to speed up the pace of the game. Baseball at all levels is currently struggling with making the game faster. In the minor leagues, pitch clocks and other rules are in use experimentally to gauge their impact on the game. Next season in the Major Leagues a strict pitch clock will be implemented. Whatever the reason, the Bananas are incredibly successful and for the upcoming season have sold out their stadium for a 25-game season.
Horseshoes' ownership understands that they must earn fan trust. They do that first by putting a quality team on the field. With that goal in mind, they have recruited players from local college teams as well as players playing college baseball who graduated from local high schools. Players from the successful college programs at Lincoln Land and UIS will be on the summer roster. In addition, the Horseshoes have signed several players who are recent high school graduates and are now eligible for the 2022 MLB Draft. Ownership's goal is that one day a player who began his career in Springfield will be playing in the Major League.
And the final piece of the puzzle is the ballpark experience. The most frequent complaint I now hear about a trip to an MLB game centers on $10 beers, and the cost of food for four easily exceeds $100. Horseshoes fans will find reasonably priced local food from establishments such as Krekel's and Papa Murphy's as well as the traditional baseball food of popcorn, hot dogs, burgers and brats. Since they are the Horseshoes, there will also be a hand-held walking horseshoe menu item for fans to enjoy while watching the game.
What's past is past. The Springfield Lucky Horseshoes begin a new era this June. They opened the season on the road June 1 and play their first home-game Saturday night, June 4, against the Alton River Dragons. Long ago the legendary Harry Caray was famous for telling us, "You can't beat fun at the old ballpark." Harry was right then and it remains true today. The Springfield Lucky Horseshoes want those memories and the baseball experience back in our city and all of us who love the game and cherish its memories need to take a look at Springfield's newest baseball franchise.
Stuart Shiffman covers baseball for Illinois Times.
Source by www.illinoistimes.com