There are so many occasions when sunshine quotes can brighten the day!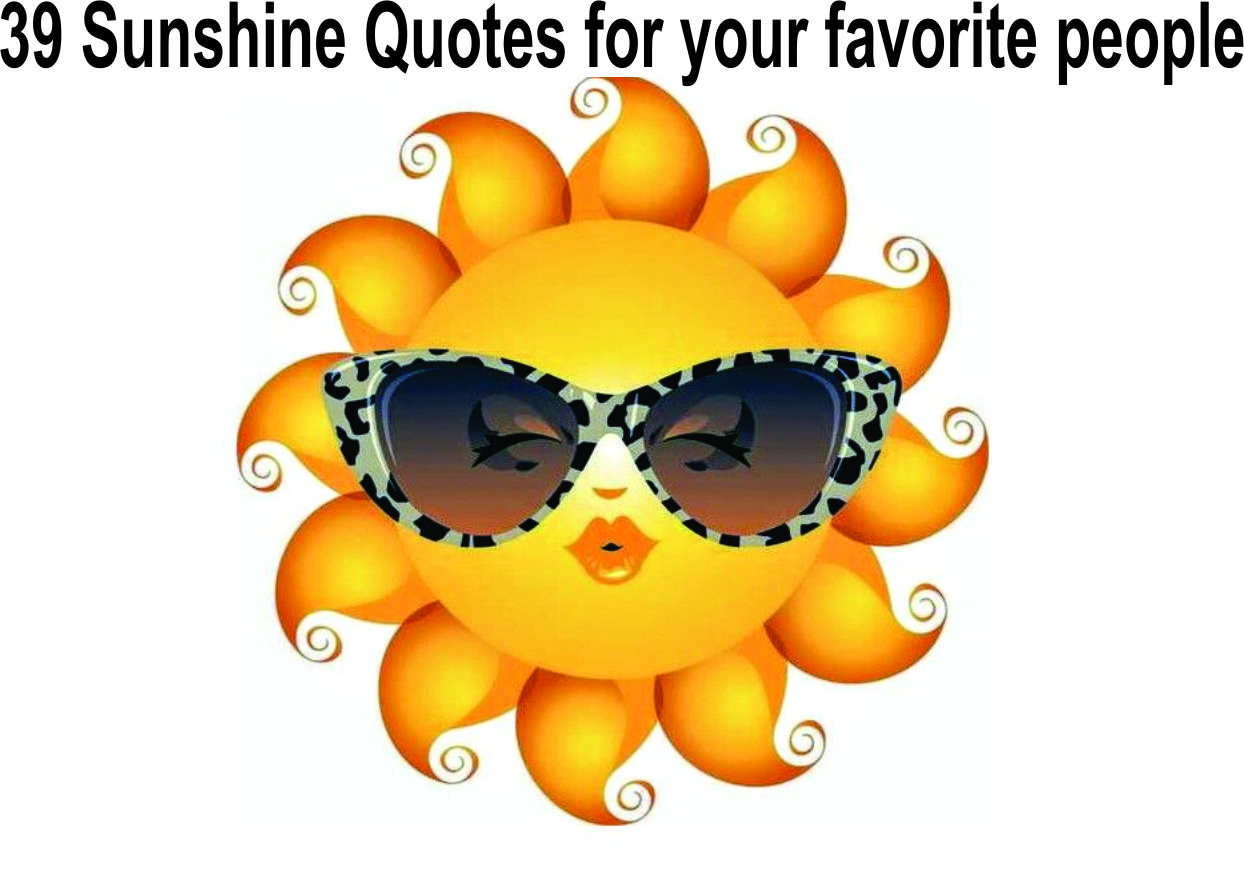 When they hear the word "sunshine", most people think of spring or summer, good mood, happiness, and joy, beautiful colors, being awake, holidays, and nature. We also often call our partners "Sunshine".
No wonder, since the sun is the center of our planetary system.
Yes, we romanticize that distant star that gives us life but also brings sickness and death. But that's not the point here.
In this post, you will find sayings, quotes, rhymes, and poems about sunshine. The selection offers beautiful good morning sayings, loving attention, and wisdom to think about.
Good Morning Sunshine Quotes for loved ones
Would you like to brighten the day for your partner, friend, or family with a nice saying? Not only your darling is happy about a sunny good morning message!
Even mum, dad, sister, or cousin will be pleasantly surprised! Incidentally, the wisdom in Irish blessings can also bring sunshine into the day.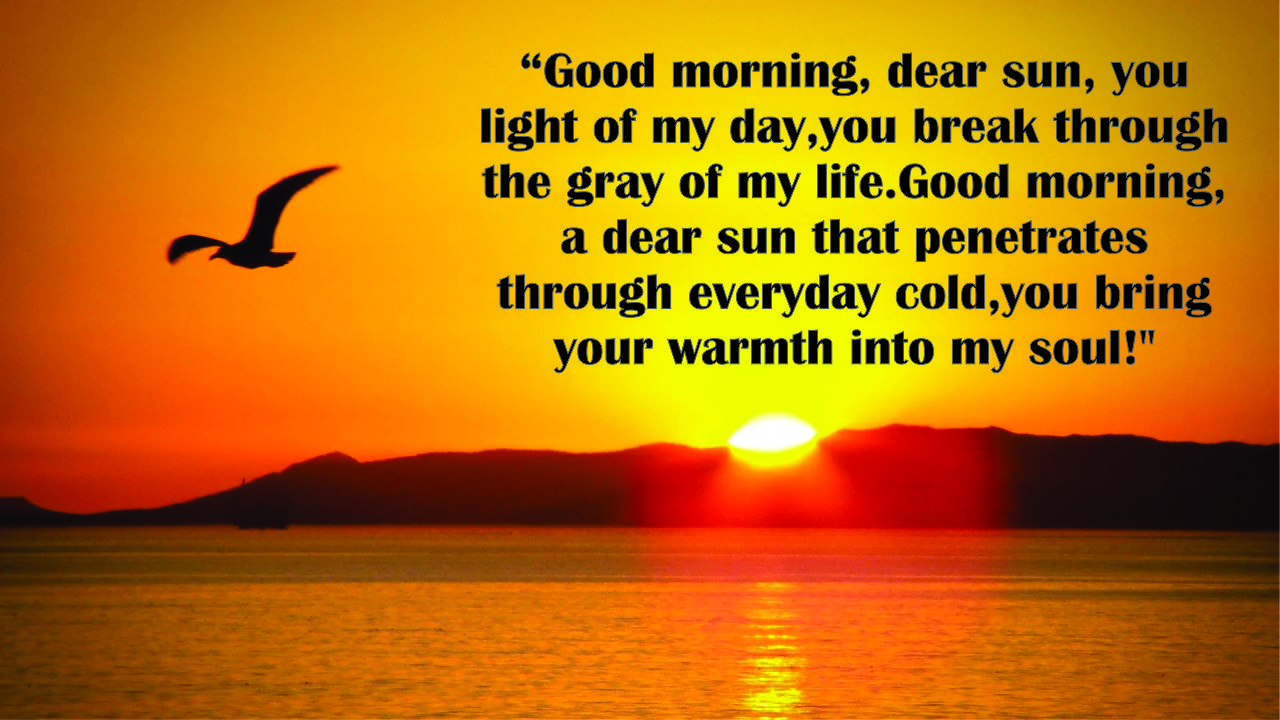 So they are not only good as birthday sayings!
1. "Good morning, dear sun, you light of my day,
you break through the gray of my life.
Good morning, a dear sun that penetrates through everyday cold,
you bring your warmth into my soul!"
– Stefan Pretsch
2. "Good morning sunshine!
May the day be your friend today!"
– Lena Lorenz
3. "Do you trust in the good from above,
you can praise the day in the morning."
– Peter F. Keller
4. "May the first good word you speak in the morning be a bridge to the young day."
– Old Irish blessing
You are my sunshine sayings bringing joy
In addition to love poems and sayings about love, the following sunshine quotes are also great for reminding your sweetheart how important he or she is. It's bound to be a good day!
The beautiful words are short, sweet, and great for WhatsApp and Valentine's Day. By the way, we also have gift ideas for gentlemen on the day of love.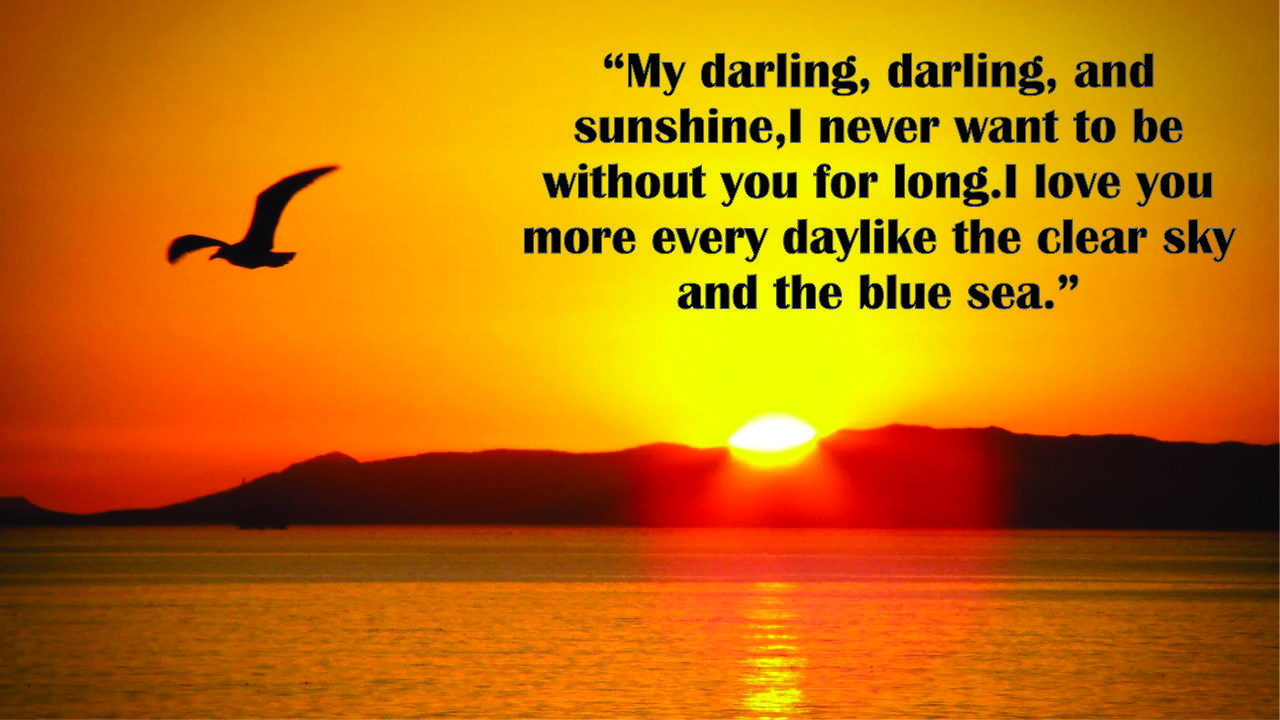 1. "I am your sunshine, but I can only shine when you shine."
– Andrea Kossmann
2. "Even if it rains in the morning or the sky is gray, all I have to do is look at your face. As soon as it smiles, it shines at me like sunshine."
– Unknown
3. "Just as plants need sunshine to thrive, so I need you to be happy."
– Lena Lorenz
4. "My darling, darling, and sunshine,
I never want to be without you for long.
I love you more every day
like the clear sky and the blue sea."
– Lena Lorenz
5. "Your smiling face infects me like sunshine. Your smile should shine so brightly quite often."
– Unknown
6. "My sunshine, my happiness is you.
With you, I come to rest in life.
How the colors shine thanks to the sun's rays
thanks to you, every day is a new song and bliss for me."
– Lena Lorenz
Sunshine sayings in short – wisdom that provides reflection
Did you think sunshine spells can be exceedingly wise? There are days when the whole world looks cold and gloomy. We know in principle that this will not always be the case.
But rainbow wisdom and sun and rain sayings remind us of it.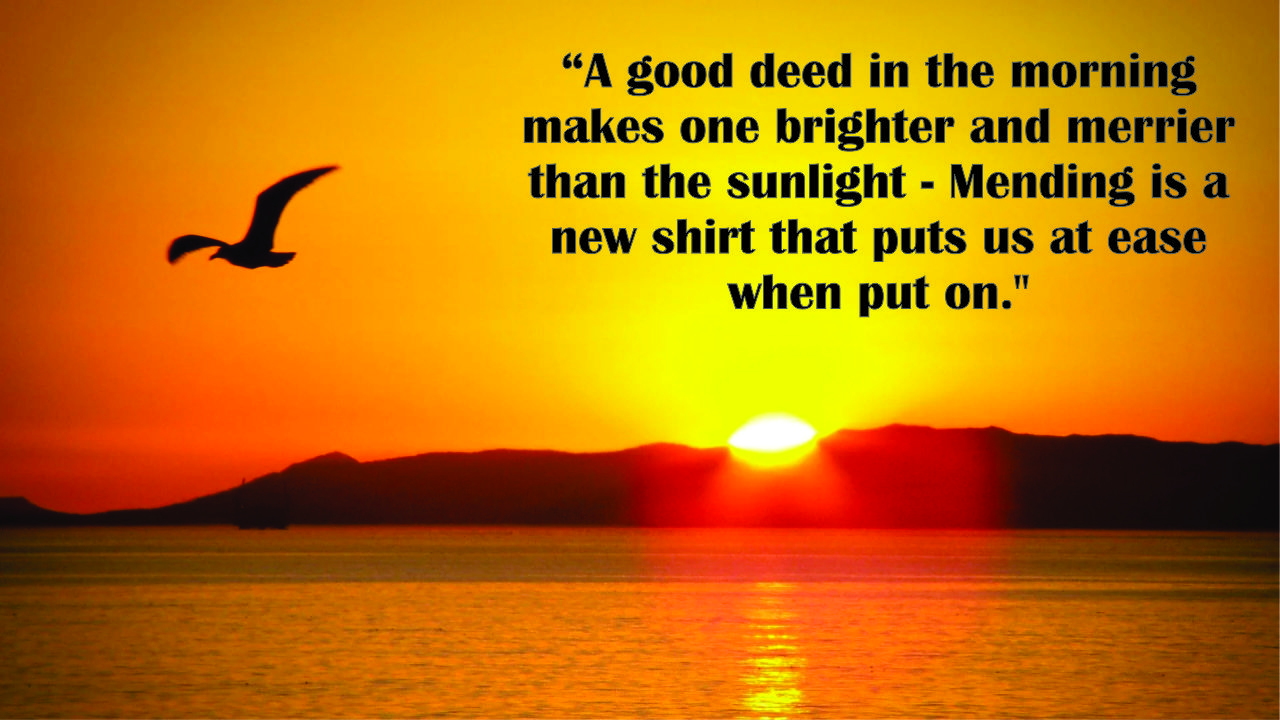 Why not give someone a special gift with a beautiful wall decal? Of course, other surfaces are also suitable for printing and labeling with the following lines.
1. "When things get cloudy, don't cry disconsolately, rain is followed by sunshine!"
– German proverb
2. "He who has the courage to leap over his own shadowlands quickest in the sunshine."
– Karl-Heinz Karius (*1935), advertising consultant
3. "Living alone is not enough, said the butterfly, one must also have sunshine, freedom, and a little flower."
– Hans Christian Andersen (1805 – 1875), Danish fairy tale writer
4. "The weather and my mood have little to do with each other. I carry my mist and sunshine inside me."
– Blaise Pascal (1623 – 1662), French religious philosopher and scientist
5. "It's easy to spot true love. With her, the sun shines even in a storm. Without them, it rains even when the sun shines."
– Andreas Bechstein
6. "Always sunshine makes the desert."
– From Arabia
7. "If a friendly face greets you in the morning, a kind word, a loving service, it will sunbathe your heart for the whole day."
– Karl Immermann(1796 – 1840), German judge and writer
8. "A good deed in the morning makes one brighter and merrier than the sunlight – Mending is a new shirt that puts us at ease when put on."
– Sebastian Mutschelle (1749 – 1800), German Roman Catholic priest and author
9. "Charm is sunshine brought with you."
– Manfred Hinrich (1926 – 2015), Dr. phil., German philosopher, philologist, teacher, journalist, and writer
Good Mood Sunshine Funny Quotes – Funny sayings to cheer you up
Sometimes the best sayings do not love sayings, but funny messages.
Life and the world look a bit friendlier when viewed with humor. Funny sayings bring a different kind of sunshine into our homes, don't you think?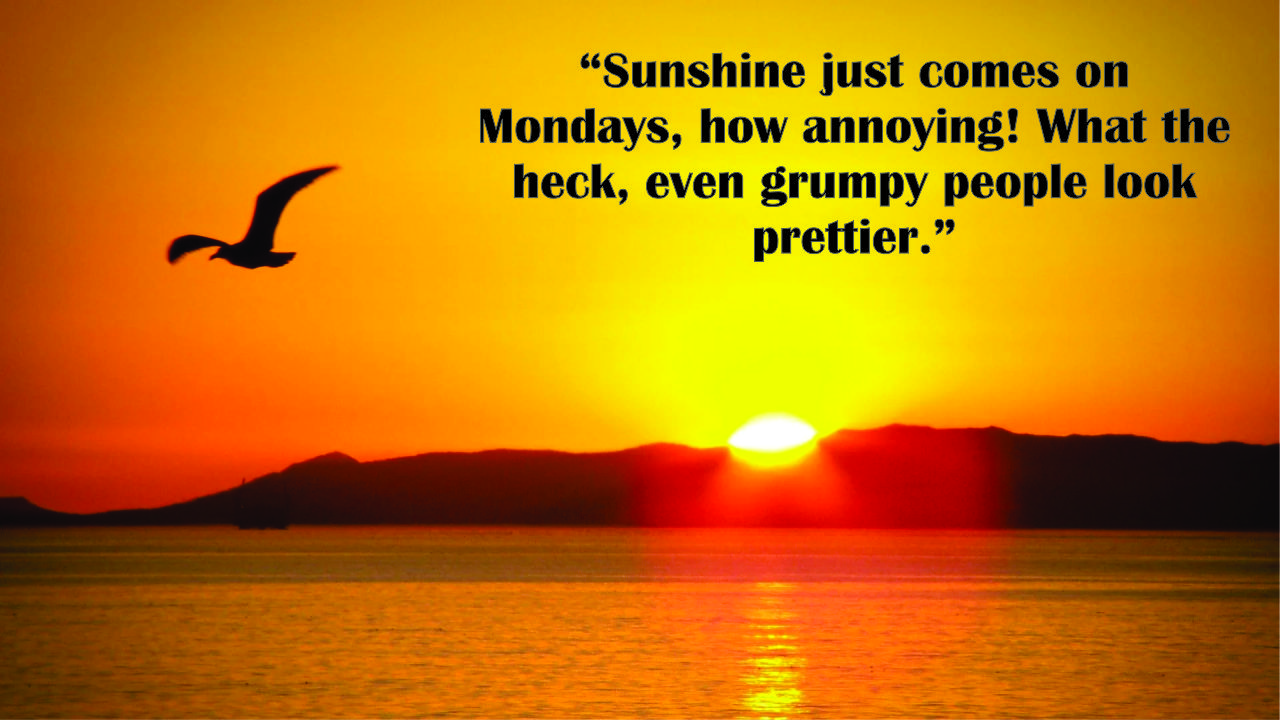 1. "You woke up all rumpled? Don't worry about it and enjoy the sunshine, after all, you have the best opportunities for development today!"
– Unknown
2. "In the sunshine, problems look very different. When wine is added, grief is turned on its head!"
– Unknown
3. "Nice day with sunshine, you feel fresh and young. Until you suddenly stand in front of the mirror…"
– Unknown
4. "Everything is prettier in the sunshine, even the rain."
– Unknown
5. "Sunshine just comes on Mondays, how annoying! What the heck, even grumpy people look prettier."
– Lena Lorenz
6. "Warm sunshine makes even pessimists look bright!"
– Unknown
7. "Some people are like shadow plants: they avoid sunshine and choose a life in the shadows."
– Lena Lorenz
8. "The sunshine of the spa stay is called spa shadow."
– Waltraud Puzicha (1925 – 2013), German aphorist
9. "The little man's sunshine: booze and get drunk."
– German proverb
10. "Love is like summer vacation… Sunshine in your heart and airplanes in your stomach every day."
– Stephanie Guss
11. "I would like a photovoltaic system for my heart to store lots of sunshine in it!"
– Helga Schäferling (*1957), German social worker
Sunshine Quotes – Poems that warm the heart
Now it's getting artistic! These poems are just to die for. You want to persuade people to have a love of life, inner peace, a good upbringing, or joy in frugality.
Or they tell about warm seasons, like the most beautiful and dark quotes about spring and great sayings about summer.
Sunshine quotes motifs can also be used to send birthday wishes!
1- O sunshine! O sunshine!
"How do you shine into my heart
O sunshine! O sunshine!
you awaken pure lust for love inside,
that my chest is getting so tight."
– Robert Reinick (1805 – 1852), German painter and poet
2- Open your eyes to the sunshine
"Open your eyes to the sunshine.
Let all the splendor of the world deep into you,
until your heart is completely illuminated,
and you yourself are a piece of sun,
that warmly reflects from itself,
and paints even dull days golden."
– Unknown
3- Blue Skies, Sunshine Quotes
"Blue Skies, Sunshine,
be content with God and yourself
Happiness flows through the mind,
a breath called stillness,
Heart and mind rest relaxed,
a light wind blows across the land,
grasp the splendor with eyes and ears,
and so let your soul dangle."
– Oskar Stock (*1946), German writer and aphorist
4- Will you faithfully guard the children
"Will you faithfully guard the children,
let your care be love
the delicate blossoms thrive
only in love sunshine.
Even if life heals some wounds,
the first never closes
and the heart will never heal completely,
his childhood was loveless."
– Albert Traeger (1830 – 1912), Privy Councilor of Justice, a parliamentarian in the German Empire, writer, and journalist
5- Little green birds
"There came little green birds
flown from the sky
and sat in the sunshine
in a happy crowd
all on the tree branches,
and sat there so tight
as if they had grown.
They rocked in airs of lukewarm
on their swaying branches;
they ate light and drank dew,
and didn't want to be silent either
they sang quietly
in her quiet way
of sunshine and sky blue."
– Friedrich Rückert (1788 – 1866), German poet and translator
6- Any Day Can't be happy
"Any day
can't be happy
not every day
only light and sunshine.
But every day
the hour itself alone
can full of love and
be of goodness."
– Josef Kral (1887 – 1965), German publisher and writer
7- Happiness
"Happiness!
I don't call happiness a carefree life
and steady, unclouded sunshine;
Happiness is: joyfully devoting yourself to every duty,
defeat yourself, be helpful to others;
bind the present to the future
and undeterred find the way to heaven.
– Helene Krüger (1861 – around 1940), German poet
8- How the Trees Sway
"How the trees sway
in bright sunshine,
how high the birds fly
I want afterward
would like to rejoice over the valley and heights.
O world, you are so beautiful
in May."
– Julius Rodenberg (1831 – 1914), German writer
9- Birthday Wishes
"Birthday Wishes
There should always be a friend by your side
to give you support when you seem to stumble.
And when tears slip from your eyes
then only tears that you cry from joy.
Number the positive moments in life
on the account of memory,
you can fix them on cloudy days
and fog turns to sunshine again.
– Poldi Lembcke
Final Thoughts About Sunshine Quotes
Of course, the sun can't shine all your life! As an Arabic proverb says, this would mean the desert.
But in our mild latitudes, blessed with regular rainfall, we love sunshine. After all, the world will look a lot friendlier then. Sunshine and nice weather lift the spirits.
No wonder the sun is a positive symbol of warmth, joy, and love!
You can use the various sunshine quotes in this article in many ways – as a WhatsApp message or on greeting cards, they will definitely make your loved ones and loved ones happy.
So, have fun choosing and browsing and I wish you a sunny day!