One thing that has never really left me ever since I became an email developer is coming across people asking if email marketing is anywhere effective. The short and sweet answer is hell yes! Email marketing outclasses every other digital marketing channel on every aspect, be it generating returns or impacting decisions without seeming outright pushy. Email marketing comes with a slew of perks. When utilized correctly, it may boost revenue, bring in new consumers, and improve client retention.
For the tenth year in a row, email marketing has produced the greatest return on investment for marketers. Email marketing produces $38 in ROI for every $1 spent and provides advertisers with the greatest reach of all the channels accessible to them. Despite the abundance of tools accessible to marketers, email marketing is still the most effective way to build a brand. Follow this mini-guide to see how email is the most effective channel for your business:

5 Reasons Why Email Marketing Is Important
Here are the top six reasons for email marketing's importance and how it may benefit your business:
1 Reach
It's easy to assume that social media is the most efficient way to reach the masses, with Facebook having over 1 billion active users and Twitter boasting 255 million. These are amazing figures, but the facts on email usage aren't as widely disseminated. But in 2020, the number of global email users amounted to 4 billion and is set to grow to 4.6 billion users in 2025. In 2020, approximately 306 billion emails were sent and received every day all over the world.
Email is a person's web address, and everyone who uses the Internet has an active email address. While Facebook and Twitter may appear to be omnipresent, the continuing battle over data breaches and privacy is causing many individuals to abandon various social media platforms. When it comes to communicating with your prospects and customers, email is the most effective medium.
2 User-Initiated Outreach
If a business has to pick between adding a new email subscriber and getting a new Facebook follower, it should always select the email subscriber. There are two important reasons for this: For starters, 90% of emails are sent to the mailbox of the intended recipient, but only a handful of Facebook users might be viewing your posts regularly.
This is because Facebook restricts the number of times your posts show in the feed to encourage businesses to utilize paid advertising. Secondly, when they subscribe to your email list, your email recipients explicitly agree to hear from you. When it comes to getting your messaging in front of your target audience, this is critical.
3 Encourages Conversions
Most marketers are laser-focused on increasing conversion rates. The ultimate aim for marketers is to convert potential consumers into paying customers, whether through leads, sales, memberships, or a measure specific to your business plan.
When it comes to conversions, no medium is more effective than email. An email campaign's average click-through rate is approximately 3% (of total recipients), while a tweet's average click-through rate is around 0.86%.
4 Easy To Measure
After you've sent out your email campaign, most email marketing platforms allow you to perform analysis. You can track everything ranging from delivery rates, bounce rates, unsubscribe rates, click-through rates, and open rates.
This provides you with a better idea of how your email campaigns are doing and which ones need to be tweaked or eliminated. While many research pieces suggest "ideal" figures to aim for, a lot depends on your business and target audience.
5 Preferred Communication Channel
For most people, social media is a personal form of communication that they use to stay in touch with friends and family. People visit their social media accounts to view photographs and updates from people they know and care about.
On the other hand, email is a far more professional medium, and consumers expect to get product and service information through it. According to a study, the great majority of consumers prefer to get promotional information via email, with only 17% preferring social media.
Read Also: how to write a convincing email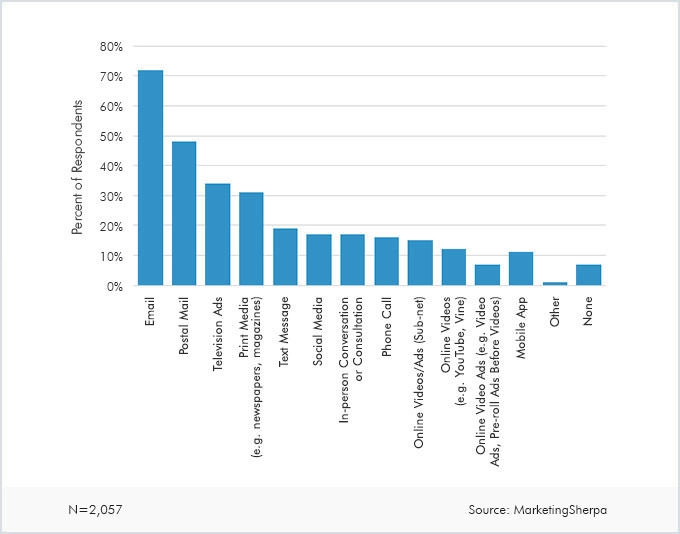 Email Marketing Tips 2021
We'll look at five pointers to help you make the most of your email marketing plan:
Make Your Messaging Unique
Real-time email marketing is gaining traction thanks to supporting third-party integrations in ESPs. Users, too, want personalized communications tailored to their tastes and interests. Like the below example, incorporating a unique design language and connecting with the subscribers on a personal level helps stand out in the overcrowded mailboxes: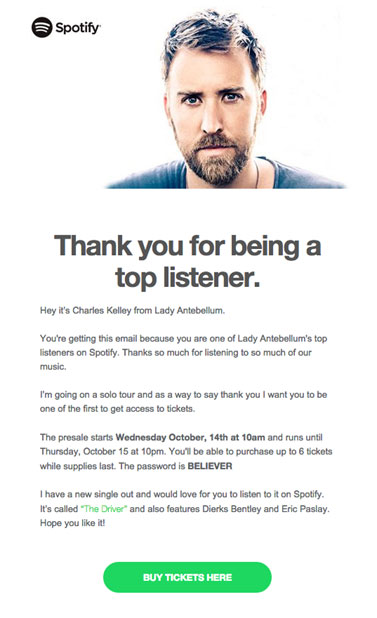 Make Sure Your Emails Are Mobile-Friendly
Emails opened on mobile devices now outweigh those opened on desktop computers, and this trend is projected to continue. As a result, it's critical to ensure that your emails are mobile-friendly. People check their email on the move and don't want to deal with irritating pinch-zoom issues or difficult-to-complete forms. Mobile responsiveness is no longer an option for HTML email developers today.
Ensure That Your Emails Can Be Shared
Your subscribers may want to share your emails with friends and relatives if they include useful information. You can make it easy for users to share your material with their networks by including social share buttons in your emails. This might also help you raise brand recognition and broaden your internet reach. You may also use your emails to emphasize successful social media postings and urge subscribers to follow you.
Incorporate Animation And Video Material
To capture your audience's attention and extend comprehensive information, you can also add videos and animated material to your emails. This rich multimedia can also direct recipients to take a certain option, thus increasing click-through rates. Not only are graphic components physically appealing, but they may also improve user experience and encourage visitors to want to learn more about your company.
Write Catchy Subject Lines
33% of individuals decide whether or not to open emails based only on the subject line. Therefore, if you want more users to open your emails and consume your material, use intriguing subject lines that entice them to learn more. For each of your emails, come up with a couple of subject lines and perform A/B Split tests to see which one connects the most with your target audience. Keep in mind that while subject lines should be original and interesting, they should also accurately describe what readers may expect when they open your emails.
Summing Up
As we can see, email marketing is far from dead in 2021, and it still has benefits and potential that is yet to be explored by businesses. As an email developer, I find that tech support is increasing steadily, and we are yet to witness the golden era of email marketing. I hope this article satisfactorily answers all your concerns on the topic.