When your loved one is going through therapy, the best you can do is support them throughout the whole process. It could make a whole world of difference in their overall healing journey. During therapy, it's recommended that they shouldn't feel a disconnect from their immediate friends and family.
If you have a loved one that's currently undergoing therapy, it's essential to walk them through and provide them with the support they need every step of the way. Support can be in many forms. You can choose to be physically supportive or offer emotional and financial support.
You may not know it but it's said that supporting a loved one can leave a huge positive impact on them. Your support helps improve their outlook and wellness.
Here are some of the ways you can offer your support to your loved ones as they go through therapy:
1. Educate Yourself
Therapy is used to treat mental health-related problems while relieving emotional distress. Psychologists, psychiatrists, social workers, and licensed counselors offer it through talk sessions. In the sessions, they share insights with the patients receiving therapy. These sessions are structured meetings to address the difficulties they face in their daily lives.
Therapy is categorized into broad classifications, including:
Behavioral therapy;
Psychodynamic therapy;
Cognitive behavioral therapy;
Humanistic therapy;
Integrative or holistic therapy; and the like.
You must understand the kind of therapy your friend is undergoing, what the treatment offers, and its ins and outs to be effective in your support. Learn about their medication options and the treatment processes. In most cases, the therapist offers to take you through the general education of the session.
Alternatively, you can do your research. Reliable websites can offer more information relevant to therapy and how it works.
2. Praise Their Decision To Get Help
Many people take a longer time to seek help. It's not an easy task to accept to undergo therapy sessions. Thus, it's important to applaud their decision to attend the sessions. It motivates them to keep going even though the process might suck. It's hard enough for someone to confront some things that bother them.
No one wants to get the discomfort of washing their dirty linen in public. But that's how therapy works. It pays when you familiarize yourself with the routines and processes they'll go through in their sessions. Your loved one will feel your support since you'll be their cheerleader. Everyone needs someone to cheer them up, as this isn't a walk in the park.
Remember, they might face stigmatization and prejudices from their workmates or those unaware of the importance of the process. It'd help if you stepped up to take the place of their defender and ensure such things don't bring their morale down. Their bravado and courage to take this route should be applauded and not discouraged.
3. Respect Their Decision Not To Talk About The Experience
Sometimes, the therapeutic session can take a toll on them so much so that they need some alone time. It's essential to give your friend enough space. Their discussion with the therapist can be challenging, and they might not want to share what the day was like.
It'll hurt if you go trolling for information. Remember, your friend needs you to understand. Again, they need to have a confidant. As such, you can appreciate the days they share and let them be on the days they choose not to talk about their experience.
4. Show Them Love
People going through therapy often feel that they are unloved. It comes from the stereotypes associated with people having mental conditions. For this reason, show them you care and love them. You can ensure they're in a safe environment and no one intimidates them. It could be easy for them if you took the initiative to encourage them through.
You don't have to enclose them in a dull environment. Organize a few friends to come over for lunch or have dinner with them. Alternatively, you can play games with them. They'll feel loved and involved socially.
5. Work Through Pain Points Together
Sometimes, your partner or loved ones may come home weeping after a session. It only means they had a rough day. You can give them time to calm down and initiate a conversation on the pain points. You'll be surprised how they receive the news wholeheartedly. You can help a great deal if you get them talking.
Once they share what they may be feeling, protect their feelings and don't point fingers. Don't let them feel judged by sharing their feelings and openly showing their emotions. Keenly listen when they talk. Your input could save the day.
6. Don't Give Ultimatums
You both expect change. But don't be vocal about when your loved one should show the difference. Even as you suggest therapy to your loved one, don't include threats or heavy consequences if they fail to do it. If you do so, they'll feel you doubt they can make the right decisions.
In addition, you'll be projecting your frustrations and personal feelings to them. Ultimatums may feel like intimidation. It'd help if you let them make up their decisions. After all, the therapist guides them.
There's no shortcut if you want to solve the issue altogether. Let your pal go through the process naturally. All you can do is ensure they don't sink into depression.
7. Don't Expect Quick Results
Healing is a process. Therapy, too, can take time, given the different steps and forms they may have to pass through. Thus, it may take months before you notice any changes. As such, you must be patient and remain calm during this period. Don't expect the results overnight. If it was a behavioral problem, remember that they first have to internalize and accept change. It can't be a one-day process.
One helpful resource that your loved one needs is time. People have different ways of accepting change. It takes time for such to happen. Therefore, being committed to walking the journey with them is very vital. If you want efficiency, you must commit to trusting the process.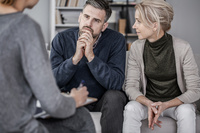 Conclusion
Your involvement in your loved one's therapy session may greatly help their healing process. There's much you can do to offer support. Please encourage them by recognizing the dynamics of the process and giving them a chance to go through their daily lives as ordinary people.
Show them love by allowing your loved ones to be present in your life. Therapy may not work if you don't give them a conducive environment to practice what they've been taught. Remember, they also need personal space. Understand when they don't want to talk about what they're going through.