British Romanticism Artist John Atkinson Grimshaw (1836 – 1893) is regarded as one of the greatest landscape painters of all time. Known as the inventor of Nocturnes, meaning nighttime paintings, Grimshaw would paint some of the most beautiful night paintings ever seen.
This master of moonlight quickly became synonymous with the genre that many other artists dared not try. But unfortunately, nocturnal paintings are notoriously tricky to pull off, and only a few artists have ever successfully managed to do so, with Grimshaw being the most prominent.
This fact was due to his tremendous skill and imagination as a painter and the aid and use of modern painting tools such as cameras and technical drawing kits. Like many artists, Grimshaw lived an interesting life. Here are some interesting facts about Atkinson, the artist, and Atkinson, the man.
Life, Marriage, and Children
John Atkinson Grimshaw didn't start adulthood as a painter and received absolutely no formal training. He was entirely self-thought, making his wonderful moonscapes much more impressive. At 24, he left his job at a railway station to boldly pursue his dream of becoming an artist.
Although he was utterly self-trained, he had a natural talent, and his skills developed fast. Just one year after leaving his job at the railway, he held his first art exhibition. The paintings he exhibited are highly detailed, yet they lack any of the moonlight marvels that he would later become known for.
By the time of his very first exhibition, at just 25, Atkinson had already been married for a few years to his cousin Francis Hubbard. Together they had sixteen children; however, ten tragically died before adulthood. Unfortunately, there aren't many pieces of information about how they passed away, as the family most likely wanted to keep it private, which is understandable.
The Master of Moonlight
As John Grimshaw's career progressed, he soon became fascinated with the moon, its light, and its relationship to everything else. Of course, lighting has always been a particular source of fascination for painters and artists. However, for Grimshaw, the moon's light truly captivated him, capturing his imagination.
In essence, John Atkinson's paintings are explorations of the night and describe the vital and vastly unacknowledged role the moon plays in our lives. The more you learn about John Grimshaw art, the more his love for the moon's mystery becomes apparent.
He dedicated so much of his artistic career to depicting the celestial body that it is practically all he is known for nowadays. It is a worthy legacy, as his night scene paintings are beautiful beyond compare and filled with mood and romance. However, Atkinson had some help in achieving these marvels.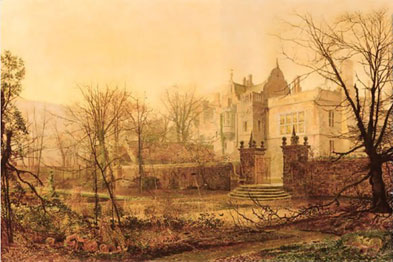 Tools of the Trade
John Grimshaw was one of only a handful of artists in history to commonly and openly use tools such as the camera obscura and camera lucida to help him complete his artwork. He stands alongside a great company of other painters who used similar tools, including Johannes Vermeer, Caravaggio, and even Leonardo Da Vinci.
However, this use of aids, where Grimshaw received most of his criticism, might be why he wasn't as successful as he should have been. Many artists and critics at the time agreed that using tools and devices to complete his paintings, Atkinson's art was disqualified when discussing the greatest painters.
This is a very ignorant and narrow-minded way of thinking and can be seen as Atkinson is simply ahead of his time. Almost all art nowadays is produced thanks to technology, and John Atkinson was one of the first painters in the modern era to use technology to increase the beauty and magnitude of his work.
Financial Success and Debt
Over time, John Grimshaw began to enjoy some decent success as a painter, proving both his dreams right and the doubt from his loved ones wrong. At one point, he became successful enough to afford a second home by the seaside in a place in the U.K called Scarborough.
By this time, Atkinson had lost three of his children, so a change of scenery and being close to the sea must have done him some good. During this period, he painted some of his greatest and most well-known paintings, such as Castle by the Sea and Nightfall in Scarborough.
His success wouldn't last, though, and Grimshaw experienced falling into debt several times. This resulted in him selling both his homes, and he eventually ended up in a small studio in Chelsea. Unfortunately, the reason he fell so deep into debt was never divulged and is still a mystery to this day.
Death and Legacy
Like many painters, the fact that John Atkinson Grimshaw died somewhat young is both a tragedy. And at the same time, it adds to the legacy and value of his paintings. He painted over 100 paintings in his career, each as beautiful as the next.
These paintings are his true legacy and most significant contribution to the world. Today his art is worth hundreds of thousands of pounds and is still regarded as the best nightscape painting ever made.
He died at age 57 from what was believed to be tuberculosis. However, like most of John Grimshaw's life story, there isn't much information, and it is somewhat shrouded in mystery. This is aided by the fact that he didn't leave any journal or writing behind. He is buried in Woodhouse Cemetery in Leeds, where he was born.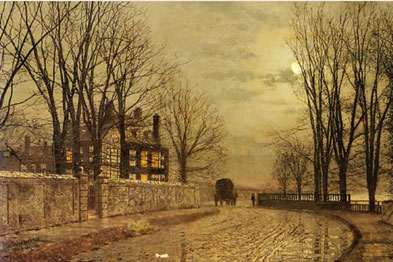 Conclusion
Of all the facts surrounding John Grimshaw's life, his incredible moonlight paintings are undoubtedly the most exciting fact of them all. Check out Atkinson's paintings and learn more about this brilliant yet underappreciated artist.