7.26am EST
07:26
Monfils 4-6 4-6 6-3 -1 Berrettini* That double Berrettini served on break point was only his seventh of the tournament; remarkable really, given how hard he hits it and that he played a four-hour five-setter in round three. He gets to 40-0, but then when Monfils uncorks another forehand winner he finds himself at 40-30 … and is muttering under his breath when a return clips the net, drops over, and he distractedly errs. Deuce it is, and Berrettini is beginning to wonder, hitting passively instead of attacking as he was before. So he tries to up it, dictating the advantage point, but gradually Monfils plays his way into it, opening the angle for another corner-to-corner forehand winner! Naturally, a violent serve regains deuce and an ace seizes advantage, then a high-kicker out wide seals a vital hold.
Updated
at 7.27am EST
7.18am EST
07:18
*Monfils 4-6 4-6 6-3 Berrettini Well, he opens with an ace, then a clever hook to the forehand corner from mid-court is enough for 30-0. Berrettini, though, finds a fine return to a second serve, only to net his drop with the entirety of the court to hit! Three set point Monfils! Berrettini saves the first, but Monfils is dominating from the back now, and clobbers a forehand winner, cross-court from middle to corner, and HAVE A LOOK! The crowd go wild, and I can honestly say I've no idea how this is going to shake out; I've not thought I'd be feeling that way at any point before or during this match.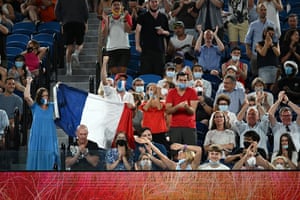 Gael Monfils fans with a French flag. Photograph: James Gourley/REX/Shutterstock
Updated
at 7.27am EST
7.14am EST
07:14
Monfils 4-6 4-6 5-3 Berrettini* You can sense and see Berrettini trying to hit himself back into the groove and he plays a pretty good game here, rediscovering his first serve and forehand in the process of holding to 15. Can Monfils serve it out?
7.10am EST
07:10
*Monfils 4-6 4-6 5-2 Berrettini Again, that was coming. Berrettini hasn't played that well today – the serve and forehand aren't firing like they were, maybe a toll of the five-setter against Alcaraz the round before last. Meantime, Monfils is going for broke and it's working for him, a love consolidation putting him a game away from set three and us a game away from more of this compelling contest.
7.08am EST
07:08
Monfils 4-6 4-6 4-2 Berrettini* Monfils is taken the Stanimal approach now, looking to hit winners whenever and from wherever he can, earning 0-15 with a big forehand. Then Berrettini goes long, and this is a second consecutive 0-30 … but we know what's coming next and there it is, a 132mph serve down the middle and on the outside of the line too. But Berrettini then misses an inside-out forehand, and this is the first time he's faced two consecutive break points; he misses his first serve and Monfils steps in, only to panic and clump into the net. But a double follows, Berrettini's first of the match, and Monfils finally has his break! We got ourselves a ball-game!
7.02am EST
07:02
*Monfils 4-6 4-6 3-2 Berrettini What's that?! Why it's a love game! Monfils holds, and for the first time in the match, I think he might be the better player.
7.00am EST
07:00
Monfils 4-6 4-6 2-2 Berrettini* Monfils is giving this everything, battering away from the back before opening the angle to clatter a forehand winner cross-court from the backhand corner. That gives him 0-30, but then he nets a nothing forehand without any serious prompting then sends a return long. It's noticeable, though, that Berrettini isn't serving anywhere near as many aces and winners as he does usually, and when Monfils returns one on the stretch, Berrettini nets his cleanup for 30-40! Can Monfils earn his first break? Er, no, a brutal service-winner yields a howl of pain, then another yields a bellow of delight. Berrettini has been very strong when he's really needed to be.
6.54am EST
06:54
*Monfils 4-6 4-6 2-1 Berrettini Neither player is quite on it at the mo, which I guess is dangerous for Monfils, who doesn't have extreme power that'll be there whatever. At 30-15, Berrettini opens the court with a backhand slice, then creams a forehand winner cross-court, and it feels like he's two points away from victory … make that one point. Berrettini defends well enough, then when Monfils earns the opportunity to advance, he spanks a forehand into the tape and out! Two gorgeous shots, from the backhand corner but hit forehand cross-court, save break point, but when he goes for the line again, he misses … only to regain deuce with a service winner out wide. Another unforced error, though, hands Berrettini another advantage, but what a backhand he finds, walloped cross-court, to back up a weak second serve … but what a poor forehand he finds, hooked wide, to lose game point. This is another proper struggle, but when Berrettini goes down the line with what looks like a winner, Monfils hangs down to guide a volley into the open court for a monumental hold.
6.46am EST
06:46
Monfils 4-6 4-6 1-1 Berrettini* Monfils has only come back from two sets down twice in his career, neither time against a player in Berrettini's postcode. Whatever happens here, I guess we've seen why winning a major might be a stretch for him – better players than Monfils will take his backhand apart – but in fairness to him, he's not played anywhere near as well as he did against Carreno Busta. To prove the point, he finds himself serving at 30-all, finding a big delivery when he needs it, before a big forehand from Monfils lands on the line and he can't keep his riposte within the court. At deuce, though, Monfils clumps a backhand wide – he's raging with himself – then a booming serve seals the deal.
6.40am EST
06:40
*Monfils 4-6 4-6 1-0 Berrettini The players take a break, the absolute malingerers. I don't know who they think they are, but this is a really big service-game for Monfils who, if he loses it, will be almost out. And at 40-15, he looks in trouble, when Berrettini zones onto a short ball, but he nets his forehand and the comeback is away!
6.34am EST
06:34
Monfils 4-6 4-6 Berrettini* A serve out wide is too good and Monfils, on the stretch, nets before sending a forehand long; 30-0. Another long forehand cedes three set points, a return goes into the net, and Berrettini has broken the back of this match. That was an absolutely blinding set (of tennis), but I'm not sure we'll be seeing more of the same from here on in.
6.30am EST
06:30
*Monfils 4-6 4-5 Berrettini Serving to stay in the set, Monfils sends down consecutive aces for 30-0, securing a first love-hold of the match and forcing Berrettini to serve for it.
6.28am EST
06:28
Monfils 4-6 3-5 Berrettini* It's hard not to see that last game, or the long one at 1-2, as the essence of this game. At 30-0, Monfils really opens his shoulders, hammering forehands at Berrettini's backhand, and when the desperate lob arrives … he dumps his overhead into the net! You don't see him miss many of those, but he looks a bit tired now and mentally, he must've expended a lot of energy. At 40-15, a forehand goes long, and that's three games in a row for Berrettini, the second set almost his.
6.24am EST
06:24
*Monfils 4-6 3-4 Berrettini New balls, greeted by Monfils with a double, then a backhand that flies long. But a serve out wide halves his arrears before Berrettini goes long himself, only for another error to hand him break point … whereupon a forehand off the frame sails over the baseline! Ach, after all that graft, Monfils has ceded the advantage in aggravatingly tame fashion; sport, and tennis, are hard and cruel.
6.20am EST
06:20
Monfils 4-6 3-3 Berrettini* Monfils is standing a long way back here, giving himself time to see Berrettini's serve, so Berrettini takes some pace off and holds to 15 in a game that doesn't last 20 minutes. Pathetic.
6.15am EST
06:15
*Monfils 4-6 3-2 Berrettini Oh this is wonderful stuff! You kind of fear for Monfils after losing a game like that, though most of the time he was fighting to save it – he only had three break points – and Berrettini gets 0-15 with a tremendous backhand down the line. He can play it! Monfils, though, quickly makes 30-15, only to net for 30-all – he's under pressure here – but a fine forehand volley earns game point, converted with a glorious backhand sent shrieking down the line! What a treat these two are giving us!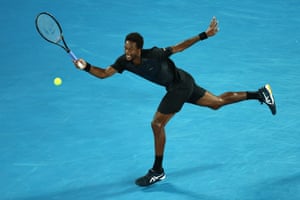 Gael Monfils of France plays a forehand. Photograph: Clive Brunskill/Getty Images
Updated
at 6.20am EST
6.11am EST
06:11
Monfils 4-6 2-2 Berrettini* Monfils makes 0-15 and has a second serve to go at, but Berrettini sends him out wide with a forehand … then he chases it down and clouts an ankle-biting forehand of his own that Berrettini can't get back! In the context, this is a chance, and though a careless long forehand cuts it in half, Monfils then picks out the backhand with a loopy ball and sees it hit back into the net! Two break points! Colossal forehands, one to the forehand side then a clean-up to the the backhand from half-court, save the first, then a serve out to the backhand and simple volleyed put-away save the second. There wasn't much Monfils could've done about that; I'm not sure if that makes it better or worse. Either way, Monfils seems to have found a way to impose himself, flighting balls to the backhand, and one such earns him another break point – an ace down the middle follows from a kicker toss, cunning – but right as Berrettini looks poised to cinch the hold with a forehand, the ball bouncing high and short, he nets. This is developing very nicely now! Again, Berrettini is ready to earn his hold, but this time a forehand into the backhand corner comes spinning past him, cross-court! What a crucial period of the match this is, Monfils again finding Berrettini's backhand when advantage down, then again, racing about the place to make a series of ludicrous sliding gets before eventually inciting the error! Not bad for 35 – he noises up the crowd and rightly so – and this is such a game now! Again, Berrettini makes a backhand error on advantage, netting another low volley, and on the next a forehand down the line catches the tape and leaps long! I'm tired just watching this, the athleticism and focus are something else, and have a look! Caught at the net, Berrettini controls two nasty volleys when Monfils clatters balls at him, the second a double-handed backhand; now it's his turn to salute! I'm running out of elegant variation here, please excuse me because these lads deserve some, but after another advantage Berrettini deuce, an ace – I'm surprised this game wasn't finished time ago on account of one – but again Monfils hangs in there. The first five games of this match contained 25 points, and this one has had 24 so far … but Berrettini wins the next two to secure a monstrous hold! That was stunning behaviour from both players, and the question now is whether Monfils has found a route to win – varying flight and spin to the backhand – or whether he's given all he's got. I can't wait to find out!
5.48am EST
05:48
*Monfils 4-6 2-1 Berrettini Monfils opens the game with a double, and almost loses the next point when a squash-shot forehand zones low over the net. But he hangs in long enough to force an unforced error – yes, I'm saying it's possible – and quickly makes 30-15, adds an ace, and closes out.
5.46am EST
05:46
Monfils 4-6 1-1 Berrettini* There's a quick break because a bird's enjoyed a clearout on the court, during which time Tim Henman, in co-comms, says he doesn't think Berrettini will win a major because he's not good enough to beat Medvedev, plus Sinner and Alcaraz are coming up behind. But he's looking nifty for the now, guiding a backhand down the line when Monfils attacks that wing, having intimated a cross-courter. Berrettini holds to 30, but it never looked tight – he was up 40-0, and denied a love game by the merest net-cord.
5.40am EST
05:40
*Monfils 4-6 1-0 Berrettini Funny thing to say, but this is the half of the draw you want to be in – I'm sure that, at this point a semi with Nadal is more inviting that one with Tsitsipas, Sinner or Medvedev. Anyway, Monfils opens the court then nets a volley, handing Berrettini 15-30, and a tame forehand hands yerman two break points … but saves them well, the second via ace. He cannot afford to lose his serve here, but when Berrettini zetzes a return early and down the line, he's in danger again … only to find another ace for deuce. On advantage, though, he sends down a double, redeems it with an ace … then a terrific Berrettini forehand … another terrific Berrettini forehand … hauls him back to deuce. This is the longest game of the match now and it might be pivotal – if Monfils loses it, it likely means curtains, but eventually his forehand sorts him out, and he's away i set two.
5.32am EST
05:32
Monfils 4-6 Berrettini* Berrettini must be nervous serving for the set … ahahahaha! A service winner opens the game, then Monfils nets a slice having done well to force a return back into play. At 30-0, Berrettini slaps a forehand wide, and in the context this constitutes a chance; what can Monfils do with it? Well, he stays in the next rally long enough for Berrettini to net, then after Berrettini serves well out wide and hits a decent forehand too, he finds a sensational backhand down the line on the slide! Break-back point! The inevitable happens next, of course it does – Berrettini serves an ace – then another for advantage. What on earth can you do? But Monfils does superbly to hit at his backhand, then when the slice comes slowly, he runs around his own to steam a forehand winner down the line! it doesn't matter – Berrettini quickly cements the set with two quick points – but we've seen, as if we didn't already know, what Monfils has to do: find the backhand and attack it, attack the second serve. There's plenty mileage left in this one.
5.24am EST
05:24
*Monfils 4-5 Berrettini At 15-all, Monfils nets a back from the back – Berrettini is giving him no time to set. But he finds an ace for 30-all, a service-winner to the backhand earns game point – how well he can find that wing will be crucial – and when another goes into the net, Berrettini is forced to serve out.
5.21am EST
05:21
Monfils 3-5 Berrettini* Berrettini opens the game with a high-kicking ace, and at 30-0 wrong-foots Monfils so completely that he slips, feet going in opposite directions. A huge serve and colossal forehand follow, leaving Berrettini a game away from the set.
5.17am EST
05:17
*Monfils 3-4 Berrettini Eesh, Berrettini is climbing into Monfils here, unloading the suitcase with every forehand and battering away until Monfils wilts. He nets a forehand for 0-15 and you fear for him, but a better stroke forces Berrettini to go wide. Still, it was the Italian who dominated that rally, even finding a decent drive-backhand, and he finds a gorgeous top-spin forehand for 15-30, whizzed onto the sideline like a table-tennis shot. Monfils makes 30-all, though, with a forehand that clips the outermost fibre of the line, then earns his sit-down with an ace. Berrettini is controlling things, but he's only one break up.
5.13am EST
05:13
Monfils 2-4 Berrettini* Monfils will be raging that he handed over that break so tamely – I doubt there's anyone on the tour whose serve is harder to take than Berrettini's, and he's looking absolutely nails out there, consolidating via a second straight love-game, making it 10 points on the spin.
5.11am EST
05:11
*Monfils 2-3 Berrettini Oh Gael! Er, as I was saying, double gives Berrettini 0-30, and a colossal forehand followed by an excellent putaway – a backhand volley guided obliquely across the face of the net – raises three break points. And Berrettini only needs one, a Monfils forehand dropping long!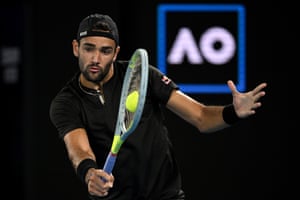 Matteo Berrettini of Italy plays a backhand. Photograph: Dean Lewins/EPA
Updated
at 5.18am EST
5.09am EST
05:09
Monfils 2-2 Berrettini* A tremendous get from Monfils – on the slide, doing the splits and from close to the net – gets him 0-15. Then at 30-15, he steps in on a second serve and absolutely bases a forehand return down the line, flat as your gran's Makro Coke. That's one way he might win – it's unlikely Berrettini will give him a game of those, but in a breaker one or two might do it. Anyway, the big serve/forehand combo see the game away, and this is developing into a fascinating contest.
5.03am EST
05:03
*Monfils 2-1 Berrettini Berrettini wallops a forehand down the line for 15-all, while from comms we learn that Nadal rates Monfils as the greatest athlete tennis has ever seen. I certainly can't think of anyone in his class, and he secures another hold to 15 with a booming serve down the T.
5.01am EST
05:01
Monfils 1-1 Berrettini* I quite fancy Berrettini – in general, for his is devastatingly dishy – but for this competition. As noted by Calvin Betton, our resident coach during his match against Carreno Busta, his drive backhand is the only thing stopping him from winning multiple majors. But if his serve and forehand are on, which they almost always are, he's a tough night for anyone – I think he'd beat Tsitsipas, but probably not Medvedev. He holds to 15.
4.57am EST
04:57
*Monfils 1-0 Berrettini It's easy to be glib about such things, but Monfils does seem to have found his equilibrium since marrying Svitolina. He's so talented, but some of her focus seems to have rubbed off on him – he won in Adelaide and has been really excellent here, especially against Kecmanovic on Sunday. He holds to 15.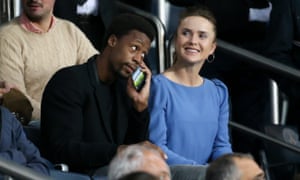 Gaël Monfils and Elina Svitolina, pictured at a PSG game in September last year. Photograph: John Berry/Getty Images
Updated
at 5.03am EST
Source by www.theguardian.com