7.06am EST
07:06
"What has become of Sloane Stephens?" asks Dean Kinsella. "Is it injury or Covid or what?" A bit of both in the last year, and she's had to overcome bereavements – her aunt died of Covid, and her grandparents died within a week of one another last year. She can still be very good on her day, but has struggled badly for consistency in the last couple of years.
7.05am EST
07:05
Second set: Stephens 0-6, 4-2* Raducanu (*denotes next server) This could be a big moment – after toiling to 40-30, Stephens gets the better of a tough 21-point rally and lets out a yell. She's looking much, much better than that dreadful first set.
Updated
at 7.06am EST
7.02am EST
07:02
On Rod Laver, Stefanos Tsitsipas took the first set 6-2 against Mikael Ymer – but it's been a tougher test in the second, the Greek recovering from a break down to level at 4-4. Alex Popyrin's hopes are over – he's lost in five sets to France's Arthur Rinderknech.
7.00am EST
07:00
Second set: Stephens 0-6, *3-2 Raducanu (*denotes next server) Some wonky first serves allow Stephens in at 0-30, but Raducanu grinds out the next two points. An unforced error each, then a mistimed backhand from Raducanu offers her opponent a break point. She sends her next forehand long, and Stephens edges back in front – although neither player will be thrilled with how the second set has gone so far.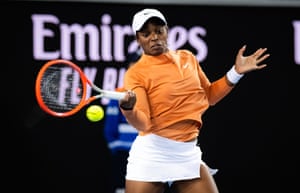 Sloane Stephens of the United States in action. Photograph: Rob Prange/REX/Shutterstock
Updated
at 7.06am EST
6.54am EST
06:54
Second set: Stephens 0-6, 2-2* Raducanu (*denotes next server) Stephens appeared to have found some rhythm, but offers up two sloppy points on serve to give Raducanu a chance at 0-30. Another loose shot offers up two break points, but a couple of ambitious shots fly wide. Deuce – but Stephens tries too hard on a cross-court winner and then badly miscues a slice. Raducanu breaks back!
Updated
at 7.06am EST
6.48am EST
06:48
Second set: Stephens 0-6, *2-1 Raducanu (*denotes next server) Raducanu could use a hold here, to stop momentum swinging any further. A booming, high forehand down the line doesn't hurt, and the first serve is back on track in a hold to 15.
Updated
at 7.07am EST
6.45am EST
06:45
Second set: Stephens 0-6, *2-0 Raducanu (*denotes next server) That game lasted 15 minutes – almost as long as the entire first set. Stephens began to show what she can do there, and she backs up the break with a hold to 15 as Raducanu sends a return long.
Updated
at 7.06am EST
6.41am EST
06:41
Second set: Stephens 0-6, *1-0 Raducanu (*denotes next server) Stephens produces a winner to move 30-15 up, then both players have to wait while a ball boy collects a moth from the court. After that, it's an errant double fault from Raducanu, and two break points – but she saves both with well-placed serves.
Stephens wafts a return a mile long, but prevails in the match's longest (26 shots) and best rally so far. She gets another break point as Raducanu misjudges a volley, but fires an ambitious cross-court winner an inch wide. We go to a fifth deuce – but Raducanu serves up two straight double faults, and Stephens has the break!
6.30am EST
06:30
Sloane Stephens has even less match practice under her belt – she got married, to US footballer Jozy Altidore (once of Sunderland), on New Year's Day and their honeymoon was spoiled by a bout of Covid. She doesn't look in the zone today, offering little answer to Raducanu's attacking style.
6.28am EST
06:28
Emma Raducanu wins the first set 6-0!
Plenty of pundits were expecting a one-sided affair today, and so it's proved – but it's Emma Raducanu who is dominant, breaking for a third time to take the set 6-0. Stephens hasn't really turned up, but this is still hugely impressive.
6.24am EST
06:24
First set: Stephens *0-5 Raducanu (*denotes next server) Raducanu races in behind her serve and lands a sliced winner, then powers down two unstoppable serves. Stephens gets the next one back, but it's smashed back across court. Raducanu leads 5-0 in 13 minutes – a stupendous start.
6.21am EST
06:21
First set: Stephens 0-4* Raducanu (*denotes next server) Sloane Stephens is certainly lacking intensity early on here – maybe still annoyed about having to take her watch off. Raducanu, on the other hand, has been positive from the off and is hitting clean winners – a looping effort down the line earns the double break!
6.17am EST
06:17
First set: Stephens *0-3 Raducanu (*denotes next server) Raducanu lost her only warm-up match in Australia 6-0, 6-1 to Elena Rybakina, so expectations for Melbourne were certainly tempered. From that perspective, this has been an encouraging start – despite a double fault, she holds to 15 against a passive Stephens.
6.14am EST
06:14
First set: Stephens 0-2* Raducanu (*denotes next server) Raducanu starts off aggressively, stepping into the Stephens serve and setting up two break points as her opponent sends a loose forehand long. And she takes it when Stephens nets a backhand!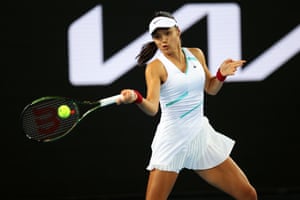 Emma Raducanu during her first round match. Photograph: Ella Ling/REX/Shutterstock
Updated
at 6.25am EST
6.12am EST
06:12
First set: Stephens *0-1 Raducanu (*denotes next server) A solid start from Raducanu, firing down a clutch of accurate first serves to hold to love.
6.11am EST
06:11
We'll be focusing on this match, but here's a quick sweep around the courts first – Stefanos Tsitsipas is cruising, 5-1 up on Ymer in the first set. Australia's Alex Popyrin is a break down in the decider against Arthur Rinderknech. Former champion Angelique Kerber is out, losing 6-4, 6-3 to Kaia Kanepi.
6.06am EST
06:06
An awkward pre-game moment as the umpire advises Sloane Stephens to take off her watch (I think). The American isn't happy about it, saying a lot of other players have worn one for the warm-up. After that, Stephens wins the toss and elects to receive first.
6.02am EST
06:02
Emma Raducanu is making her first grand slam appearance since winning the US Open, and today's opponent could probably offer some words of advice on adjusting to life as a slam winner. Sloane Stephens was a surprise winner in New York back in 2017 but backed it up by reaching the French Open the following year.
The American has struggled in the last couple of seasons, slipping to world No 65 at present. She's still a very tough draw in the first round, but perhaps in a way, she's a better opponent for Raducanu today than an unfancied outsider – the pressure won't be all on one side of the net.
5.57am EST
05:57
Tsitsipas has an early break, and leads Mikael Ymer 3-1 in the first set. He beat today's opponent in straight sets on the way to the semi-finals in Melbourne last year.
5.51am EST
05:51
Alex De Minaur wins 3-6, 6-3, 6-0, 6-3! The Australian men's No 1 looked to be in trouble after Musetti took the first set, but he turned things around, and will face Kamil Majchrzak next after the Polish player eliminated Andreas Seppi earlier on.
Next up on Margaret Court Arena: it's Emma Raducanu v Sloane Stephens!
5.48am EST
05:48
For anyone out there who would like to listen along to matches with commentary specially designed for those with reduced vision, you can do so via Action Audio. They are offering a new audio service for the Australian Open, using real-time ball monitoring technology and spatial sound design. You can try it out here.
5.43am EST
05:43
Alex De Minaur is closing in on victory over Lorenzo Musetti. He goes 5-3 up in the fourth set with a cross-court winner. Over on Rod Laver Arena, No 4 seed Stefanos Tsitsipas is getting started against Sweden's Mikael Ymer.
5.30am EST
05:30
That was really impressive from Kyrgios, who hasn't played a Tour match since September – and Liam Broady can be happy enough with his efforts, too.
Aryna Sabalenka has got through against wild card Storm Sanders, recovering from a set and a break down to win 5-7, 6-3, 6-3. Angelique Kerber is in deep trouble, though – she's 4-6, 3-5 down to Estonia's Kaia Kanepi.
5.26am EST
05:26
Nick Kyrgios: "I had some doubts [if he would play], the last week has been tough in isolation – I couldn't ask for a better team. I'm so happy to be here again, and to play in front of you guys, it was a lot of fun.
"The first couple of days [with Covid] I was bed-ridden, I didn't know if I'd be able to play," he adds. On his next opponent, Daniil Medvedev: "He's a brilliant player, I'm going to have to play well – I'm not looking forward too much, I've got doubles tomorrow!"
5.23am EST
05:23
Nick Kyrgios beats Liam Broady 6-4, 6-4, 6-3!
Broady is expecting one more shot at the Kyrgios serve, but his opponent has other ideas, stepping on the gas to set up two break and match points – and he takes the first with a whipped, cross-court backhand return. Job done!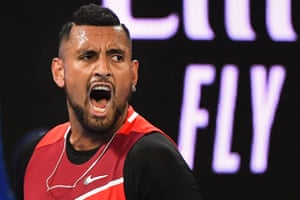 Australia's Nick Kyrgios reacts. Photograph: William West/AFP/Getty Images
Updated
at 5.25am EST
5.19am EST
05:19
Third set: Broady 4-6, 4-6, *3-5 Kyrgios (denotes next server) Broady is able to get one serve back over the net, and that is returned with interest by Kyrgios – now one game away from victory.
5.16am EST
05:16
Third set: Broady 4-6, 4-6, 3-4* Kyrgios (denotes next server) There have been positives for Liam Broady – he holds to love here, and his beard-gold-chain-retro-kit combo is among the strongest we'll see all fortnight. But the fact remains that he's running out of time to finally break the Kyrgios serve.
5.14am EST
05:14
Third set: Broady 4-6, 4-6, *2-4 Kyrgios (denotes next server) A pair of holds exchanged, and a couple of trick shots from Kyrgios that don't quite come off. Kyrgios' serve wobbled slightly at the start of this set but he's back in the groove now, firing down aces to move two games from victory.
Aryna Sabalenka is also closing in on the second round – she's now 5-1 up in the decider against Storm Sanders on Rod Laver Arena.
5.03am EST
05:03
Third set: Broady 4-6, 4-6, 1-2* Kyrgios (denotes next server) Broady held off Kyrgios on serve and then forced a break point – but he's under more pressure here at deuce. He nets, and it's break point Kyrgios – and after a brutal rally, Kyrgios gets a lucky bounce off the net cord. He offers up a hand in apology, but the end result is that he's four holds away from victory now.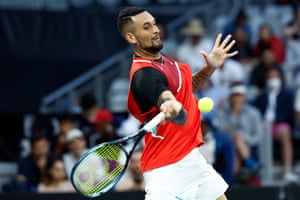 Nick Kyrgios of Australia plays a forehand. Photograph: Darrian Traynor/Getty Images
Updated
at 5.29am EST
5.01am EST
05:01
Sabalenka appears to have got herself out of trouble against Storm Sanders – a well-timed break in the second helped her level, and she's now a break up in the decider.
Elsewhere, Alex De Minaur has raced to take the third set from Lorenzo Musetti, winning it 6-0. He leads 2-1, while fellow Aussie Alex Popyrin is 2-1 down to Frenchman Arthur Rinderknech.
4.58am EST
04:58
Third set: Broady 4-6, 4-6, *1-1 Kyrgios (denotes next server) An ill-advised through-the-legs effort from Kyrgios is dispatched by Broady, who then finds a winning return to get to deuce. Signs that Kyrgios has taken his eye off the ball, and it's advantage Broady as he chases down a fortunate net-cord bounce. Kyrgios lets out a roar as Broady's return goes long – and he backs that up with a couple more big serves to escape.
Source by www.theguardian.com