11.34pm EST
23:34
Coffee is calling from the kitchen.
I like this idea…
Lord Not the Singer
(@master_grundy)

@tjaldred Could we follow the Morrison government's lead and redefine rain so we don't miss as much cricket?
11.23pm EST
23:23
"Enjoying the rain," taps Jim Warwood, a Pom living in Australia for 37 years and "routinely having my summers ruined by Ashes series.
"It should mean the game is not finished before or during the crucial third day; that should help the McGrath Foundation." (good point, and hopefully McGrath will be out of isolation by then too and able to be at the SCG)
"Wood X Factor: He would be better if he was not so nice, all the short balls are never directed in a way that may hurt the batsman. If he hits them its more because it misbehaves off the pitch and he makes me think of Statham who used to apologise. Now the Aussie bowlers never look at all distressed by it."
11.12pm EST
23:12
The drizzle, it carries on drizzling, I'm afraid, and it is making Phelim Mcmanamon think of Manchester: "If Mattie Parkinson was bowling on the pitch Australia would be worried."
He would be a fantastic joker to have up your sleeve. Is he ready? I've no idea – but he and Saqib Mahmood had moments of brilliance for Lancashire last season. And he's definitely got the big match temperament.
His ball of the century from April:
Wisden
(@WisdenCricket)

Unadulterated leg-spin filth from Matt Parkinson 🤯 #CountyCricket2021 pic.twitter.com/VdvLwdccJv
Updated
at 11.16pm EST
11.01pm EST
23:01
Lovely scenes in the Bangladesh dressing room at Mount Maunganui. I'm reading Scyld Berry's new book which contains a chapter on each Test country. I wasn't aware just how unready Bangladesh were for Test cricket when they were given Test status. Their first-class competition had only been going a year, they'd never won a first-class match and never made a first-class tour. The only country they'd ever beaten in any format was Pakistan in that infamous 1999 World Cup match. No wonder it has been such a battle.
Bangladesh Cricket
(@BCBtigers)

Bangladesh Team dressing room celebrations following the historic win at Mount Maunganui.#BCB #cricket #BANvsNZ pic.twitter.com/78pGFQ30wP
10.52pm EST
22:52
The covers are being preened and pressed back into position, which gives me an opportunity to bore you with my one Sydney Test story. It was the first time I'd ever been to Australia and I was blown away by how gorgeous Sydney was. I stayed at a friend's house in Paddington, felt like I was living my best life, and then got to see Darren Gough take a hat-trick, centuries from Mark Waugh and Mark Slater and seven wickets for Stuart MacGill. Happy days.
10.44pm EST
22:44
I suspect one of the reasons they dropped Burns for Crawley is that they reckoned he was a better option at slip. He has an air of competence about him, despite being so tall, not quite Cameron Green, but the slightly cheaper English version. He swallowed that Warner catch really well, despite looking surprised by the fact it came so quickly.
10.37pm EST
22:37
My colleague Ali Martin tells me the big cover is coming off at the SCG and that it is very, very, humid.
10.30pm EST
22:30
An early email wings its way from Jimmy McManners: "It's a fair point from Sankaran Krishna about Mark Wood's stats, but there are a few caveats to that. Aside from the stop/start nature of his career (plenty of matches played half fit) there is also (and I'm not telling anyone anything they don't know) the "X-Factor" of some bowlers.
"My mate Dave Murphy always says Stokes is a terrible bowler, not fast, nor scary, and with a bowling average of over 30. But… would you want to face Stokes with his pecker up in a vital part of a game? Botham has a batting average of under 35, but I bet most of those runs were very, very useful ones.
" (And yes, I wrote this so Dave Murphy would react)."
Are you there Dave? I agree btw on Mark Wood's X-factor, it's worth more than a few runs, especially in an attack of same-i-ness.
10.23pm EST
22:23
Thanks Jonathan! Good morning wet Sydney from wet Manchester. I've put the Christmas tree lights on for the (almost) last time and have a box of tissues and the dog for company. How is it going for you? It's nice to wake up to a day that hasn't , yet, run away from England.
Updated
at 10.27pm EST
10.17pm EST
22:17

This rain delay offers a perfect opportunity for me to hand over the OBO to Tanya Aldred. I'll be back for more shower-dodging tomorrow.
10.14pm EST
22:14
Rain stops play
22.4 overs: Australia 56-1 (Harris 14, Labuschagne 0) More extras against Stokes' figures, this time five wides for a ball that bounces miles over Harris, and Buttler, and runs away to the sightscreen. And soon afterwards another shower bursts over the SCG, and we're off again.
Ric Finlay
(@RicFinlay)

Bowler transgressions, Ashes 2021-22:
Aus 6 no balls, 3 wides
Eng 29 no balls, 9 wides
Updated
at 10.15pm EST
10.11pm EST
22:11
21st over: Australia 51-1 (Harris 14, Labuschagne 0) Warner pushed hard at a delivery at just that awkward length, the kind he'd done well leaving all morning. Surprise breakthrough for England.
Updated
at 10.14pm EST
10.10pm EST
22:10
WICKET! Warner c Crawley b Broad 30 (Australia 51-1)
Australia were cruising but Stuart Broad has come back into the attack and bagged his bunny. A copy-and-paste dismissal for the pair, Broad angling the ball in from around the wicket, Warner thick-edging to second slip. Unexpected in the context of the match, far from it in the history of that duel.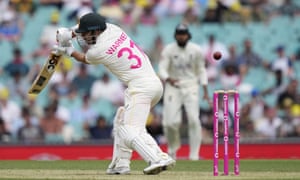 David Warner, off balance, feeling for a length Stuart Broad delivery. You know the script. Photograph: Rick Rycroft/AP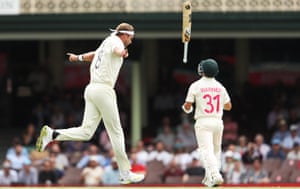 Stuart Broad takes off. Photograph: Mark Metcalfe – CA/Cricket Australia/Getty Images
Updated
at 10.26pm EST
10.05pm EST
22:05
20th over: Australia 50-0 (Warner 30, Harris 13) Stokes > Warner > maiden.
Updated
at 10.14pm EST
10.00pm EST
22:00
19th over: Australia 50-0 (Warner 30, Harris 13) A couple of singles from a straight up-and-down Wood over make it consecutive 50+ opening partnerships for Australia. England are really up against it now with an ageing ball on a flat deck. Warner in particular looks in the mood.
Updated
at 10.14pm EST
9.55pm EST
21:55
18th over: Australia 48-0 (Warner 29, Harris 12) Stokes changes his line of attack to around the wicket, and two balls into the shift THE FIRST CHANCE OF THE DAY! Warner is squared up and gets a thick edge that flies to where a third slip would have stood. As it was, there were only two slips, the second of which, Zak Crawley, dived full length, but could barely get a fingertip to the chance. Warner replies by ushering a cover drive to the boundary with all the aggression of a shadow-stroke between overs. He has hit some gorgeous shots today.
cricket.com.au
(@cricketcomau)

Just out of reach of Crawley at second slip!

Live #Ashes: https://t.co/PWTqeQ864A pic.twitter.com/KpGbykHOLw
Updated
at 10.14pm EST
9.51pm EST
21:51
17th over: Australia 40-0 (Warner 21, Harris 12) Warner content to allow Wood to hurl down a maiden.
"There is a bit too much talk about Mark Wood's pace (high 140s quite often) and not enough about the fact that he has something like 69 wickets in 24 tests at about 33 apiece. Proof yet again that we sometimes focus on the wrong numbers." I'm not far off this opinion from Sankaran Krishna, but Wood is such a tough bowler to appraise considering how stop-start his career has been. Plus, his extra pace is proportionally more valuable in Australian conditions than in England. It's just a shame he doesn't have Jofra Archer at the other end backing him up.
Updated
at 10.14pm EST
9.46pm EST
21:46
16th over: Australia 40-0 (Warner 21, Harris 12) Two front foot no-balls and a wide, as well as a perfect delivery that sashayed beyond Warner's outside edge, in a curious Ben Stokes over. Australia up to 40 without much fanfare. England have not taken advantage of the new ball and the seam and swing it has offered.
Geoff Lemon Sport
(@GeoffLemonSport)

We've had more dry hours today not playing cricket than we've had dry hours playing cricket. #Ashes
Updated
at 10.14pm EST
9.40pm EST
21:40
15th over: Australia 36-0 (Warner 21, Harris 11) Warner purses his lips and nods appreciatively after he's beaten for pace on his outside edge by Wood. The rapid delivery bounced just over the stumps. Warner is then induced into a leading edge later in a good maiden over.
cricket.com.au
(@cricketcomau)

Updated Session Times:
Second Session: 1:30pm – 4:00pm
Final Session: 4:20pm – 6:30pm

Minimum of 83 overs to be bowled in today's play (rain permitting) #Ashes
Updated
at 10.16pm EST
9.37pm EST
21:37
14th over: Australia 36-0 (Warner 21, Harris 11) Stokes bowls the first full over after lunch, a maiden, and it brings the TV pundits (including Mike Atherton) in to discuss why neither Broad nor Anderson were called upon after a long break, considering they are England's most likely wicket-takers. The extension of the conversation being Root's captaincy decisions.
Updated
at 10.16pm EST
9.32pm EST
21:32
13th over: Australia 36-0 (Warner 21, Harris 11) David Warner is composed from the off, first presenting the full face of his bat to an overpitched Wood delivery, for two, then thrashing a wider half-volley through the covers for four. That was all hand-eye coordination, and to thrilling effect.
Updated
at 10.16pm EST
9.30pm EST
21:30
The players are back out in the middle after lunch. Time for another dart between showers.
8.51pm EST
20:51
Lunch: Australia 30-0
An early lunch has been called while the rain falls.
8.50pm EST
20:50
"The ground DJ had the temerity to play 'Have you ever seen the rain?' as the covers went on this time," emails Gavin Robertson. "Answer- yes we bloody have."
Weird video, great song.
8.37pm EST
20:37
While we wait for play to resume, enjoy Bangladesh's incredible Test triumph in New Zealand.
8.34pm EST
20:34
Rain stops play
12.3 overs: Australia 30-0 (Warner 15, Harris 11) Time for some raw pace with Mark Wood replacing James Anderson. If he doesn't engineer an early breakthrough it could be a long couple of days in the field for the tourists.
He only gets three deliveries before the heavens open again.
8.31pm EST
20:31
12th over: Australia 30-0 (Warner 15, Harris 11) Ben Stokes replaces Stuart Broad and he fails to test either opener in an over that passes mostly outside Marcus Harris's off stump. Warner advances his score with a simple nudge off his pads.
8.27pm EST
20:27
11th over: Australia 29-0 (Warner 14, Harris 11) Anderson continues around the wicket and Harris doesn't look completely assured, especially when some movement beats his outside edge for the second time in a couple of overs. Anderson gets too straight though and concedes a couple of easy runs. Harris demonstrated his ability to shrug off the previous ball during his match-winning knock at the MCG and he is back in that groove today.
"Hey Jonathan," good afternoon John Kyriazis. "At the game with the family, paid top dollar, looking forward to it and they stop playing for a few raindrops. Then too slow to restart. Please stick up for the fans at the game." Agree 100% John. As Geoff tweeted earlier, quite why we can't adapt and start earlier on days like this (when it's sunny and dry with a forecast for later rain) is beyond me.
8.22pm EST
20:22
10th over: Australia 27-0 (Warner 14, Harris 9) Glorious swivel pull from Harris to despatch Broad through midwicket for four after the England bowler dropped short to begin the over. The remainder of the duel is even with Harris defending deliveries targeting the top of off, and picking up a further single for his troubles. This opening partnership looks rock solid.
"Get the spinners on," emails Phelim Mcmanamon.
8.18pm EST
20:18
9th over: Australia 22-0 (Warner 14, Harris 4) I don't think I was effusive enough in my praise for that final delivery of Broad's over. It was a jaffa. The exact delivery that he had perfected to remove David Warner in England.
Now Anderson follows suit and moves around the wicket, but Warner again demonstrates how his eye is in today, timing an effortless straight drive for four to an overpitched delivery. Anderson responds well, rapping the opener on the pads, but it's a stifled appeal after the ball jagged a mile off the surface into the left-hander. England decline a review, and DRS indicates the ball was a couple of coats of lacquer too high and wide of leg stump. England's salt and pepper shaker finishes the over beating Warner's defence again, but once more the line is angling down leg.
Updated
at 8.18pm EST
8.13pm EST
20:13
8th over: Australia 18-0 (Warner 10, Harris 4) Broad still pretty full, angling in to Harris from around the wicket. There's no lateral movement on offer though, so by the time Broad refines his line to tempt Harris into a stroke, he's too straight and it's an easy nudge into the on-side for a couple of runs. Broad is undeterred and he does find a skerrick of wobble away from the bat and, for the first time today, there's a genuine play-and-miss that beats an outside edge.
8.09pm EST
20:09
7th over: Australia 16-0 (Warner 10, Harris 2) Beautiful shot from Warner. After Anderson targeted the batter's ribs, he threw a wide tempter that had some swing angling it away and the Australian calmly stroked it through the covers for a very pleasing boundary. Four more soon follows with Anderson losing his line and Warner glancing him fine for four… off his thigh-pad; leg-byes. England have not taken advantage of the new ball or the slightly helpful conditions.
8.05pm EST
20:05
6th over: Australia 8-0 (Warner 6, Harris 2) Broad has come back from the break fuller, forcing Harris to play around his off stump, inducing a false stroke from a very late leave. No alarms yet for this opening pair though.
8.01pm EST
20:01
5th over: Australia 8-0 (Warner 6, Harris 2) Anderson is harmlessly wide of off stump for a couple of deliveries, then he's straight and towards Warner's ribs to complete the fifth over.
Benedict Carter wants England to go back to basics. "There is a youtube video where Geoff Boycott gives a batting masterclass with Michael Vaughan and Ricky Ponting looking on in awe. We have to go back to basics with the batsmen – India can do it, Australia and New Zealand do it. But we ignore basic technique and the result is useless contortionists at the crease."
7.59pm EST
19:59
Play resumes
We're back on! Anderson has three deliveries remaining in the fifth over. David Warner on strike.
7.55pm EST
19:55
"We're gonna need a bigger whiteboard…"
Tom Wein
(@tom_wein)

@JPHowcroft If the ECB are looking for a driven individual who rips up the rule book, can eke out narrow wins with public schoolboys, and knows what it's like to face public anger, I hear a certain sometime visitor to Barnard Castle is between jobs right now.
7.53pm EST
19:53
David Sadler has sent in a lovely email, full of the common sense and naiveté of one not embittered by unravelling the mysteries of cricket for decades. "Still fairly in my infancy of watching Test cricket, and a vested interest in this match as I have tickets to days 3 and 4 (albeit reluctantly given the weather, England, and err, COVID). Is there any circumstance under which they will abandon the match early given it is forecast to rain every day pretty much continuously, barring a few brief spells of sunshine? E.g. would they get to the 3rd day, when Australia are still 50-1 on their first innings, and just go "well we're not getting a full match, let's call it". Oh David, welcome to cricket. The short answer is no. The longer answer is: welcome to the club, you have more head-scratching ahead of you.
7.42pm EST
19:42
The umpires were out inspecting the square and the word was we were just five minutes or so away from a restart – but more rain has now arrived.
7.36pm EST
19:36
The covers are being peeled back. We may be back on sooner than expected.
Source by www.theguardian.com