Photo by Dr. Michael Fenner
Dr. Agamah and his patient. Her skin paint reflects her participation in voodoo medicine in her village.
Dr. Michael Fenner and two medical students from SIU School of Medicine, Theodore Agbemaple and Emma Fenner, joined the Agamahs on their 38th mission trip to Ghana last summer. The team took supplies with them and collectively saw 1,066 patients and performed 17 surgeries.
Fenner is a general surgeon who has known Dr. Agamah since the late 1990s. He retired in December 2020 after a 30-year career as a surgeon and accepted the invitation to be a part of the trip. His daughter, Emma, is a second-year medical student.



"Although I've traveled rather extensively and have seen firsthand what true poverty looks like, I had not been to sub-Saharan Africa until just now. Some of what I saw and experienced in Ghana was predictable and expected but other things were surprising," said Fenner. He says that you go with certain expectations to help poor people and a belief you are giving your time and talents, but the surprising thing has been realizing the benefit of what you get back from their kindness.




Emma Fenner believes there is no greater education than traveling. She has a passion for serving under-reached populations and jumped at the opportunity to participate. She saw patients alongside Dr. Agamah. Many had cancer and others typhoid fever and malaria. She had the rare experience of observing surgeries her father performed on patients and assisting him in the repair of an inguinal hernia. This was a memorable experience for both father and daughter. She observed that here medical students are at the bottom tier, but in Ghana people were receptive and listened to what everyone had to say.



The trip was of special significance for Theodore Agbemaple. He was born in Champaign and grew up in Springfield. His parents are both from Ghana. His father and Dr. Agamah were in medical school together in Ghana. Agbemaple participated in the mission trip as a medical student and also had the opportunity to meet family members for the first time. He had been to Ghana when he was 12, but the mission trip allowed him to connect more deeply with his roots. It also made him realize how grateful he is to live in the U.S.



Both Fenners saw firsthand how much work goes into maintaining the hospital in Ghana. Dr. Fenner knows Dr. Agamah as a fellow doctor but says knowing how to treat cancer isn't enough to sustain a hospital. He has to wear many hats to organize, troubleshoot, train and work with staff, and trust people to keep things going when he isn't there. Emma Fenner observed that Dr. Agamah always asks how everyone is doing – making sure staff and patients are content and happy. June is a big inspiration working behind the scenes. Emma says going there makes you realize what we take for granted and how lucky we are in the U.S. in access to health care, even with our own problems.



The team met and cared for adults and children with serious diseases, with no CT scanner, ICU or access to advanced medical technologies. "But, I was mistaken in assuming that Ghanaian health care providers are totally unable to care for their countrymen when the American doctors are not there," said Dr. Fenner. "The local physicians, physician assistants, nurses and support staff are proud men and women, very capable and very much overworked. We all learned from each other and endeavored to provide the best care possible to our patients."




After returning home, Fenner was sure he would not do such a thing again. However, he found he missed the work and the people and plans to join the Agamahs on their 39th mission trip to Ghana in January 2022. – Karen Witter



click to enlarge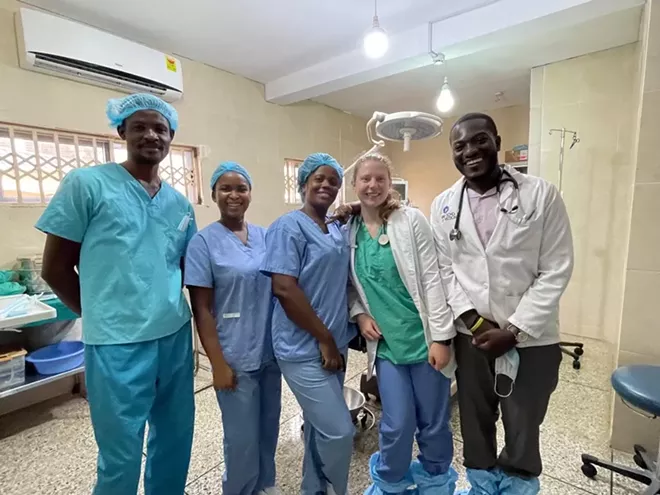 Photo by Michael Fenner
Operating room at International Mission Hospital in Ghana. Medical students Theodore Agbemaple right and Emma Fenner second from right.
Source by www.illinoistimes.com