Kenneth Branagh's Belfast
Branagh's Belfast a charmer
Were I given the opportunity to make a film based on a part of my young life, I can only hope it would be half as beautiful as Kenneth Branagh's Belfast, an account of the actor/director's ninth year, a tumultuous time for his family and the town where they lived.
Rocked by civil unrest caused by a faction of Protestants intent on ousting the Catholics that lived among them, the Branagh family is faced with a series of difficult decisions. As the violence grows and his father (Jamie Dornan) is forced to take a side in the conflict, he begins to think moving the family is the only way to keep them safe. His wife (Caitriona Balfe) is opposed to the notion, though she suspects it may be their only option.
All the while, young Buddy (Jude Hill) is dealing with his first crush, becoming enamored with movies and dealing with the existential crisis of whether he's a good person or doomed to a life of sin. Branagh applies a deft touch, as scenes of touching comedy border those of genuine poignancy, creating a charming, moving remembrance of a time when issues of morality were clearly defined in black and white. In theaters.
click to enlarge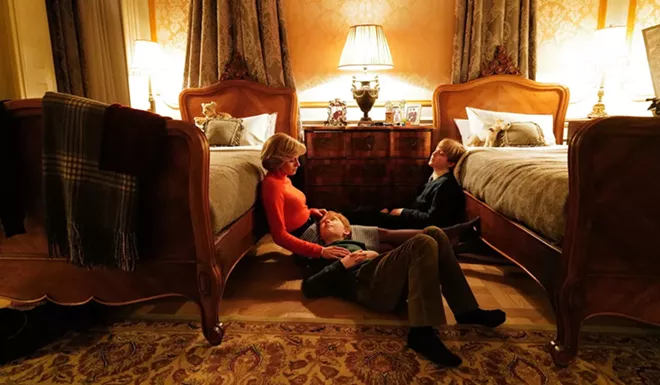 Kristin Stewart in Pablo Larrain's Spencer
Obvious approach hampers Spencer
I can't say I hated Pablo Larrain's Spencer, but boy, did it irritate me. Having made the incisive and daring 2016 biopic Jackie, I was expecting something as intriguing and engaging. Alas, that was not to be as the director and screenwriter Steven Knight takes a ham-fisted approach in their examination of Princess Diana. Informing us this is "a fable from a true tragedy" allows them a great deal of latitude in which to examine this tortured woman.
Kristin Stewart, in the titular role, gives a transformative performance, portraying the princess as a woman seemingly made of glass, on the edge of shattering at any moment. Unfortunately, the heavy-handed approach Larrain takes dooms the film, overt symbolism applied with a trowel bogging down the story at every turn. Images of beautiful things being trapped or slaughtered are a constant, while the metaphoric nature of a scarecrow Diana discovers on her old family farm is beaten into the ground. It's all too obvious to be engaging, the imagined happy ending coming off as trite and insincere. In theaters.
click to enlarge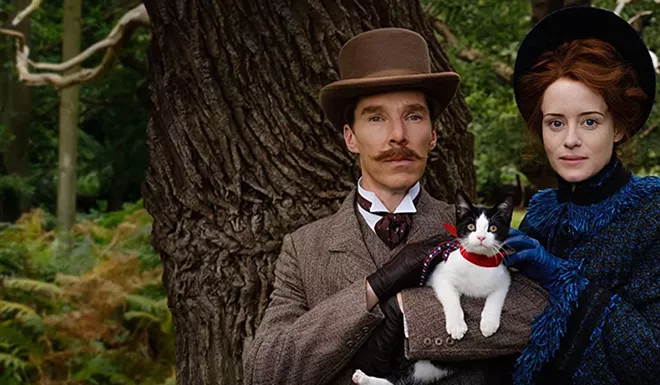 Benedict Cumberbatch in The Electrical Life of Louis Wain
Cumberbatch shines as Wain
Benedict Cumberbatch has become one of my favorite actors, primarily because he obviously has a desire to challenge himself. At home in the Marvel Universe as Doctor Strange or on the plains of Montana in the upcoming modern western The Power of the Dog, he's convincing in all he does and seems intent on amassing a collection of the most eclectic characters possible over the course of his career. In taking on the title role in The Electrical Life of Louis Wain, he adds eccentric, troubled artist to his diverse resume.
Due to unsound business practices, Wain never made a great deal of money for his work, even though his drawings and sketches that appeared in London periodicals were enormously popular. Focusing primarily on cats, rendered both realistically and in fanciful poses, he's credited with elevating awareness of the animal and popularizing the idea they could be kept as domestic pets. Whether that's true or not was of little concern to Wain as he had more than his fair share of tragedy in his personal life. Credit Cumberbatch for portraying him so that the audience doesn't dismiss him as a mere oddball but as a man much to be pitied. Streaming on Amazon Prime.
Source by www.illinoistimes.com