The 2020-21 NBA season has arrived. Preseason games tipped off last week, and the regular season is scheduled to begin Dec. 22, just 71 days after the NBA Finals ended.
After successfully finishing the 2019-20 season in a bubble environment at the Walt Disney World Resort in Orlando, Florida, the league — with the exception of the Toronto Raptors — is returning to home markets to begin this season. Over the past two weeks, players and coaches spoke about the challenges they face in playing a season as the COVID-19 pandemic surges across the United States.
play
1:15
Karl-Anthony Towns talks about the death of his mother and how he has taken on the responsibility of keeping his family safe.
Chris Paul, Phoenix Suns: Everybody involved — the league, the union, the players, the teams, everybody — is working daily to try to figure things out. This is uncharted territory. When we were in the bubble it was something no one had ever seen and everyone worked as hard they could to make that work. Once again, what we're doing now with all these protocols and tests and stuff — never seen it before.
Jaylen Brown, Boston Celtics: COVID is still around and still lurking in certain areas. So that's something to be aware of. I'm not sure about how that's going to necessarily work as we start to travel in certain places and things like that. Will the season be stopped? Will it continue to go on? Well, will there be a stay-at-home order at some point during the season? I'm not sure. Some of those variables might work out.
DeAndre Jordan, Brooklyn Nets: Coming to practice is very strange. It's something that we haven't had to deal with before in any other season. We get to practice. You take one test. You take another test, then you wait in the car until you're hopefully negative, and then you can go up with your mask on and do your individual work and lift and shoot and you go home. And you do the same thing again the next day. I think we've done a great job of staying as safe as we possibly can and taking this thing as seriously as it needs to be taken.
Joel Embiid, Philadelphia 76ers: I know I'm going to do the right thing just like I said before the bubble, so the question is, "Is everybody else going to do the right thing?" I hope everybody does the right thing and doesn't put anybody at risk, and I hope then we also have guidelines to make sure that doesn't happen. But it's definitely very concerning and I just hope everybody stays safe and I stay safe.
LeBron James, Los Angeles Lakers: We listen to the experts and what's going on with the climate as far as COVID, and keep your family in a mask when we leave the house or whatever the case may be. And be cautious where we travel to, be cautious who we are around. Right now you just try to do everything that you can to try to protect your family. And hopefully you can stay safe and stay healthy. I think that's the most important thing, the main thing.
The new season is fast approaching. Keep it here for all the latest rankings, projections and storylines to watch ahead of 2020-21.
• NBA Power Rankings, training camp edition
•
What this drastic rest disparity means
• Games to watch | Must-see Christmas battles
• How will this NBA season actually work?
•
Win projections for all 30 teams
•
Every team's biggest camp question
Marcus Smart, Boston Celtics: It's really on the guys to really own up and take care of responsibility and be a professional and try to abide by as much as possible the rules and regulations of the [Centers for Disease Control and Prevention] and everything that they have been doing to stay protected and keep yourself and others protected.
Blake Griffin, Detroit Pistons: I'm obviously biased, but I think the NBA does the best job of not only making sure that players are safe, but that we also can sort of voice our opinion with everything going on this past summer and including what's coming up. Not just the NBA, but the [National Basketball Players Association], everybody working together and making sure that our voices were heard.
Kentavious Caldwell-Pope, Los Angeles Lakers: I think it's going to be a little challenging because of being in our respective cities and we play in the arenas. Not being in the bubble, I feel like it's going to be risky. But the league, they're still having us test every day for COVID, which is good. I like it like that. It keeps everybody safe.
Jared Dudley, Los Angeles Lakers: No player was signing off on going back to that bubble. There's no way you're gonna do a 72-game season away from family, and the NBA had stricter rules in there than I've ever seen. For one, give them credit: We had no positive tests, I understand. But because of the stricter rules, no players are gonna sign off on that. But I just think for us, this is the new norm. … COVID is here to stay. So just gotta navigate through it.
Tobias Harris, Philadelphia 76ers: I follow what's going on in the world and the cases, it looks like we're headed for another shutdown soon enough. So, I mean, that plays a factor into it, too. … I think we have to do our best to follow protocol, keep each other safe, keep the team safe, and just see how it plays out.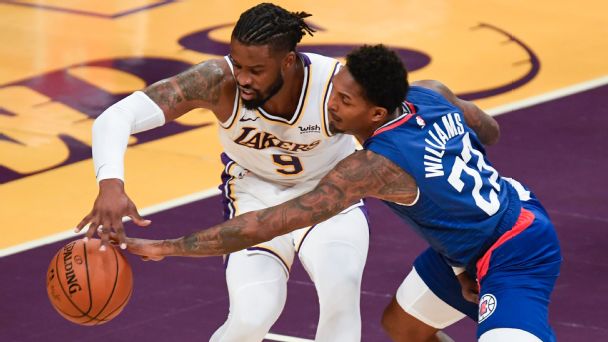 The NBA is back! Catch all the 2020-21 season action on ESPN, ABC and the ESPN app.
Sunday, Dec. 13:
• Clippers at Lakers, 8:30 p.m. on ESPN
Thursday, Dec. 17
• Nets at Celtics, 8 p.m. on ESPN
All Times Eastern
Luka Doncic, Dallas Mavericks: During this [pandemic], it's going to be a different season. Some players might get corona, get sick, not be able to be with the team [for] 10 days. So I think that's going to be a big part — which team is not going to have [COVID-19]-positive people. It's going to be a lot of time together, and I think that's going to be a key.
Andrew Wiggins, Golden State Warriors: I guess you just got to treat [positive tests] like an injury. And just have that next-man-up mentality. I believe in the guys we got here. And the guys on the team, the coaching staff that put us all in the best position to win. We're all competitors here. We all fight. And that's what we're going to do.
Donovan Mitchell, Utah Jazz: This isn't football where you can play once a week. We're playing twice, three, maybe four times a week and those are four games that at the end of the day, come playoff time, you miss those four games, you never know what may happen, especially in this loaded conference in the West.
Alex Caruso, Los Angeles Lakers: I think it's just as unpredictable as ever. The fact that we don't even have a full season schedule just shows it's going to be an unpredictable year, right? … Honestly I think the NBA is in a really good position to carry out a full season and make it work.
play
1:34
LeBron James says he was surprised at how soon the NBA is beginning its season and explains why it might cause him to rest more throughout the season.
While eight teams haven't played an official NBA game since March, the Lakers and Heat wrapped up the 2020 NBA Finals a mere 71 days before the start of this season. Multiple players addressed the long layoff or short turnaround they are dealing with heading into this season.
Jaylen Brown, Boston Celtics: We had discussions and talks about when the season should possibly start and made the most sense in terms of, you know, businesswise and financially, starting on Christmas Day or right around that time. So I was for that in terms of what I saw on paper. … In terms of what we see on paper and what we voted for, I didn't have a problem with it. I'm young. I don't really need too much time off.
Jamal Murray, Denver Nuggets: Some teams have had 10 months. They could have had a whole baby on the way and we had whatever, 60 days, two months. So everybody is going to be looking at the record and what we are doing and every team is different right now with the virus.
LeBron James, Los Angeles Lakers: I was like, "Wow." And I said, "Oh, s—." Just being completely honest, I wasn't expecting that because early conversations were going on and I was hearing that there would be kind of a mid-January start and training camp would kind of start after Christmas. We would have an opportunity to spend Christmas with our families. So I had a break planned, a vacation with my family for us to go somewhere, which I haven't been able to do, obviously, since I've been in the league. So I had to switch up a lot of things once I heard the December 22nd start.
2 Related
Markieff Morris, Los Angeles Lakers: Nobody knew when the season would start back up, so we had to kind of keep some type of shape. So we've been playing for a whole long year.
Zach LaVine, Chicago Bulls: Basketball is my life. I didn't stop doing it. I was upset that we didn't make the bubble. It was really good to see basketball back and moving on, but it was tough to just sit there and watch it and not be a part of it, so I've been working out nonstop and now that we have our season back in full stride, I'm extremely happy and excited to get it going.
Andre Drummond, Cleveland Cavaliers: For me not to be able to be with my teammates for that many days, for 200-plus days, it's been a mental drain for me, but I've done a really good job of staying in contact through the phone at least. … When it comes to the court, I think it's going to be an easy transition for us. Obviously, it's not going to be perfect, it's not gonna be mistake-free, but I think we have a lot of guys here that are willing to work hard and work through those mistakes to make ourselves a better team.
Nikola Jokic, Denver Nuggets: The whole [offseason process], everything was shortened. I was in the weight room a little bit less [than a normal offseason]. Just to figure, just to put everything together, I was like, I need to cut one week of doing nothing and then one week of just doing weight room. It was OK to be honest. I kind of like it because the training camp is not going to be that long (chuckles).
Kyle Kuzma, Los Angeles Lakers: It's definitely going to be a disadvantage for teams that had late runs in the playoffs compared to the teams that did not make the bubble and had early exits in the bubble.
play
1:10
Paul Pierce questions how the NBA will manage COVID-19 cases without a bubble.
Most NBA teams will begin the season playing in front of empty arenas, something players who played in the bubble experienced, but something that will be new for a portion of the league.
Zach LaVine, Chicago Bulls: It's always been an entertainer's game and hopefully if we don't have fans, we can still provide that type of excitement for our fans and our fan base. If we do, we just have to be safe and the fans have to know that we have to keep our distance, not just for you, but for everybody to stay safe and to continue to do it.
DeAndre' Bembry, Toronto Raptors: Well, unfortunately, last year [with the Hawks] we weren't able to make it to the bubble, so I'm still gonna have to get used to no fans and being able to bring my own energy and just that whole environment because I wasn't able to go through that process yet, but being with this organization I don't think I'm gonna be too worried about [that].
Dwight Howard, Philadelphia 76ers: I wish the stadium was open so all the fans could come and be together during this time. I think unity brings change and I think we have an opportunity to do something here in Philly that could unite not just Pennsylvania, but also hopefully a lot of basketball fans around the world. … I do miss the fans. I will say that. Playing in front of fans is probably the best experience. … I do appreciate the fans, even the boos, the talking trash, I think that kind of drives me to keep going forward.
Victor Oladipo, Indiana Pacers: To say we don't miss the fans in the arenas is just a lie, flat out. We want them there. We need the fans in the arena. They make the games. The excitement, the energy is all because of them. So we definitely want them there and we miss them, but at the end of the day we've got to make sure they're safe, too, and they've got to make sure that they're safe because lives are way more important than basketball.
Marc Gasol, Los Angeles Lakers: I'll need a little more explaining how come that some arenas, they allow fans and some arenas don't. I understand there are different laws in different states, but I think we should have the same for everyone. That's just my opinion. But that's what we talked about. Obviously it's an ever-adjusting situation for everyone. We're very fortunate to be in a very safe environment. The NBA, the Lakers and L.A. County, do a great job having us as safe as possible and having a lot of protocols and stuff that we go through every day, and our staff as well. We're very thankful for that.
The Utah Jazz are one of the few teams to have announced plans to start the season with fans in the arena, playing host to up to 1,600 attendees, socially distanced from each other and the players.
Rudy Gobert: I think that if they make it happen they probably have the scientific evidence that it would be safe for us and for the fans in attendance.
Derrick Favors: I think that's an amazing thing to do and hopefully everybody can stick to the safety protocols and we can continue to build and bring more fans in there.
Donovan Mitchell: You've got to be careful, you've got to be cautious, but at the end of the day, if it's safe, I'm glad we're one of the teams that have fans and it'll be great to play in front of the home crowd.
Source by www.espn.com