1.44pm EST13:44
Colombia has confirmed its first fatality from the virus variant first detected in Brazil, the government said, adding the person who died in January was older and had underlying health conditions.
"A new case of the P1 variant was detected in an older adult in Bogota with multiple comorbidities who had not traveled. They were hospitalised and died 28 January 2021," the National Health Institute said in a statement reported by Reuters.
Colombia has banned flights to and from Brazil as part of efforts to stop the spread of the more transmissible variant.
Updated
at 1.45pm EST
1.21pm EST13:21

In the UK, more than a quarter of people who receive social care from the NHS have seen their health deteriorate during the coronavirus pandemic, according to research.
In a survey of more than 4,000 people with social care needs and carers from the Care and Support Alliance (CSA), 28% said their health had declined, and one in seven people required hospital treatment due to a lack of care.
The CSA reported that older and disabled people had been left struggling with daily activities and were missing medical appointments, and a quarter of those who said they had trouble carrying out daily activities reported that they were not given help by authorities when they asked for it.
1.01pm EST13:01
Italy will step up its Covid-19 vaccination programme to hit a target of administering 500,000 doses each day, the country's coronavirus special commissioner said on Saturday.
The country, which has a population of 60.3 million, aims to inoculate at least 80% of people by September.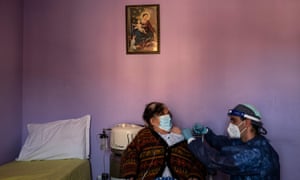 A medical worker injects an over 80-years-old woman with a dose of Moderna vaccine against Covid-19 at her home in Dronero, Maira Valley, near Cuneo, Northwestern Italy. Photograph: Marco Bertorello/AFP/Getty Images
12.43pm EST12:43
Artists in Athens held a protest for their rights to work, almost a year after the first lockdown with the closure of theatres, museums and cinemas.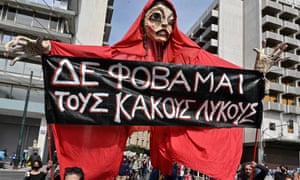 Greek puppet theatre artists march with a giant puppet bearing the slogan "I m not afraid of bad wolves" during a demonstration of artists against the restrictions and the government's policies to deal with the ongoing Covid-19 pandemic in Athens on March 13, 2021. Photograph: Louisa Gouliamaki/AFP/Getty Images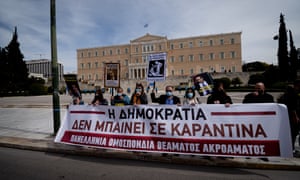 Artists gather to protest against the COVID-19 restrictions in Athens, Greece on March 13, 2021. Artists Protest In Athens, Greece – 13 Mar 2021 Photograph: Nikolas Kokovlis/NurPhoto/REX/Shutterstock
12.24pm EST12:24
Football fans were offered a Covid-19 vaccine at the Russian Premier League match between Zenit and Akhmat Grozny in St Petersburg on Saturday.
People were offered a free shot of the Sputnik V jab for two hours before and after the game in an effort to increase take-up. A Reuters reporter said that at least 20 of the several thousands attendees were vaccinated.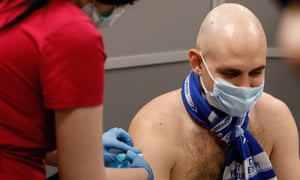 Zenit supporter receives a dose of the Sputnik V vaccine against COVID-19 at newly opened vaccination center operating at the stadium ahead of the Russian Premier League match between FC Zenit Saint Petersburg and FC Akhmat Grozny Photograph: Mike Kireev/NurPhoto/REX/Shutterstock
Take-up of the vaccine in Russia has been slower than in other countries, with polls showing Russians are sceptical of the domestically produced jab.
A total of five million people have received a first dose, out of a population of 144 million, the deputy prime minister Tatiana Golikova said last week.
Zenit said the vaccination programme at the stadium would continue until the end of the football season.
12.06pm EST12:06
The trauma of watching thousands of patients die during the Covid-19 pandemic will force many intensive care staff out of healthcare unless they get substantial mental health support, the charity that represents ICU workers has warned.
The Intensive Care Society said half of ICU staff needed psychological support to help them deal with their experiences and added that some had already left their professions.
"This pandemic is the greatest crisis we've seen in a century," said Dr Stephen Webb, the ICS president. "There is a danger that we will lose further staff in the future. We know there's a risk of people falling ill, wanting to leave – not just intensive care but healthcare completely."
Research from King's College London in January showed that 45% of ICU staff in England suffered severe anxiety, post-traumatic stress disorder or other mental health problems after the first wave, and the second wave had been even worse, Webb said.
11.53am EST11:53
A further 369,578 first vaccine doses have been administered in the UK, taking the total to 23,684,103.
A total of 1,532,754 people have had both shots – a rise of 87,676 on the previous day, according to government figures.
11.44am EST11:44
Italy reported 317 coronavirus-related deaths on Saturday , the health ministry said. There were 307 last Saturday.
The daily tally of new cases was 26,062, compared with 23,633 the Saturday before, according to Reuters.
Italy has registered 101,881 deaths linked to Covid-19 since its outbreak emerged in February last year, the second-highest toll in Europe after the UK and the seventh-highest in the world. The country has reported 3.2 million cases to date.
11.29am EST11:29
UK reports 5,534 cases, 121 deaths
There have been a further 5,534 lab-confirmed coronavirus cases in the UK, according to government data – compared with 6,039 cases last Saturday.
A total of 4,253,820 people have tested positive since the pandemic began.
A further 121 deaths within 28 days of a positive test were reported, bringing the total to 125,464. There were 158 deaths last Saturday.
According to the government dashboard, a delay in receiving information on deaths in England from one of its data sources "might have a small impact on the total number of deaths reported" on Saturday. The delay will be reflected in the numbers published on Sunday.
The seven-day rolling average, which evens out reporting irregularities in the daily figures, shows that cases are down by 5.5% compared with the previous week (28 February-6 March).
Deaths have decreased by 32.2% by the same measure.
Updated
at 11.41am EST
11.09am EST11:09
Summary
Headlines in today's coronavirus-related news from around the world include:
More than 21m vaccination doses have now been administered in England, according to the latest official figures. Provisional NHS England data showed that a total of 21,187,615 Covid-19 vaccinations took place between 8 December and 12 March, a rise of 380,230 on the previous day. Of these, 20,111,189 were the first dose of a vaccine, while 1,076,426 were a second dose.
Covid restrictions were relaxed in Wales. Under the new rules, announced by the first minister, Mark Drakeford, on Friday, four people from two households will be able to meet outdoors to socialise, including in gardens. Outdoor sports facilities including basketball courts, tennis courts and golf courses can reopen and indoor care home visits will restart for single designated visitors.
Matt Hancock, the UK health secretary, has said that more than 48,000 businesses have signed up to offer rapid coronavirus testing to their employees, a move he said would be a "huge step forward" in getting businesses "back on their feet". In January it emerged that it had spent £800m on tests that were later found in a pilot to give the wrong results as much as 60% of the time.
Jordan's minister for health has stepped down following the deaths of six patients at a hospital where oxygen supplies failed. Sources told Reuters said it was not clear what caused the oxygen failure in intensive care, maternity units and coronavirus wards in the new Salt government hospital, west of the capital Amman.
Three health workers in Norway who recently received the Oxford/AstraZeneca vaccine against Covid-19 are being treated in hospital for blood clots. According to Steinar Madsen, medical director at the Norwegian medicines agency, their symptoms included "bleeding, blood clots and a low count of blood platelets." He told the broadcaster NRK: "They are quite sick … We take this very seriously."
The Democratic Republic of the Congo has become the latest country to suspend use of the Oxford/AstraZeneca vaccine, postponing its vaccination programme until results of investigations into suspected links to blood clots are available. DRC was due to begin distribution of the vaccine on 15 March, after receiving 1.7m doses of the vaccine. A new start date has not been announced.
That's it from me, Damien Gayle.
Updated
at 11.33am EST
10.19am EST10:19
Three health workers in Norway who recently received the Oxford/AstraZeneca vaccine against Covid-19 are being treated in hospital for blood clots, Reuters reports, citing the Norwegian Institute of Public Health.
Norway halted on Thursday the rollout of that vaccine, following a similar move by Denmark. Iceland later followed suit. Austria has also stopped using a batch of AstraZeneca shots while investigating a death from coagulation disorders and an illness from a pulmonary embolism.
Earlier, it was reported that the Democratic Republic of the Congo, which recently received 1.7m doses of the Oxford University-developed jab, was postponing its vaccine programme. And in India health authorities are also conducting a review of potential side-effects.
Sigurd Hortemo, a senior doctor at the Norwegian medicines agency, told a news conference held jointly with the Norwegian institute of public health that it was not known whether the latest cases, all in individuals under the age of 50, were linked to the vaccine. The European medicine regulator EMA would investigate the three incidents, he added.
According to Steinar Madsen, medical director at the Norwegian Medicines Agency, the three patients had "very unusual symptoms" including "bleeding, blood clots and a low count of blood platelets".
"They are quite sick … We take this very seriously," he told the broadcaster NRK, adding authorities had received notification of the cases on Saturday.
Updated
at 11.34am EST
10.04am EST10:04
21 million vaccine doses now distributed in England
More than 21m vaccination doses have now been administered in England, according to the latest official figures.
Provisional NHS England data published on Saturday showed that a total of 21,187,615 Covid-19 vaccinations took place between 8 December and 12 March, a rise of 380,230 on the previous day.
Of these, 20,111,189 were the first dose of a vaccine, a rise of 312,716 on the previous day, while 1,076,426 were a second dose, an increase of 67,514.
Updated
at 11.34am EST
10.01am EST10:01
Police blockade Austrian city with high infection rate
Police in Austria having been blocking the exit of anyone from a city of 45,000 people who is not in possession of a negative coronavirus test result.
A new rule that came into force on Saturday restricts people from leaving Wiener Neustadt without first being tested for the virus. Police officers and other officials were stationed on 26 roads leading out of the city south of Vienna, checking drivers' papers. Rule breakers face fines of up to €1,450.
The rule was imposed after the rate of infection in the city rose to more than 500 per 100,000 inhabitants over seven days, compared with a national average of 198 per 100,000.
Klaus Schneeberger, the city's mayor, said testing stations set up in recent days have a capacity to test 15,000 people per day. According to the Associated Press he said he didn't understand why Austria's health ministry "doesn't use this occasion to start a vaccination campaign here so we get this under control."
A targeted campaign to vaccinate the entire adult population is underway in the Schwaz district in western Austria, which has seen a significant number of cases of the more contagious virus variant first detected in South Africa.
9.48am EST09:48
Coronavirus infections in Germany could again reach peaks seen around Christmas by mid-April, public health officials have said.
The Robert Koch Institute for infectious diseases predicted that the number of daily reported cases could exceed 30,000 in the 14th week of the year starting 12 April.
"An extrapolation of the trends shows that case numbers can be expected above the Christmas level from week 14 onwards," the RKI said in its current situation report.
9.26am EST09:26
Authorities in Hong Kong are to impose compulsory coronavirus testing for staff of a cluster of law firms and banks after most of the 47 new cases recorded on Saturday were linked to a gym used by the financial and expatriate communities.
Thirty-five of the new cases were linked to an outbreak at Ursus Fitness, a gym in the city's Sai Ying Pun district, the city government said, according to Reuters. So far 99 cases have been confirmed as related to the centre, which is popular with expatriate lawyers, bankers and hedge fund executives, the health department said in a briefing.
The government published a compulsory testing notice on Friday covering 80 residential premises and workplaces, many in central financial and business district. Among the workplaces affected were offices for Shearman & Sterling, Allen & Overy, Herbert Smith Freehills, HSBC, Credit Suisse, BNP Paribas and BNY Mellon.
Hong Kong has recorded around 11,200 total coronavirus cases, far lower than other developed cities. The city of 7.5 million people launched its vaccination programme in February, with 162,100 people receiving their first shot so far.
Updated
at 9.32am EST
Source by www.theguardian.com